you are here [x]: Scarlet Star Studios > the Scarlet Letters > take your blog to work day: time-lapse footage!
<< before poem: the snail's request
after >> poem: the walrus and the brontosaurus

February 23, 2010
take your blog to work day: time-lapse footage!
by sven at 12:00 pm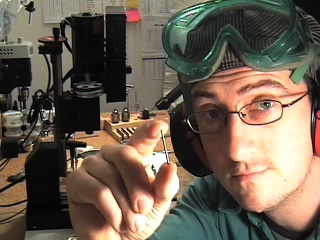 machining 1/16" dia. rod
I tell people I make puppet armatures. I show them photos and then they understand what I'm talking about.
But it's probably impossible for most to visualize the actual process of machining. So last week I decided to take some time-lapse footage of myself at work.
before & after machining
I was working on making pieces of 1/16" dia. rod into tiny hinge joints. Above you can see the raw stock I start with next to one of the finished parts.
The process for this particular part takes me 80 minutes to complete. For you, I've condensed that down to one minute.
click on image to play clip (1min - 4.8 MB)
Here's the process with the camera set up on the table beside me.
click on image to play clip (1min - 4.5 MB)
Since I was making several identical parts, I set the camera up again so it could give you an over the shoulder view, too.
(Some of you might recognize the music… Two compositions I did a few years ago: hatching and suave squirty.)
posted by sven | February 23, 2010 12:00 PM | categories: stopmo