you are here [x]: Scarlet Star Studios > the Scarlet Letters > artist's way open studio (august)
<< before Open The Box
after >> first fall registration!

August 18, 2005
artist's way open studio (august)
by gl. at 11:40 pm
5 attendees at tonight's open studio, including a woman who had gone to tonya's first group in may, someone from the mac, and a woman who i had denied doing calligraphic work for three times -- not because i didn't want to work with her, but because i wanted to enjoy my august off. but even though i'm not doing her wedding license, it worked out well -- her wedding needed a big speaker, which sven just happened to have, and so she took it home with her. plus she's almost certainly going to be an artist's way member in fall. yay!
feeling a little swirly headed and possibly sick, which didn't help a small unhappy tension tonight when i asked why one of the attendees had become a foster parent, making her uncomfortable. i'm always interested in foster parents because i was a foster child and i wonder from time to time if i should be a foster parent, too. but she felt "on the spot" and that i was asking "too many personal questions," which made my interactions awkward for the rest of the evening.
we got 7 collages out of 5 people, though. wow!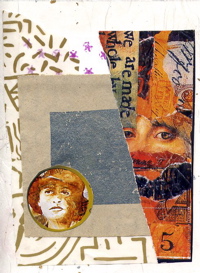 ["we are made whole" -- click the image to see tonight's other collages]
posted by gl. | August 18, 2005 11:40 PM | categories: artist's way