you are here [x]: Scarlet Star Studios > the Scarlet Letters > artist's way guided intent (january)
<< before making of "the great escape"
after >> 2006: my first year in stopmo

January 4, 2007
artist's way guided intent (january)
by gl. at 4:58 pm
an excellent group last night at the studio, and only one person didn't show! that was such a relief! we had four writing rounds where i asked them to pick from a pile of old photos vicki lind gave me for an artistic purpose. they picked a different photo for each round:
stream of consciousness (good intro to the morning pages style)
write as if you're the one taking the picture
write as if...

you miss them
they've made you angry
you're grateful
they're sick & you don't know if they'll make it

write about the relationship between the people in the photo
sometimes i know what the theme, the date & the basic activity for a guided intent is going to be, but i don't really know how it will happen in practice. since people pay for the guided intents and i'm terrible at improv, i can't just "wing it," but sometimes it takes me a while to figure out how i'm really going to run the event.
for this event, that process worked out pretty well. i finally sat down yesterday afternoon and worked out how many writing exercises we could fit in and in what order they should occur to maximize the buildup of time, perspective & emotional investment. during the event, when i realized we had a few more minutes at the end, i tried to throw in an extra improv writing activity which didn't make much sense to people, but we worked though it to get to a better idea that i'll use the next time i run this activity ("write as if you're the one taking the picture"). incidentally, this is one of the reasons why people not showing up affects the guided intent: one less person at an event could mean as much as 15 extra minutes at the end of the night.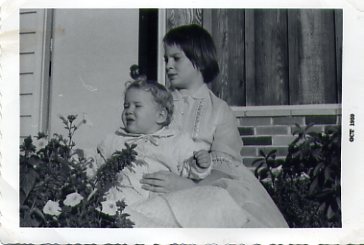 ["diane remembers": click the picture to see the other photos]
this is one of the photos that inspired me during the last round. below is an excerpt from that writing. the girls here are cousins: the older one is named diane, the younger one is named megan.
diane is in a lonely place, simultaneously too young for her family and too old for this one. she'll remember carrying megan around carefully, around and around the living room until her arms ached. diane will remember chasing megan up and down the stairs, megan shrieking in delight. diane will remember holding megan in the bright october sunlight for what seemed like hours until everyone got the picture they were looking for. megan won't remember any of it. by the time she sees this photo in an album 30 years from now, she will have lost contact with that entire side of the family. didn't diane get into graphic design? or was she the one who became a born-again christian?
the next open studio is full & i'm slightly hopeful everyone will show up. i've taken to sending personal "don't forget!" messages a week and then a day beforehand to give people the opportunity to bow out if they're going to, still leaving me enough time to find the next person on the waiting list. i implemented a $5 first-time only fee, but i'm really uncomfortable with it and may instead switch to a confirmation request to first-timers: if i don't hear from them by a certain date, i will open their spot to another participant.
the next guided intent is one i've been waiting to announce since the Fabulous End-of-Summer August Art Swap! i'll get to use the featureless fabric dolls claudia brought for our next theme, which is self-protection. i'm feeling more confident about it after making toby!
posted by gl. | January 4, 2007 4:58 PM | categories: artist's way