you are here [x]: Scarlet Star Studios > the Scarlet Letters > serena barton's "layers of memory & imagination"
<< before sandwich plates for "the drifter"
after >> stopmo and storytelling skills

April 7, 2007
serena barton's "layers of memory & imagination"
by gl. at 5:51 pm
we hosted the collage workshop "layers of memory & imagination" a couple of weeks ago. it was a small but fun class. for the first time in a while, i was actually a participant as well as a host! serena is a gifted, caring facilitator who managed to be both accessible and non-intrusive.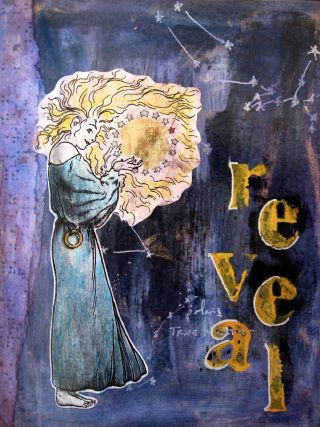 [a couple of my collages from the workshop; click each to see them larger]
we were asked to bring images to work with that we found personally meaningful. most people brought family photos, but i brought these illustrations from stories i've carried with me for years. the first collage includes an image of yvaine from stardust; the second is silent bianca from the collection the girl who cried flowers. the first collage has gold leaf, braille, and a transfer of the august stars. the second has photocopies of an 1800s marriage contract i found in a dusty box on the floor of a used bookstore in England.
though i think everyone who came had a good time, i was surprised there wasn't more interest in this workshop. collage is our mainstay event, but it's very casual and short, so i thought people would jump at the chance to do it with an experienced instructor and a longer, deeper focus. and i wanted a good turnout for serena, because she rearranged her schedule to accomodate a student for another class (as well as an instructor who flaked on me).
i am more hopeful about serena's next workshop, "not just a pretty face". it involves oil paints and canvas, which makes me nervous (and nervous is often a sign i should go ahead & take the class, too :). at the moment we only have two more spaces left!
posted by gl. | April 7, 2007 5:51 PM | categories: classes & workshops