you are here [x]: Scarlet Star Studios > the Scarlet Letters > 2009 lsgl work begins
<< before birthday card: mike liebert
after >> birthday card: grant goans

January 6, 2009
2009 lsgl work begins
by sven at 4:54 pm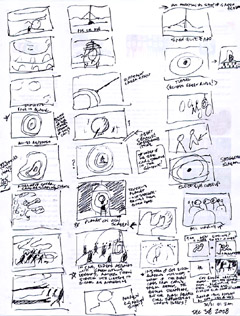 thumbnail storyboard
I marked it on my calendar: on January 6, get back to work on "Let Sleeping Gods Lie." So here goes...
May 2009 be the year I get this film done!
I'm hopeful. On the last day of 2008 -- at 2am -- I was visited by my muse. I got out of bed and scribbled out a thumbnail storyboard: a short new bridge in Act II, a different transition to Act III, and a single shot that creates an entirely new ending for the film.
The changes don't require any new props. And it feels like the story will make somewhat more sense now.
Anyway, I'll start developing the new storyboard and see where it leads.
posted by sven | January 6, 2009 4:54 PM | categories: let sleeping gods lie