you are here [x]: Scarlet Star Studios > the Scarlet Letters > jewelry cabinet
<< before birthday animacation
after >> birthday card: maija prakash

November 16, 2009
jewelry cabinet
by sven at 7:00 am
I've been meaning to share photos of this jewelry cabinet I made for Gretchin's birthday back in August.
It's 2' wide by 2' tall and hangs on the wall like a painting. It has 78 regular hooks for necklaces, and 39 circular hooks for earrings.
The exterior is decorated with strips of moulding that I found at Home Depot. I wanted to create the impression of a something plain, almost architectural -- which when opened leads to a universe of magic and whimsy.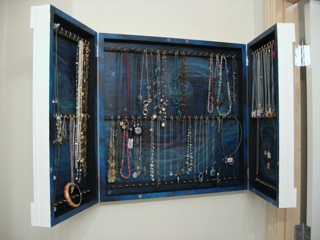 Clamping pieces while wood glue dries, the wire in back hidden by side panels, screws heads hidden in milled holes… This is the most sophisticated piece of carpentry I've attempted.
I've got mixed feelings. It's bulky, and the dimensions for hanging necklaces is a little off. But Gretchin's getting good use out of it -- that's a win.
posted by sven | November 16, 2009 7:00 AM | categories: other art