you are here [x]: Scarlet Star Studios > the Scarlet Letters > dinnergrrls holiday bazaar
<< before four types of storyboard
after >> superNOVember - 3

November 6, 2006
dinnergrrls holiday bazaar
by gl. at 1:30 am
the dinnergrrls event was much better than i expected. as usual, sven was a blessing: he helped make that cool banner, cut (& in some cases, ironed) large amounts of paper, mounted some small calligraphy pieces, attached business cards to bags and helped with the arrangement of the table.
it was a month's worth of shopping & diligent taskmastering to create collage packs, daily doodle journals, daily writing journals, inspiration packs, jewelry, wrapping paper, calligraphy tiles, flyers, instructions & packaging. i also hand-selected a couple of artists to display their work at the table too: the amazing alesia zorn & the creative anna magruder! i thought i would get some of my own cards printed, but alas, that was not to be this year.
but one of the highlights of this very long preparation process was discovering how much i love the metal letter punches to make jewelry! i mean, really, lovelovelove.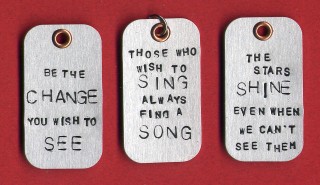 [3 necklaces: "those who wish to sing always find a song," "be the change you wish to see," "the stars shine even when we can't see them"]
some of these are general inspirational quotes and some of them are from my own poetry, which i find even more appealing.

[bracelet: "i am here to be heard"]
even better, all of the jewelry sold! to be fair, i loved the "stars" piece so much i'm wearing it myself, but someone asked me to make one for her this week, and someone else asked me to make the "song" piece for her after that. yay!
i wasn't surprised so little of my other stuff sold, even though sales for alesia & anna were pretty strong. it's less adaptable for holiday sales or gift-giving, but i had to try. my primary purpose was to encourage people to make & buy art, and in that sense i think i succeeded. but one of my available impulse purchases was very popular: i bought a bunch of "wish tokens" because they're the kind of thing i would be charmed by if i was a customer, and i almost sold out of them! wish tokens are small metal disks w/ stars punched out of them. they were easy to add to purchases people were already making, and even people who didn't buy anything else couldn't resist one, but often they were bought in two or more clusters. because who doesn't want a special wish for the new year? :D
my only disappointment was that the announcement of the sale on the events list caused three people to unsubscribe, including two people i would have liked to have stayed connected to. if you can't promote yourself on your own events list, where can you do it?
but all in all, this was a good introduction to november & i hope i made the holidays a little brighter for someone. now i just have some followup to do and to catch up on everything i pushed back in order to make this deadline....
i want to end with many extra special cookies & thanks to people who came to visit: michaelmas, grace, anna, ppcw colleen, kori, emma, sven, mph & bridget. sorry i didn't get to talk to you longer, but i very much appreciate your support! *blows kisses*
posted by gl. | November 6, 2006 1:30 AM | categories: exhibits & events, other art