you are here [x]: Scarlet Star Studios > the Scarlet Letters > wayward
<< before artist's way virtual open studio review
after >> last chance to find your muse (aka artist's way)

January 21, 2007
wayward
by gl. at 9:06 pm
i just discovered this homage to trixie from wayward waif:
"It's a magnetic poetry Toyota. On so many levels, and for so many reasons, the owner of the magnetic poetry car prompts me to see the world as a much more friendly place than I normally view it. An actual car with magnetic poetry pieces. Uber awe-inspiring in a way that I can not adequately describe in words."
yay! which is a good excuse to finally post some of the poetry we got while traveling through canada this summer. i was surprised to discover that until we reached edmonton, most canadians looked at trixie with suspicion. i had expected her acceptance to be greater there than it is here. and even those who chose to play with her played roughly, showing a disturbing tendency to rip words apart to create the sentence they wanted.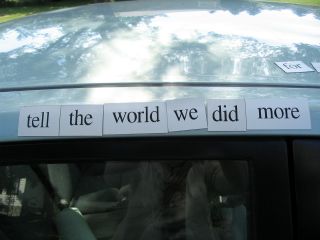 [tell the world we did more]


[recall rust goes through sad hair]


[he drinks & i run]


[have sizzle in the world]


[worship skin and sizzle fire]


[man wants woman but she wants creatures of the night]
that last one has probably been our longest and most complete sentence so far. click on the image to see it larger.
posted by gl. | January 21, 2007 9:06 PM | categories: trixie