you are here [x]: Scarlet Star Studios > the Scarlet Letters > squee!
<< before sunrise, sunset
after >> new stopmo stage

September 14, 2007
squee!
by gl. at 10:51 am
when shelley told me she was working on a pincushion for my birthday, i didn't know what to expect. even the picture she posted on the blog seemed unbelievable. but last week i received a box in the mail and there was "squee!"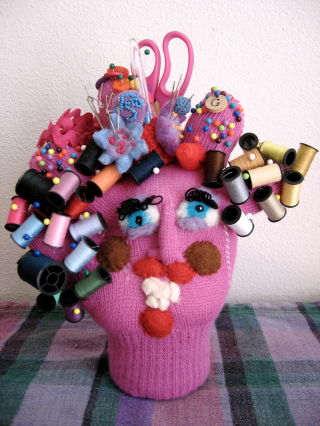 [squee! waves hello]
i was stunned! i've never seen anything like it! she comes packed with everything: scissors, seam rippers, pins, needles, a decorated needle threader, thimble, buttons, rickrack & ribbon... and thread spools for curls! she stands firmly upright thanks to a weighted base.
of course, toby took to squee! right away:

[toby says, "I HAVE A NEW FRIEND!"]
thanks, shelley! what an unexpectedly thoughtful gift! SQUEEEEEEEE!
posted by gl. | September 14, 2007 10:51 AM | categories: miscellany, toby