you are here [x]: Scarlet Star Studios > the Scarlet Letters > artist's way: session 6
<< before pressing business
after >> artist's way: session 7

November 5, 2007
artist's way: session 6
by gl. at 11:59 pm
"abundance" is one of my favorite chapters in the artist's way, and i always enjoy it when it coincides with halloween so that we can make masks. it makes the studio into a glorious chaos! after several weeks of tidy & contained activities i get to drag out the bins of 3d objects and everyone gets to find ways to use old umbrellas and discarded light bulbs and even prozac pills i got from who-knows-where! now at the halfway point, participants are moving towards activities that require more involvement, stimulus and an awareness of space.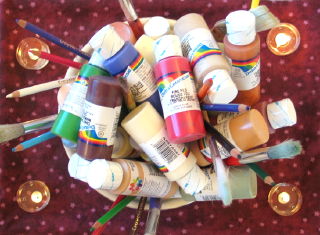 center (abundance): this chapter is usually one of my favorite centerpieces: a large bowl overflowing with apples, which the participants get to take home with them at the end of the evening. i even insert candles into some of the apples. but this year i didn't manage to get apples in time for the session, so i scrambled madly in the morning to find something we had an abundance of and finally remember all our huge stash of acrylics, many of which sven was using for monster month. so they formed the base of the center this week, which then was filled out with a bristling array of brushes, pens & pencils.
music: delerium's karma and poem.
posted by gl. | November 5, 2007 11:59 PM | categories: artist's way