you are here [x]: Scarlet Star Studios > the Scarlet Letters > first lip-sync test
<< before new puppet: professor ichbonnsen
after >> lip-sync test 2

November 15, 2007
first lip-sync test
by sven at 2:28 pm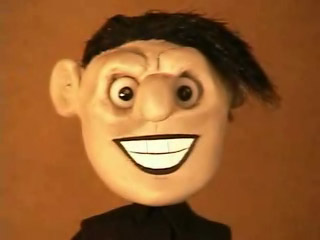 click on image to play clip (75 KB)
Here's my first true lip-sync test. Notes:
I shot 15fps. The "o" in "Ichbonnsen" is jarring to my eye... Does it come in too soon? Did I need another inbetween in order to get to that shape? Is it just holding still for too long? (The "i" in "lives" is also a bit off -- but not as badly.)
The stickers' corners want to pop up, and they cast shadows. Grrrr.
It's hard to keep the head perfectly in place when you're trying to press stickers onto it.
I thought I'd be clever and put the stickers on a piece of clear acetate, sitting on top of a photocopy of the mouth forms -- making it easy to select what I want to use. It turns out, though, that the stickers adhere rather well to acetate. I'll have to try semi-translucent wax paper next.
I bumped one of the clip lamps. The placement of the one on the right, at least, is going to have to be re-thunk.
the camera was very slowly leaning forward during the shoot. I must not have locked off the head tightly enough.
posted by sven | November 15, 2007 2:28 PM | categories: stopmo