you are here [x]: Scarlet Star Studios > the Scarlet Letters > animation: paint improv
<< before birthday card: gretchin lair
after >> birthday card: shu-ju wang

August 10, 2009
animation: paint improv
by sven at 7:00 am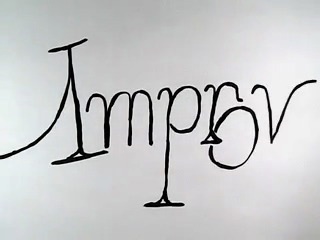 click on image to play clip (96sec - 4.4 MB)
When I was at ASIFA Portland's summer social on 7/18, I got to play with a sandimation set-up… Down-shooting at a light table with sand on it. It got me jazzed to try some down-shooting at home.
sandimation
I used some modular light supports that I built a while back, and simply clamped on a cross-brace. The camera is attached with a 3" long 1/4" dia. threaded rod. Unfortunately my good digital still camera broke in Wisconsin -- so I shot using a video cam, which is more prone to flicker.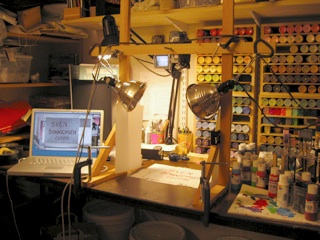 down-shooting
Altogether, it took about 14 hours… Nearly half of which was sound work. Sound design was very influenced by Joanna Priestley's animations -- which I highly recommend.
posted by sven | August 10, 2009 7:00 AM | categories: painting, stopmo