you are here [x]: Scarlet Star Studios > the Scarlet Letters > thirty-nine dance
<< before happy halloween from scarlet star studios!
after >> thirty-nine dance: behind the scenes

November 7, 2010
thirty-nine dance
by sven at 11:21 am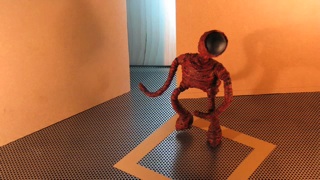 click on image to play film (5sec - 1.7 MB)
or view on YouTube
For my birthday, I took a "staycation" in the studio. For a few days, I got to eat, breath, and sleep stopmo.
I've been wanting to try choreographing a puppet dance. I managed to build a new puppet, compose a song, and work out some steps. Time ran short, though, so I only got five seconds on film.
If you want to hear the complete "thirty-nine" song, you can listen to the mp3 here.
(Note: The song has a very low bass line, which might not be audible on some computer speakers.)
posted by sven | November 7, 2010 11:21 AM | categories: music, stopmo