you are here [x]: Scarlet Star Studios > the Scarlet Letters > ken sipel visit
<< before poem: i am not last in the line
after >> clyde

July 3, 2011
ken sipel visit
by sven at 4:00 pm
Sven & Ken, June 8
Ken Sipel is a fellow stopmoe and blogger. Last month I had the pleasure of meeting him in-the-flesh.
Ken was coming through town and contacted me to see if we might meet up. Absolutely! I love it when stopmo bloggers bridge the cyber divide — and encourage other readers to also come visit if they're near Portland.
unpacking Christian
We talked about the NW Animation Festival and about my armature work. Then Ken gave me real treat, and let me see the work he's been doing on 3D-printed replacement faces for his puppet "Christian."
head side
Since Coraline, a number of us have been speculating that indie animators might print puppet faces in resin using shapeways.com. To the best of my knowledge, Ken is the first to actually try it.
face inside
The photos that I took at the Coraline premiere party were apparently quite helpful in the design process. In the photos here, you can see that the puppet head is built from four main parts: the back of the head, the face mask, a core, and the eyes assembly.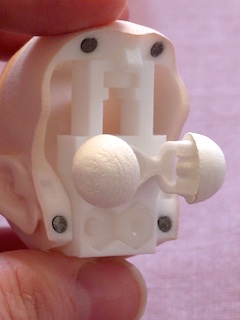 eyes mechanism
The back of the head attaches to the core with a screw at the top, which will later be covered by hair. The contours of the core could theoretically be rectangular, but become narrow at the jaw to allow a tight fit with the back of the head. The face snaps into place with tiny magnets.
head core
The core has a detachable part at the bottom that clamps around an armature's neck post. The eyes are half-spheres with tiny ball joints held in place by the pressure of the semi-flexible plastic sockets. The whole eye assembly can be detached from the core.
Christian & Ken
Congratulations to Ken on this ingenious puppet construction! I am thoroughly impressed with how his project CRS Glimmer is coming along, and can hardly wait to see further developments. Outside of feature films and big budget TV commercials, this is pioneering work!