you are here [x]: Scarlet Star Studios > the Scarlet Letters > part time playhouse interview
<< before armatures 101 - part 2: how to make a wire armature
after >> going to ottawa on a racc grant

July 6, 2012
part time playhouse interview
by sven at 12:53 pm
David Holloway, Sven Bonnichsen and Archie Washington on Part Time Playhouse
I got to be on television this past Sunday (7/1).
Archie Washington is the producer and director for a cable access show called Part Time Playhouse. He invited me to be his guest for a 15-minute interview representing PDX Playwrights.
I initially resisted the invitation. I've successfully passed the reins to Miriam Feder for producing Fertile Ground 2013, and have been gently extricating myself from power for the past few months. Better to spotlight the new leadership, I felt.
I did manage to get David Holloway on board — the one PDXP member who's been around since the group's beginning, five years ago — but Miriam was unavailable. Archie still wanted me... So I decided to do the interview to support a fellow producer. I know what it's like trying to wrangle enough people to put on a show.
Archie interviews Jessica Dart and Claire Willett
It wound up being rather fun. Archie is very warm and easy-going, so it was a low-anxiety affair. And being in the big open room where filming takes place, surrounded by cameras and lights and equipment, you can't help but feel a sense of creative possibility.
The call for "talent" was at 4:50, the live broadcast took place at 7:00 — so there was a lot of sitting around, waiting. Most of that time was spent in the "green room" (actually a conference room) chatting with David, Claire Willett and Jessica Dart. Claire is the new creative director at Milepost 5; I've known her a few years via PDXP. Jessica's a dramaturge collaborating with both Claire and Archie to create The Scriptorium, a new series of workshopped plays.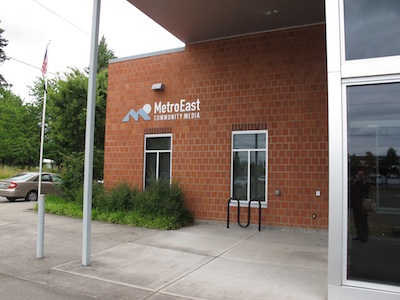 MetroEast Community Media
This episode consisted of clips from the previous season's performances, an interview with Claire and Jessica, more clips, the interview with David and me, then more clips. I felt like I managed to hit all the important points about PDXP with at least tolerable eloquence. From what I can tell, the episode will eventually be available on YouTube — but I have no idea when.
So, all in all, a neat little opportunity. Thanks Archie!
posted by sven | July 6, 2012 12:53 PM | categories: exhibits & events, playwriting