February 2005 archives
you are here [x]: Scarlet Star Studios > the Scarlet Letters > February 2005
<< before
after >> March 2005

February 27, 2005
New flat files!
by sven at 10:00 pm
Seems like every artist's studio has to have flat files. When we went on the Portland Open Studios tour in October, everyone had them... You know -- the immense but shallow drawers that you might keep maps in?
Gretchin has wanted a set of flat files forever. They're exactly what you need in order to store big flat pieces of art. But they cost maybe $300 - $600, depending on whether you're buying used or new. Eep!
So I decided to make them myself.
...But where to put them? My "ah-ha!" moment (Jan 18) was when I realized that we had the perfect niche in the studio, right under our noses -- if we moved out the washer/dryer!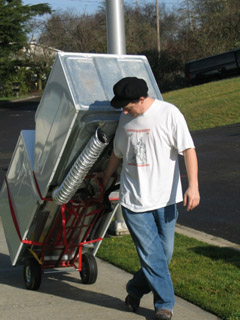 Jan 21: moving the washer/dryer
I had hoped to get the flat files completed before our first Artist's Way class began, on Jan 24. Not much time at all, from when the inspiration had struck -- but I've worked miracles before. I dove in, headlong, and made a glorious creative mess...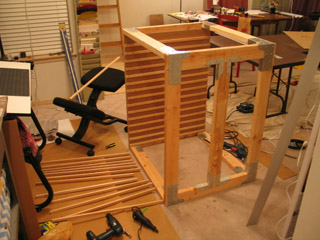 construction begins
No miracle this time. I hit a major snag in the wee hours of Jan 24. See, I had used these nice sturdy joints for the frame -- but their bolts stuck out a little too much on the inside. If I had kept that design, some shelves would have to be narrower than others. I had to clean everything up and put the project away, incomplete.
I finally got back to construction on Friday (Feb 25). One corner at a time, I replaced each one of the offending parts with two joints that would sit on the outside surface. Take a look in this picture at how the corners have changed:
side view
Another interesting aspect of the design, that you can see here, is that the shelves are longer than the actual frame. The reason for this is that I had to be able to get the frame through doors and the hallway comfortably. The frame is 30" deep; the shelves are 40" deep. So, once the bulky frame is in its nook, the shelves can be tipped into place on their rails with ease.
Anyway, I just finished the flat files tonight and loaded them up with art and big sheets of paper. Here's the final product:
Feb 27: completed flat files
Bottom Line:
I'm happy!
Conception-to-completion, the project took almost exactly 40 hours of work time, including shopping runs to Home Depot and Ace Hardware. Cost of materials was $185, not including the first set of joints (which I hope to return) or some new tools that I got during the project.
I think it's a pretty good value. If you try to assign a monetary value to the time I put in, then maybe not -- but I had a lot of (exhausting) fun doing it, so I prefer not to factor that in. Besides which, most flat file systems only have 5 shelves; ours have 15 -- and you can remove shelves if you want more vertical space. ...And they fit perfectly into our nook!
I mean, how cool is that?
posted by sven | permalink | categories: studio space
February 22, 2005
artist's way: week 5
by gl. at 3:22 pm
missing two participants, though they both emailed their checkins, which i read aloud, and sven left a proxy bear clutching an "Artist's Way!" banner.
this week's activity was blind contour drawing: a self-portrait for 5 minutes, then with another particpant for 10 minutes, then another self-portrait for 15 minutes. writing responses were done with eyes closed. i'm curious about how i'm going to fit more than 4 people on the walls for this exercise & the blind painting exericse.
i don't know how much to say about the participants because one of the most fragile parts of the group process is developing trust and faith in each other. monday nights are supposed to be the nights without expectations, a safe space where participants can be vulnerable and revealing. do i damage that trust by writing about specifics?
for instance, rob says since his last artist date (to see cornell west @ reed w/ sven, and yes, we know that an artist date is meant to be done alone, but i still say something is better than nothing) he's been struggling with his relationship to god and especially church. earlier in the evening, joanne said she was sometimes uncomfortable talking about her buddhist beliefs in a group of agnostics. this is all relevant to artist's way because it's supposed to be a spiritual path. the word "god" is all over that book. am i doing my group a disservice by being unable to go there with them? but at the same time, how do i make it safe for aetheists like dan? joanne wrote a great version of the artist's prayer: "please."
in other artist's way news, brian wanted to give up morning pages altogether because he wasn't getting any exercise and says he doesn't have more time to cut. i recommended he moved to 1 page or 3 smaller pages, that even 10 minutes of morning pages each morning was a practice worth continuing.
posted by gl. | permalink | categories: artist's way
February 14, 2005
LSGL work session #4
by sven at 11:36 pm
Time in studio: 1 hr
Accomplished:
created half a new storyboard based on most recent rough cut
found an alternative to storyboarding in Quark: Microsoft Word
printed wirelessly from the studio up to the printer in the office for first time
Commentary:
One of the big projects during the past few months has been to upgrade from Mac OS 10.1.2 to 10.3.8. Big leap! I've held off a very long time because it's absurdly bad luck to make big changes in your computer while you're in the middle of a project.
But then, I started "Let Sleeping Gods Lie" (originally "The Cave") back in 2003. I didn't think it would be a three year project!
Well, at the Mac Salon in January I finally couldn't stand it anymore. I think the straw that broke my back was that the Delicious Monster website wouldn't even let me look at the info on Delicious Library, since I didn't have the right OS to run it. I said "do it now!", and Gretchin -- my wonderful sys admin -- installed 10.3 then and there.
[Being able to stream iTunes wirelessly from the studio was another killer app that I could no longer live without.]
Ah, but there have bumps along the way.
One casualty of the transition has been my Classic copy of Quark Express. It still runs on Confessor [the laptop] -- but Planet Camino [the workhorse] chokes and barfs when it tries to open up OS 9. I can still do Quark on the laptop if I want, then... But all my previous storyboards have been in Quark, and they're saved on Camino. Juggling the files over to the laptop? Inconvenient. I want to be doing all my movie work on one computer, thanks.
Tonight, after the Artist's Way meeting, I went directly to The Tentacle Room (AKA "the Lab") to put in an hour on LSGL. I'm realizing that it's time to review the storyboard again -- both in light of the footage of actors that I have now, and in light of new ideas about what direction I want to take the story in. So I had to find a new way to do storyboards.
I hadn't realized, but I can just drag and drop JPEGs into OS X Microsoft Word. Sizing the pics and then sticking them into a table should do the trick, at least for now. Exporting stills out of my most recent rough cut (the "pacing" draft), happily, is a breeze in QuickTime Pro.
Got about half of a new, revised storyboard completed. Also printed from the studio for the first time. [The printer has moved to the other house, up to the office.]
One of my next steps is going to have to be editing the storyboard -- drawing new pictures for the new animation shots I want to add.
Next Steps:
finish making the "pace edit" storyboard
start editing the storyboard vis-a-vis new story ideas & animation shots
posted by sven | permalink | categories: let sleeping gods lie, movies
Back at work on "Let Sleeping Gods Lie"
by sven at 2:25 pm
I've just gone back to work on "Let Sleeping Gods Lie" this week...
I had just been thinking to myself, "Huh... Wouldn't it be nice if I had a blog dedicated to the creation process?" -- when Gretchin brought up the idea of creating a Scarlet Star Studios blog. What fortuitous timing! So Sven's straining eagerness helped, um, gently nudge this thing into existence.
For the sake of of continuity, I'm going to cut'n'paste some notes in here that I wrote earlier this week:
Thursday, February 10, 2005
Sat down at Camino to look at "Let Sleeping Gods Lie" for the first time since October. I have some new thoughts about process... It looks like very little can be automated on this flick. Every dang special effects shot has to be given unique attention. ...And that includes arranging the 3D set and populating it with critters (set dressing). Not as bad as it sounds: putting the backgrounds in sans critters first actually feels like it would be an achievable step, upon which I could build.
Saturday, February 12, 2005
Lovecraft update...

Last night: 1 hr.

FInally figured out how to attach the arms. Spline draw (16 sided); copy the squre polys from where it will attach; connect the points of the square to the circular base by hand.

Also did a test to see if I could do my saturation / hue shift in After Effects. Yes! This is very important, since for some reason I thought back around October that I was going to have to batch process image sequences in PhotoShop -- which would have taken simply forever.

Today: 2 hrs.

Did a fairly successful test animation of an eye opening. The eyelid was made using spline draw, then the lathe tool. I wind up having something that looks like a round vase. Then I created endomorphs for the shut and open positions. Needs tweaking -- but proof of concept is there.

Also took an old one-fifth version of the Elder Thing, and posed it to see what it would look like standing up. I arranged four more in Lightwave in order to get the full creature. I got it standing up OK, but having to deal with five limbs is making me wonder if I ought to scale down to a three sided creature. That would make me sad -- I've been holding out on the five-sided issue, and only gave in simplifying the arms with great grief.

Tried to see if I could apply the neon-gothic style to the cave in Modeler, in the surface editor. No luck. I can add a layer to the texture's color (gradient, multiply, aqua) and get an approximation of the ice cave's look -- but without the effect of hyper-saturation present in the original process, it all comes out looking flat. Oh well; as long as the color can be tweaked in AfterEffects instead of PhotoShop, I'm a happy camper.
posted by sven | permalink | categories: let sleeping gods lie, movies
the pretty scroll paper
by gl. at 1:08 pm
it's valentine's day. welcome to the new scarlet star studios blog!
i received an email today: "Hi there. Are you the person who writes sentiments on the pretty scroll paper with the calligraphy writing? I would like something made. Please write back."
why yes! i am the person who writes sentiments on the pretty scroll paper! i should add that to my business card:
Gretchin Lair
Writes sentiments on the pretty scroll paper
Artist's Way facilitator
whee! :)
posted by gl. | permalink | categories: administrivia, calligraphy