you are here [x]: Scarlet Star Studios > the Scarlet Letters > "down to earth"
<< before good google!
after >> lsgl: 9 days = 8 seconds

June 19, 2007
"down to earth"
by gl. at 1:03 pm
i facilitated "down to earth," the andy goldsworthy-inspired workshop i've been dreaming of for years, at the mount hood arts cabins june 9.
there was so much uncertainty about it for a while i wasn't sure it was going to happen: a project fell through that forced me to make the workshop a 1/2 day instead of a full day, though i initially thought i'd have to cancel it, and then there was an insurance snafu which i got a waiver for but may affect future workshops there. which is too bad, because it's a lovely location: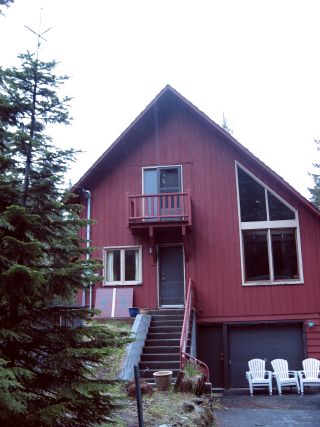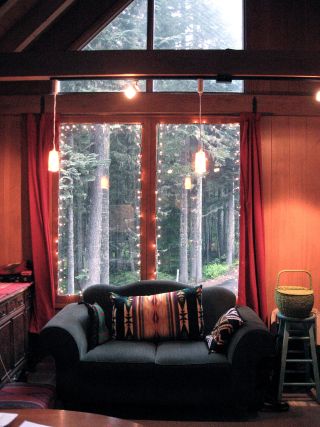 of course, when i first saw it in march, it was snowing!
so i was glad it wasn't snowing for the workshop, but it did rain like mad in portland the morning of the workshop & i was afraid it would keep people from coming. fortunately, it didn't rain much at the arts cabin until after the workshop: it rained very lightly off & on all day, but mostly mist and nothing terribly distracting, especially if you were working under trees.
besides the beautiful cabin & forest location, one of the reasons i loved this location was how much room we had to roam: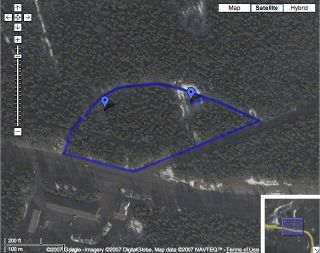 [arts cabin boundaries: click the image for the google map]
even better, they were gladly willing to let us tromp around anywhere and gather as much as we wanted. powell butte, which is another location i would have liked to have hosted this because it's right outside my front door, is very strict about staying on the trail. the only complaint was that because it was so close to highway 26, even though it wasn't visible, you could still hear it. i think the location is so ideal & rare otherwise that it was a small price to pay, and i didn't even notice it until someone pointed it out.
so after introductions and a brief discussion of goldsworthy principles, land use & history, we all disappeared into the forest for 3 hours. i wanted to stick around the cabin in case something came up, but i was surprised that only two of the participants wandered very far from the cabin at all! four of us stayed within 100 feet or less of the arts cabin. then we met together and walked to each person's site so we could talk about what we did & take pictures, then we met back at the cabin to write. the writings were surprisingly deep for such a short writing, so i could tell the whole experience was very affecting.
i usually have a few false starts when creating art at an art workshop, and this was no exception. i tried a variety of locations and plant materials, but nothing spoke to me. with just 45 minutes left, i discovered a hollow, lightning-stuck tree and everything suddenly clicked. all its bark had fallen off, leaving a big blank canvas on its back side. i wanted to use the leftover charcoal from the burned tree to draw something: initially, i thought i would draw flames, but the texture wasn't very conducive to figurative drawing or illustration. so i began to outline the hole, and it turned out that the charcoal made the best marks if i followed the contours of that hole.

[smoke rings: click the images to see the other participants' pictures]
i was so happy to have made this. it felt right as soon as i saw the tree and the charcoal. it definitely stands out: everyone else made more "natural" creations which were quite beautiful. but i loved this. i loved working with the materials, i loved the result, i love all its meanings: it could represent a target, a physical manifestation of the fire spreading, the fire breaks firefighters use to keep fires from spreading, the sorts of fire rings you camp next to, or, as i wrote at the end of the workshop, "a ward to keep away fire, death & rot. it's too late for me, but let me be a warning for you all."
after the workshop, one of the benefits about hosting at the arts cabins was that as an instructor, i got to stay overnight. so after cleaning up and making dinner, i settled into a long night of reading "indian tales," a native american version of 1,001 arabian nights that must have been written in the 1930s. at midnight i turned off all the lights, sat on the porch and listened to the rain in the trees.
still todo: i plan on sending the pictures to apple to print little booklets and sending them to the participants so that their ephemeral exploration has a tangible outcome. and finally, i need to approach the art cabins w/ future proposals: we could have a lot of fun up there! i envision writing & art retreats, labyrinths and more.
update jul20.2007: i just got the little books i made via iphoto back from apple: they look great! it's the smallest size they offer, which is just a bit bigger than a business card. it's just the right size for a little memento!
posted by gl. | June 19, 2007 1:03 PM | categories: classes & workshops