you are here [x]: Scarlet Star Studios > the Scarlet Letters > toby's first present
<< before the strong silent type
after >> fish!

December 19, 2007
toby's first present
by gl. at 4:19 pm
yesterday we got a surprise package from aiyana, shield's fiancée -- and it was addressed to toby!

[*gasp* "FOR ME?!"]
this is the first package he's ever received and he almost hyperventilated with joy. but we didn't know if he could open it: what if the package was also the wrapping? fortunately, toby had a plan: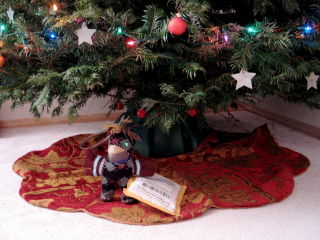 ["I'LL JUST CAMP OUT UNDER HERE UNTIL CHRISTMAS! WHEN'S CHRISTMAS?"]
so we wrote shield to ask if whatever was inside was wrapped, so at least toby could open the outside. "mr. spook & co" graciously responded, indicating that the outer packaging was merely a formality that could be dispensed with posthaste. so toby gleefully tore it open...

["THIS IS SO EXCITING!"]
...and found his very own toby-sized present inside!

["I'LL NEVER LET IT GO!"]
i think toby was so excited he slept with the present under the tree last night. we told him he just has 6 more days before he can open it: we'll start the countdown tomorrow, one for each arm.
also, at the rebel rabbit craft fair this weekend we met marty, a silly sock creature who has a traveling website, too! toby didn't get to meet him, but he'll be able to read about travels with marty -- as soon as he comes out from under the christmas tree. :)
posted by gl. | December 19, 2007 4:19 PM | categories: links, toby