links
you are here [x]: Scarlet Star Studios > the Scarlet Letters > links
February 6, 2010
art i want you
by gl. at 8:04 pm
dot posted a link to a charming video, "art":
then sven sent me a still just to make sure i knew it had a bicycle in it, because he knows i can't resist art with bicycles:

[great ideas come from great bike rides]
posted by gl. | permalink | categories: links
January 30, 2008
leap and the net will appear
by gl. at 1:55 am
linda's got a great post up: she's quitting her dayjob to become a full-time artist!
linda's a firecracker: she's got a ton of energy and i can only imagine what she'll do now that she doesn't have to fit in everything after work and on weekends. but she's an immensely talented encaustic artist: whatever she does, i'm sure it will be fabulous!
i also adore the leap year symbolism. i think that would be a great tradition: every leap year, decide what you want to leap into, or how you want make the leap into something you haven't felt ready to try before.
go, linda, go!
posted by gl. | permalink | categories: links, miscellany
December 19, 2007
toby's first present
by gl. at 4:19 pm
yesterday we got a surprise package from aiyana, shield's fiancée -- and it was addressed to toby!

[*gasp* "FOR ME?!"]
this is the first package he's ever received and he almost hyperventilated with joy. but we didn't know if he could open it: what if the package was also the wrapping? fortunately, toby had a plan: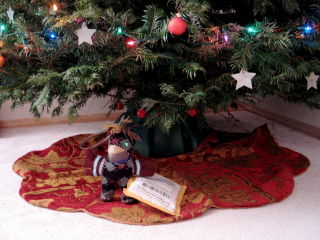 ["I'LL JUST CAMP OUT UNDER HERE UNTIL CHRISTMAS! WHEN'S CHRISTMAS?"]
so we wrote shield to ask if whatever was inside was wrapped, so at least toby could open the outside. "mr. spook & co" graciously responded, indicating that the outer packaging was merely a formality that could be dispensed with posthaste. so toby gleefully tore it open...

["THIS IS SO EXCITING!"]
...and found his very own toby-sized present inside!

["I'LL NEVER LET IT GO!"]
i think toby was so excited he slept with the present under the tree last night. we told him he just has 6 more days before he can open it: we'll start the countdown tomorrow, one for each arm.
also, at the rebel rabbit craft fair this weekend we met marty, a silly sock creature who has a traveling website, too! toby didn't get to meet him, but he'll be able to read about travels with marty -- as soon as he comes out from under the christmas tree. :)
posted by gl. | permalink | categories: links, toby
December 3, 2007
bibliofile
by gl. at 3:44 pm
it took me a while to get to this, but if you're looking for a remarkable bibliophile present, might i recommend peacay's first book: BibliOdyssey: Amazing Archival Images from the Internet? bibliodyssey features objects of curiosity & wonder that have been hiding in library collections for dozens or hundreds of years. ever since i stumbled across the bibliodyssey website i've been captivated at its discoveries and delighted by its range & depth. it's the same joy i experience when i'm able to access old book & manuscript collections, but without having to move too close to the getty or the british library. ;)
posted by gl. | permalink | categories: links, miscellany
November 1, 2007
month of 1000 monsters!
by sven at 8:00 am
From my bro's art blog:
Monster month has ENDED! Unlike my brother who posted an illustration every day with description (and a plot!), I decided to post a page of monsters each day so the month total would be 1000. MISSION ACHIEVED!!! Enjoy!
I've been aching to post about this all month! (Boy has time been in short supply, though.) Shield really took the Monster Month concept to a new extreme...
Blows. My. Mind.
Be forewarned, Shield does his html coding by hand -- so I don't know how long the links to his monster pages will stay sitting at the top of his blog. If you want to see them all at once, he's put together a free-standing page that gathers them all together, which ought to be a bit more permanent.
He called yesterday and we congratulated each other on meeting our respective goals. Even so, I think this definitely bears repeating:
CONGRATULATIONS SHIELD!
posted by sven | permalink | categories: bestiary, links
September 10, 2007
diy alert interview
by gl. at 3:12 pm
last week the lovely & amazing diane gilleland posted an interview about scarlet star studios on diyalert! she was especially kind enough to post it in time to help increase visibility for the artist's way creative clusters. thank you, diane!
the fall clusters have had a lot of momentum so far. i'm happy to announce that tuesday morning is full! there's still plenty of room on monday evening, though, and there's just enough time to decide to get support for your creative process & send in your deposit. what are you waiting for? ;)
posted by gl. | permalink | categories: artist's way, links
January 23, 2007
read it and weep
by gl. at 9:01 pm
just in time for national handwriting day (today!), chas has sent us a link to the palaeography tutorial at the uk national archives. palaeography is the study of old handwriting, and the tutorial is especially focused on the typically illegible (but fascinating) documents between 1500 and 1800. it contains tips on reading and transcribing documents, a reference page, a tutorial with 10 levels of difficulty, a ducking stool drill game ("i'm not a witch!") and documents for further practice. it also includes the ability to download all the reference materials as high-resolution pdfs. thanks, chas!
[An Act of Parliament for amending and widening the road from Falmouth to Marazion, Cornwall, 1760. Click the image to see the full tutorial.]
posted by gl. | permalink | categories: calligraphy, links
September 26, 2006
hidden talents
by gl. at 1:53 pm
from npr's "this i believe"...
"I believe we are more than the inhabitants of our cubicles, more than engineers or even parents, husbands and wives. I believe we are transformed and connected by the power and beauty of our creativity."
posted by gl. | permalink | categories: links
June 21, 2006
addict
by gl. at 2:00 pm
man, carl totally knows how to reduce me to a little puddle of musty drool. he furled a link to bibliodyssey's zoomorphic calligraphy, which writes about arabic calligraphic forms:
this isn't much different than the tradition of elaborate spencerian animals, except they rarely contain words:
at any rate, the entire bibliodyssey site is worth adding to my accumulated rss feed; maybe if my book fetish is fed a little at a time i can stop binging. ;)
this reminds me that i've been meaning to write about the other rare-book sites that absorb me for weeks, rendering me unable to do actual work until i have seen all the images and put them in a safe place to use for later inspiration. the most amazing of these, if you love star maps as much as i do, is the us naval observatory rare books collection, which includes bayer's uranometria (1661) and the atlas celeste de flamsteed (1776), along with pix of the glass plates used to record the transit of venus in the late 1800s.
and the collection of anatomical plates at the university of toronto took me about a week to get through, but i recently made a gocco screen from one of its pieces...
posted by gl. | permalink | categories: calligraphy, links, printing
June 11, 2006
i ain't no pollock
by gl. at 10:30 pm
go to jacksonpollock.org and play:
(thanks, dang!)
posted by gl. | permalink | categories: links
June 2, 2006
bloom
by gl. at 11:21 am
according to "websites as graphs," this is what an html dom analysis of this blog looks like:

[click to see a larger version]
What do the colors mean?
blue: for links (the A tag)
red: for tables (TABLE, TR and TD tags)
green: for the DIV tag
violet: for images (the IMG tag)
yellow: for forms (FORM, INPUT, TEXTAREA, SELECT and OPTION tags)
orange: for linebreaks and blockquotes (BR, P, and BLOCKQUOTE tags)
black: the HTML tag, the root node
gray: all other tags
pretty, eh? i'll have to make a transfer print of it at some point, i think. :) see more websitesasgraphs on flickr.
(via kyrie.)
posted by gl. | permalink | categories: links, printing
May 29, 2006
intermission
by gl. at 2:01 pm
let me quickly talk about two things:
first, on saturday i went to a gocco "flash and swap meet" w/ shu-ju wang, the local gocco expert. she's got a riso sp-275 flash unit that doesn't require the cute little flash bulbs. i flashed some new screens, but i didn't actually print much: i should have asked if anyone needed something goccoed! one of the screens i flashed was this picture i took of myself via photobooth at the mac store just the day before:
it looks like the "flash & swap meet" might be a regular thing, so next time i want to remember to bring scissors, tape, treats, and um, paper to print on. :)
second, when i look at the logs, i often wonder who "weefeelfine.org" is. thanks to drawn, i now know: we feel fine gathers sentences from thousands of blogs to construct how the internet is feeling. you get to see the data in several ways:
this is a format called "madness," with each point being a written feeling from someone -- or ocassionally, a picture. here's a picture with its blog text superimposed onto it:

[i mean most days i feel fine im okay nothings wrong at all]
if the radiohead from "ok computer" and "kid a" wanted to make a website instead of an album, this is what they'd make. if i haven't made it sound interesting yet, then i'm obviously doing it wrong. go look!
posted by gl. | permalink | categories: links, printing
May 8, 2006
event full
by gl. at 11:07 pm
last week was an eventful art week:
posted by gl. | permalink | categories: exhibits & events, links
March 28, 2006
process and product
by gl. at 11:13 pm
let me introduce you to fellow delighted documentarian miles hochstein, who runs the wonderful photographic sites portland ground and documented life. he says he considers himself more of a documenter than an artist, but i think documentation can be an art form, especially if you're compelled to do it. is it a form of creative self-expression? then that's the kind of art i adore.
does anyone remember the 2003 portland art center show "process"? i can find very little about it online anymore (damn the fickle web & bad organizations who don't archive things!), but this is what i wrote about it before i had an art blog:
"process" was an art show at the portland center for the advancement of culture [now called the portland art center]. an artist collaborated with a "documenter" responding with an equally artistic "documentation" of that artist's process:

a painting with a timelapse animation (sven's favorite: over 12,000 photos were used!);
a series of 7 paintings, a loose narrative of a car crash, with a music cd (this will apparently become a rock opera at the closing show);
the penicillin corset w/ an accordian storybook;
the muscles and tendons of man & the muscles and tendons of arm, with "samples" of the ingredients (sawdust, paint samples, diet pepsi, receipts) collected in jars w/ indexed, neatly-typed label tags. and while that was impressive, the documentation was vastly more extensive, including a montage of the studios, pix of the process, polaroid snapshots in baggies, and a map of portland which marked places & frequency of visitation. whee! (can you tell this was my favorite? it tugged at my ephemeral heart.)

btw, it was really cold in that space! if you go, bring a coat.
anyway, "process" is probably still one of my favorite shows ever & i was envious of the documenters. i would like to see another event like that or encourage it as a common method of artistic response. documentarians of the nw, unite!
posted by gl. | permalink | categories: exhibits & events, links
February 28, 2006
old tech, meet new tech
by gl. at 11:10 pm
hooray! the portland society for calligraphy now has a webpage! it still needs a little more work, but mostly just tweaking the menu & adding beautiful works of art. the current chairperson of the society has been really great to work for, but even given the opportunity to work w/ good people & an ideal topic, i just don't enjoy web development the way i used to. i am glad to have the chance to give them a website, though, something they've been needing for years. now when people search for the portland society for calligraphy, people will hopefully find themselves there instead of here! :)
posted by gl. | permalink | categories: calligraphy, links, miscellany
December 17, 2005
don't go, gocco!
by gl. at 8:32 pm
kyrie told me that gocco is "going out of print" as it were, and will cease production on machines & supplies. i really didn't want to believe it after just spending an abundant amount of money on a setup about a month ago, and having to project the expense of hoarding screens & bulbs for the forseeable years is making my eye twitch.
so i tried to contact the portland gocco rep but never heard back from her, so i tried shu-ju wang, whose energy & talent finally propelled me into getting my own -- and she confirmed the dreadful news.
there seems to be some hope that another manufacturer will pick up the patents or manufacture supplies. i have no idea how feasible that really is, but if i had any ideas on how to actually make that happen, i would be happy to try. in the meantime, i finally (!) joined the gocco-printers group and am participating in the "save gocco!" campaign. what else can i do?
posted by gl. | permalink | categories: links, printing
December 11, 2005
keep the little flame flickring
by gl. at 9:47 pm
wow! as a letter junkie, how could i not fall in love with spell with flikr? :D
(found via arteliance, who linked to "notes on making art." thanks!)
posted by gl. | permalink | categories: calligraphy, links
December 10, 2005
scarlet star studies
by gl. at 11:38 pm
i was excited to send the scarlet star studios dba ("doing business as") registration off a couple of weeks ago but didn't want to mention it until i got the confirmation back. i paid an extra $5 to receive a confirmation, and it was a good thing i did, because the state decided we were "scarlet star studies" instead. guess i'll be amending that monday...
btw, because i attempted some google-fu but could have saved myself some time, energy and a phone call to my new tax person: if you want to file a DBA/ABN in oregon, use filinginoregon.com, which is the oregon secretary of state corporate division. just one form & $50 for two years!
but make sure you print very, very, clearly.
[update 12.16: we got the corrected paperwork yesterday! we are officially scarlet star studios! :D]
[update 12.19: wow, that didn't take long. we received our first business junk mail today: 3 different companies wanting to us to enable credit card processing. geesh.]
posted by gl. | permalink | categories: administrivia, links
December 8, 2005
research: stop-motion puppet construction
by sven at 9:24 pm
I stayed up way later than I should have last night -- researching how to make stop-motion puppets. And I'm very excited about what I've learned. I'm going to break this into sections...
I. RESOURCES
By far, the best general resource I found was at StopMotionAnimation.com: their Stop-Motion Newbie Guide rocked my world.
Really -- I've been fascinated with stop-motion animation for years, and this site taught me things that I'd never seen addressed before. ...It was valuable to the extent that I feel compelled to list what's included in their index:
Chapter 1: A Basic Overview of Puppetmaking Techniques
Chapter 2: Building a Wire Armature for Your Puppet
Chapter 3: Building up a Classic Stop-motion Monster
Chapter 4: Properties of Different Clays
Chapter 5: Claymation or Stop-Motion - What's the difference?
Chapter 6: Choosing a Camera for Stop-motion
Chapter 7: The Importance of Using Gages
Chapter 8: Stop Motion Software
Three other sites had outstanding tutorial sections: Stop Motion Works, AnimateClay.com, and www.StopMoShorts.com. Whatever educational gaps StopmotionAnimation.com left, they filled in pretty nicely.
Stop-motion animation is a rarified art -- and I'm pleased to discover what seems to be an enclave of amateurs and professionals dedicated to keeping it alive. StopMotionAnimation.com seems to be the heart of their community -- and StopMoShorts.com seems to be where they're showing finished works amongst each other. Not for prizes -- just for the love of it.
...It's very exciting for me to discover StopMoShorts.com -- they have filmmaking challenges every two or three months and seem easygoing about posting submissions. I'm seriously considering grooming future animation projects for display there...
I'm beginning to recognize the names of individuals who -- by their actions -- lead in the "StopMo" community. Four who have personal sites that have helped me greatly:
One more name I want to squeeze in: Kathi Zung. She has a homemade DVD titled "Do It Yourself! Foam Latex Puppetmaking 101" available on her website. I saw it mentioned on Kevin Kelly's Cool Tools site a while back (via Gretchin), and promptly ordered the thing. It's not where I'm going with puppet construction at the moment -- but it was truly an excellent introduction to the topic.
II. PUPPET CONSTRUCTION OPTIONS
I'm going to condense a bunch of what I learned...
Constructing a puppet for animation can be divided into two phases: (A) the armature, (B) the armature's covering.
Phase A. There are basically two sorts of armatures: (1) ones made out of bent wire, (2) ones with machined joints.
Phase B. There are basically three ways to cover the armature: (1) clay, (2) couch cushion foam, (3) foam latex.
Wire vs. Machined Armatures. When you bend wire, it has a bit of rebound; machined joints can be positioned more precisely. Wire suffers metal fatigue over time; machined joints are more generally more durable. However, it's difficult and expensive to machine your own armature.
Differences in coverings. As Mike Brent says, "clay puppets are the easiest to make and the hardest to animate". When you push clay, it smooshes -- so you have to keep resculpting it as you work. ...Foam latex probably gives you the best ability to sculpt your puppet; however, it is very tricky getting the latex to gel correctly, and it can be a fairly expensive route.
...Which leaves couch foam. With this technique, you build musculature with the couch foam (urethane), and then cover it with liquid latex rubber. According to Richard Svensson, this is what you use for "creating the King Kong-Harryhausen-type monster, dragon, dinosaur, etc". The downside: latex rubber disintegrates after about 5 years -- but then, clay and foam latex aren't particularly permanent media, either.
Considering the options, I think it's clear that any 3D puppets I create will probably have a wire armature, and be covered with urethane and liquid latex rubber.
III. CONSTRUCTION DETAILS
Now that I've decided what kind of puppets I want to make, let's take a closer look at the four main steps in their construction...
Step 1: Armature
From what I've read, it sounds like the best wire to use for armatures is aluminum -- it doesn't fatigue too quickly. Several armatures I've seen show more than one strand of wire wrapped together. My guess is that braided wire is more reliable: if one strand breaks, the others are still functional.
You don't want the entire "skeleton" to be bendy -- you want to create some "bones". This can be done by putting segments of the wire through metal tubing, or wrapping them in epoxy putty, or simply by wrapping them thickly with tape. Mike Brent said this about epoxy putty: "It's used to create solid 'grab points' that allow you to feel and easily move the puppet under the padding, and also it helps to lock the twisted wire together permanently".
The following two photos were very helpful to me:
This is a wire armature with epoxy putty "bones". (by Joshua Mosley)
This armature has taped arms, an epoxied torso, and a sculpey head. (by Mike Brent)
Step 2: Tie-downs
How do you make sure your puppet doesn't fall over? Bolt it to the table! You have a choice: bolt from above, or bolt from below. If you bolt from above, you can just have a slot in the puppet's foot where the screw goes. If you bolt from below, you might build a nut into the foot, and then have the bolt come up through a hole in the table. Either way, it's probably best to drill the holes before you start animating, so you won't get sawdust all over and accidentally tip over the puppet.
These photos were particularly useful to me:
Notice the bolt coming up through the table. (by Joshua Mosley)
Notice the nut that's built into the shoe. (by Mike Brent)
This is a reverse-engineered "California Raisin". (from AnimateClay.com)
How do you hide the holes in the table? Filling them with plugs that you can pop out when you need to is probably the best option. At www.StopMoShorts.com the tutorial section contains an excellent animated movie on tie-downs by Nick Hilligoss -- followed up by a great article by Mike Brent about how to hide the holes.
Step 3: Covering with urethane foam
Apply couch foam to the armature using spray glue. Trim it into the shape you want using little scizzors. Nick Hilligoss' site does the best job of explaining this process. Richard Svensson, however, does a somewhat better job of showing how one can shape musculature.
Padded grandma. (by Nick Hilligoss)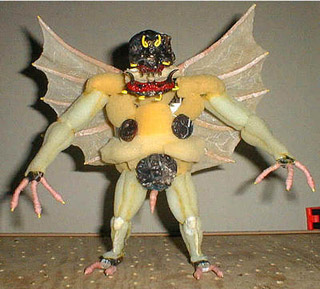 Coach foam on demon. (by Richard Svensson)
Step 4: Latex rubber skin
In his article on "Building up a Classic Stop-Motion Monster", Richard Svensson does a good job of describing how you sculpt a model, create a mold from it, and then cast a thin latex skin -- which one attaches to the bulked out puppet, much as a taxidermist would. When you're closing up seams in the skin, use liquid latex; rather than brush it on, use a sponge to get a smoother surface.
Another great trick for liquid latex: fingers can be built up by applying successive layers of latex directly to naked bits of wire.
Applying latex with a sponge. (by Richard Svensson)
The fully-skinned but unpainted demon. (by Richard Svensson)
Hands made with liquid latex painted over wire. (by Nick Hilligoss)
Closing Remarks
Phew! A lot of details... I'd just like to restate that I am so grateful to Mike Brent, Nick Hilligoss, Joshua Mosely, and Richard Svensson for the tutorials they've put up online -- it's so much easier to understand this art form when you can look at the pictures. If you're interested in StopMo, then please, go visit their sites!
posted by sven | permalink | categories: links, movies, stopmo
December 6, 2005
mhcc calligraphy: class 9
by gl. at 11:26 pm
when xmas & blogging collide: we create gilded versals at last week's mhcc class. guess who's getting a gilded versal for xmas? :D fortunately, i'm guessing michaelmas will find the information here interesting & worth "tarnishing" the surprise. the scanner doesn't show shine so well, though. ergh.
this is considered in draft status until i clean up the edges, reoutline it & burnish it. gilding looks easy, but of course it isn't. it's time-consuming & fussy & messy. even with fake gold leaf kits (as opposed to shell gold, which is more authentic and costs proportionally more), there are several laborious steps after you draw your versal:
bulk up a layer of gesso
let it dry
add a layer of adhesive
let it dry
no, really. let it dry. or when you add gold leaf, it will come up, and you will have to lather, rinse, repeat.
when tacky, gently float a thin sheet of gold leaf over your piece, trying to get as few wrinkles as possible
place a piece of paper over it & burnish w/ a bone folder, trying to get the gold leaf to cover all the adhesive elements
brush off the leaf excess with a softsoft brush
scrape up the edges of ragged gold and excess adhesive w/ tinytiny xacto strokes to expose your versal lines
brush away all the bits
re-ink
place a very soft cloth over the piece and use a burnisher (or a bone folder) to make the bits shine.
keep burnishing
keep burnishing
pause
keep burnishing
tada! pretty, huh? breathe. try to focus anywhere further away than your nose.
when i created this versal at mhcc, it was originally an asymetric design w/ just an M and a B in its right counter. but i drew it on a separate piece of paper because i don't feel confident enough to draw directly onto an original. i rarely do. then i did a basic graphite transfer -- which reversed the B and became the basis for the backwards S (michael's middle name is stuart). i loved the balance & playfulness this created. sweet, sweet serendipity!
also, i was inspired last week to create an artistic response to a political issue (alas, this is one case i could have done without inspiration, though):
this is also a draft, but i see a lot of potential in it. that's four different colors of red ink.
and we don't usually post links (why not?), but here are two i find totally worth mentioning:
keri smith posts a template for a "magic book," which is how marti has us make the abecedariums at the beginning of each term. i'm thrilled to have the instructions because i can just barely do it when marti's there to show us, and it is definitely a cool technique to know.

the gocco is definitely my kind of cute & convenient, but this "cheap screen printing tutorial" wins super mega bonus points for being clever, easy, cheap & equally non toxic.
posted by gl. | permalink | categories: calligraphy, classes & workshops, links, printing
November 5, 2005
lost and found in the stacks
by gl. at 1:30 pm
i think i would cry at this exhibit, i would be so delighted.
posted by gl. | permalink | categories: exhibits & events, links
September 27, 2005
urban vinyl / designer toys
by sven at 10:50 pm
Stuck on the couch with a cold today, google exploration led me to discover urban vinyl -- a.k.a. the designer toy movement.
I'm fascinated! The concept is that artists are doing limited edition vinyl toys -- not based on TV shows, but rather on original pop art concepts of their own. See the link above for a more in-depth history.
from sweatyfrog.com
posted by sven | permalink | categories: links, sculpture
April 7, 2005
"Dollhouse Noah" Sculpture Technique
by sven at 3:53 pm
I've been frustrated for a long time with regards to sculpting. I feel like I just haven't found my medium yet -- but nonetheless have a strong tactile sense of what I'm looking for.
Stuck on the couch with a cold today, I spent a good while surfing the net looking up artists I'm fond of. In the process, I discovered that there's some really exciting work going on in Japan right now with regards to art dolls. Better yet, the process for making some of these things looks very much like what I want to be doing: How to Make Noah's Doll.
A foam core, with a clay-sawdust skin, lacquered with modeling paste... The results are really astonishing! Some of the dolls are unsettling to say the least -- but I'm compelled to share a few of the "Dollhouse Noah" images, simply because I was so aghast (yes, "aghast") at how haunting they are..
posted by sven | permalink | categories: links, sculpture
March 20, 2005
unsolicited & effusive praise
by gl. at 11:29 am
rob, with a master's in american studies, has commented that artist's way might be the best class he's ever taken. at any rate, he writes a wholly unexpected and flattering post on his blog about some of the effects artist's way has had on him (as well as sweet commentary on his impending fatherhood).
though he's absolutely right when he says "which is not to say that we participants four have not proved an intrepid and wowsomely intuitive band...." because they have! each person is here because of a series of serendipities & synchronicities, but now there's a level of trust & cameraderie i find very heartening because i think a lot of artistic self-censoring happens in isolation. supported by a community of what julia cameron calls "believing mirrors," you find courage and hope -- and as rob says, confidence -- to take with you after artist's way is over.
of course, it looks to me as if artist's way is never over. it's more of a spiral than a circle, where you keep seeing the same thing from different perspectives. i mean, there's a lot of ground to cover in 13 weeks (especially if you're struggling against years of doubt or uncertainty). :)
posted by gl. | permalink | categories: artist's way, links