you are here [x]: Scarlet Star Studios > the Scarlet Letters > craft night w/ michael5000
<< before fish puppet for shelley
after >> simultaneous gocco project: winter solstice

January 22, 2008
craft night w/ michael5000
by gl. at 11:59 pm
last week michael5000 invited some people over for craft night. sven did more mending and i brought along a shirt with a little stain i wanted to cover up and one of the patches from the zine symposium in august.

[maybe i should wear this heart on my sleeve]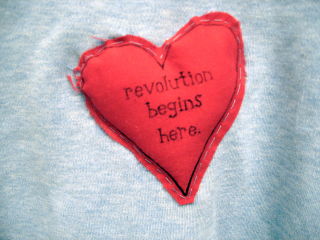 [revolution begins here]
i've never attached a patch before, but for some reason i wanted to stuff this. i was doing really well until the very end, when i decided it had too much stuffing and i had to resew it. i've fray-checked the edges; i hope it makes it through the washer okay!
posted by gl. | January 22, 2008 11:59 PM | categories: exhibits & events, miscellany