February 2012 archives
you are here [x]: Scarlet Star Studios > the Scarlet Letters > February 2012
<< before January 2012
after >> April 2012

February 3, 2012
review: portland animation now! 2012
by sven at 3:08 am
Portland Animation Now! - Jan 27-28, 2012
This past weekend I produced Portland Animation Now! — my third major film event. This was my favorite yet. Not because it ran smoothly… But because there was a crisis and we emerged triumphant.
1. line to the ticket table
FRIDAY NIGHT
Our first night we were running a little behind schedule.
The doors to the theatre were unlocked at 6:00pm. We arrived not more than 5 minutes after six, but discovered one ticket-buyer already waiting — and another taking a nap on the bench where we needed to set up the ticket table. Advance tickets were sold via BoxOfficeTickets.com, which included a notice that our box office wouldn't open until 6:30. Even so, everyone's instinct was to purchase tickets as soon as they walked in the front door — even though we obviously weren't ready for sales yet.
2. Gretchin runs our box office
While Gretchin held back the increasingly impatient throng, the rest of us worked furiously to get our auditorium ready.
Auditorium 2 at 5th Avenue Cinema doubles as a classroom during the week. We need to go through and put seat tables down, move furniture around, sweep the floor, and set up our own microphone, speaker, and CD player for pre-show music. We need to check sound levels and make sure there are no surprise problems with the DVD. As emcee, I need to get each volunteer to their station, reviewing how the projection system works, the lighting setup and light cues. I have to make sure each one knows what to do at the end of the show: who's handing out surveys and who's going to go save us a table for the after-show party.
When told, "we're still getting set up," one irritable patron exclaimed, "what's there to set up?!" …Well, now you know.
3. super volunteers: Brad Bolchunos, Nicklas Nall, Dielle Alexandre, Carly J. Cais, Gretchin Lair, Kate Belden
I always plan to have at least one spare volunteer on hand — in case we need to send someone out to deal with an emergency, or if someone gets sick, or simply flakes. On Friday night, I found myself three volunteers short. Each for very good reasons: sickness, a job interview, friends from out of town. I had some advance warning and we managed… Still, lesson learned: always plan to have at least THREE backup volunteers on hand!
In a 100-seat theater, you might think having 8-10 people for event staff cuts into ticket sales. Don't be miserly. Having the show run smoothly is far more important than giving up a few seats.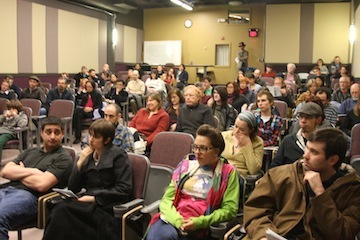 4. audience on Friday night
We filled the exact same number of seats each night: 82. While we didn't sell out, the room felt full. It seems to me that a room feels full at 50% capacity. Most people don't like to sit next to strangers unless they have to, so there's a tendency to spread out — and the eye simply skips over the empty seats.
Looking back at my records, I see that the average number of seats filled during last year's June 3-5 event was also 82. I wonder how to interpret this consistency?
The numbers of seats filled last summer were 97, 87, and 62. (I make no distinction in those numbers between paying audience members and filmmakers who attend free — but don't include event staff, since we sit in a special area at the back of the room.) NWAF11 was a completely different show each day, whereas PAN! was the same program on both nights. Maybe I can infer that the house would have sold out if there were only one screening this time?
Whatever the case, I think the experiment in showing one program on multiple nights was quite successful. If I can get enough good material to do a PAN! show again next January, I may have it run for three nights, just to see what happens.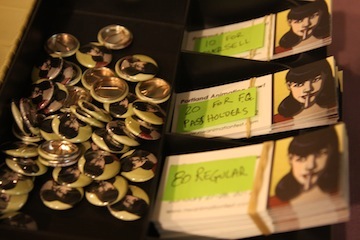 5. Ruby Rocket pins and tickets
I go to a great deal of trouble to make the event's ephemera look pleasing. This was the last time I'll be showing audience favorite Ruby Rocket, Private Detective for a while, so I worked the character's image into all of the graphic design. Her image appeared on the ticket stubs, the pre-show slideshow, the programs, and button pins.
I made improvements to the program this time around. One of the surveys from September's "Best of the Fest" mentioned that the text was too small to read in dim light. So I came up with a new multi-page layout that uses bigger type and includes a small color photo from each film. Stapling all the pages together adds further labor — but this new format will be absolutely essential when I get around to selling ad space.
6. surprising Nicole Lane with award
The PAN! show came about because I saw the chance to do something that hadn't been done before. This year was my second year producing live stage plays for the group PDX Playwrights at the Fertile Ground festival of new works. While reading through fine print, I noticed that the fest is intended to include live theatre, dance, visual arts, and film.
"Odd," I though to myself. "I've never seen film at Fertile Ground." Then: "Wait a sec! I show films now! I've got lots of films that I could show!"
So I wrote to festival director Nicole Lane to discuss the idea. She loved it. She's been wanting to include film for some time, but hadn't known how to reach the right people.
There was some initial concern about the films needing to be world premieres. I pointed out differences between live theatre and animation: how long it takes to produce animation, the economic pressure to premiere in places where there are film markets, and the need to present shorts in anthologies. For film to work at FG, a modest compromise would need to be made.
I proposed the following criteria: (a) films in the program should be "recent" (new if possible), (b) they should all come from Portland, and (c) the program taken as a whole should be substantially different from previous compilations. That sounded fine to folks, and I got the OK.
I'm very proud, in Fertile Ground's fourth year, to have now produced the festival's first-ever film program.
7. Nicole receives Fertile Ground award
Working with Nicole Lane over the past six months, I have a pretty good sense of how much effort she's put into Fertile Ground — a 10-day city-wide festival encompassing more than 100 performances. Making lunch one day, just before the fest was about to begin, it occurred to me: "Nicole totally deserves a medal for this." Then my next thought: "Oh, that's totally doable!"
So I emailed all 70+ Fertile Ground producers, and asked them all to chip in for an award. It didn't take too long to get enough pledges. I went ahead and ordered a hefty yet elegant crystal thing from Bardy Trophy. A lot of the donors were my PDXP playwrights, who were able to just hand me cash. For the rest, I set up a private online payment system via the NW Animation Fest site.
Gretchin has another way of telling this story: "So, Sven was organizing 19 plays and a film festival. And he thought, I don't have enough to do…"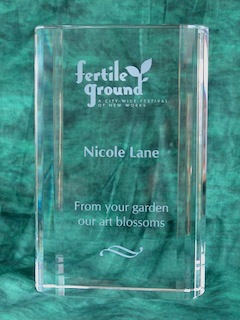 8. "From your garden, our art blossoms"
I could see from my BoxOfficeTickets.com Will Call reports that Nicole had reservations to see Portland Animation Now! on Friday. Perfect!
After making my opening speech, I announced that we had someone very special in the audience tonight — and sprung the surprise. Nicole was taken totally unaware, and was deeply moved by the gesture. Later, after she got home, she wrote this to me:
"Well, I'm pretty much still blown away. What a huge surprise! I was completely taken aback. I'm not much one for lime-light, more a behind the scenes/keyboard kind of gal and being recognized and thanked by you so publicly leaves me a little discombobulated...and pretty much at loss for words. I teared up in front of a room of strangers -- geez!

I'm, honestly, so very touched by your thoughtfulness. That you thought, acted and contacted the other producers....well, that is just so very kind of you. I actually went to three events tonight, and at the one I ran to after yours, I mentioned the award and they all just laughed and said they knew about it and were all in on it. That you went to those lengths, I truly appreciate. Deeply.

You must know I work on Fertile Ground because I love what it is...what it is to artists, first and foremost, and what it can be for audiences in their growth process as well. I feel blessed that I GET to do this and I have skills I can share to help everyone.

I'm still thinking on how I'm going to thank, talk about this, publicly. My first impulse was to FB immediately, of course. And yet, I need to sit with it. I really does mean a lot to me."
THANK YOU NICOLE! You deserve this and so much more!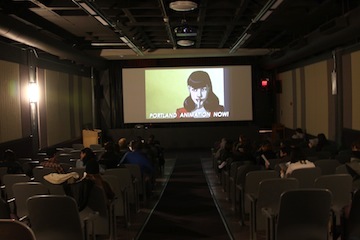 9. 5th Ave Cinema - Auditorium 2
Then, we watched a 90-minute program of 22 films:
Ursula 1000 - Rocket
by Eric Kilkenny

Timber
by Adam Fisher

The Box Game
by The Box Game Collective

Ruby Rocket, Private Detective
by Sam Niemann & Stacey Hallal

Missionary
by Mike A. Smith

Mashed
by Adam Fisher

Colorless
by Michael Graham

Old-Time Film
by Marilyn Zornado & Barbara Tetenbaum

The Old Man and the Butterfly
by Andrew Brown

Coffee Critics
by Jesse Brennan

Chicxulub
by Christopher Purdin

Chef Antonio
by Matthew Dan

Phlush PSA
by FashionBuddha

Ruby Rocket, Private Detective Web Series
by Sam Niemann & Stacey Hallal

Button Song
by Cassandra Worthington

Inritus
by Troy Hileman

Pop Goes The Weasel
by Joel Brinkerhoff

Marauder's Mistake
by Christina Beard

Eyeliner
by Joanna Priestley

Landscape with Duck
by Patrick Neary

Operation: Fish
by Jeff Riley

Old-Time Film: behind the scenes
by Marilyn Zornado & Barbara Tetenbaum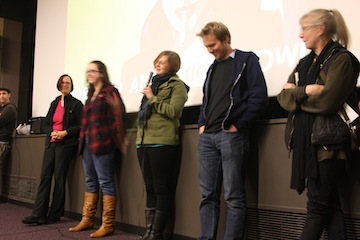 10. Q&A with filmmakers: Eric Kilkenny, Joanna Priestley, Becky Steele, Christina Beard, Christopher Purdin, Marilyn Zornado
As with all the events I've run, after the films ended I asked all the animators in the show to come to the front for another round of applause and to take questions from the audience.
There are important things to remember for this part of the show. People are shy at first about asking questions, so it helps for the emcee to start things off with a question that allows each filmmaker to introduce themselves. (My opening has been: "Tell us either about what inspired your film, or an amusing anecdote about the process of making it.) People never talk loud enough for the whole room to hear — so be sure to put a microphone in the animators' hands — and also to repeat each audience member's question back after its been asked.
11. Joanna Priestley speaks about her love for animation
I was particularly pleased that Joanna Priestley was able to make it to the Friday night show. Saturday night she was premiering 3 new animated shorts at the NW Film Center — so it wasn't until Friday afternoon that she discovered there was time in her schedule. Joanna has made more than 20 films, and is widely known as "the queen of indie animation" (a title given to her by the king, Bill Plympton). It was quite an honor to have her with us.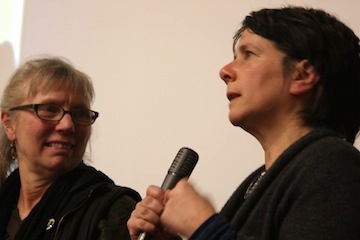 12. Marilyn Zornado & Barbara Tetenbaum talk about letterpress animation
I'm still searching for what questions I want to pose to filmmakers. This weekend I finally got the inkling of an insight. I think I'm looking for questions that help educate the audience about animation in general. On Friday night, I came up with a pretty good one: "Many people assume that you've got to be a bit crazy to spend so much time creating up to 24 separate images for every second of film. Help us understand what it is that you love about animation that keeps you going."
Saturday night, an audience member asked filmmakers to explain what the main methods of animation are, and which variety each film in the program exemplified. Great question… As a facilitator, I need to think about how I might use a variation on that in the future to help the audience better understand what they're watching.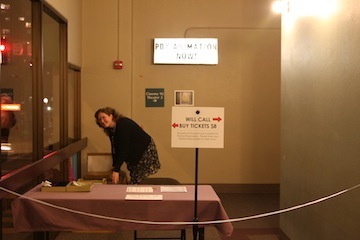 13. crowd control for Saturday night
SATURDAY NIGHT
Saturday night things seemed to be running smoothly. We got smarter about crowd control, and technical issues with the DVD were all sorted out.
Gretchin took the initiative to make sure that we were the first ones let into the building, so no would-be patrons could lay claim to our ticketing area. We put up a ribbon at the end of the hall so people would be physically prevented from trying to purchase tickets while we were setting up.
Previously, we'd had a series of signs on the wall asking people to separate into a Will Call line and a Buying Tickets line. That totally failed. Everyone just jumbled together. I think part of the problem is that most people pay no attention to the walls. Intuitively, they make a bee line for the ticket table. So for night two, we put a sign on a microphone stand with arrows pointing toward either side of the hall. I'm not sure it kept folks from being a jumble — but when it was time for the Will Call people to pick up their advance tickets, it was indeed easier to get them separated out and queued up.
There was also another music stand at the entrance to the long hallway with two signs on it. One said "Filmmakers please come directly to the ticket table." The other said "We are running a little behind schedule. Thank you for your patience."
I am extremely pleased with this second sign — and intend to have it up at every show I do from now on. See, it's almost always going to be true. And even if we are running on time, it prompts people to be understanding rather than increasingly impatient. Whether or not the sign is strictly true is less important than the atmosphere it creates.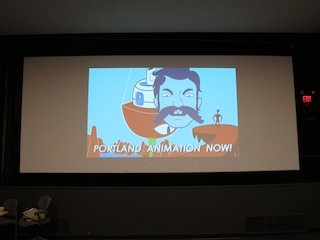 14. a "postage stamp" projection, black bars on four sides
The preceding weekend, I came in at 11pm and did a late night tech rehearsal at the theatre. I'm very glad that I did. I discovered that the DVD player's settings were wrong, and the films were being "postage stamped" — black bars on all four sides, making the image unnecessarily small. Fortunately, it was an easy fix. Some people still mentioned in surveys that the image should better fill the screen. What they don't realize is that we're screening in 16:9 widescreen aspect ratio — whereas the screen was originally made for celluloid films shot at 2.39:1.
During the tech rehearsal, I also discovered an appalling stutter in the pre-show slideshow. After much research at home, I think I figured out what the problem was: the still images had been compressed more than once, leading to artifacts that looked like interlacing lines — and a "de-interlacing" option may have misinterpreted that, creating the stutter. I had really wanted to have the slideshow cycle through 10 images… But in the interests of certainty (since there was no time for a second tech run), I wound up killing the slideshow in favor of the one static image of Ruby Rocket.
15. line extends into lobby on Saturday night
In general, the second night of an event goes easier than the first. The auditorium had already been put in order, and the event staff had a clear sense of their roles. We'd sorted out crowd control, and the DVD was running smoothly…
So it was a terrible surprise when Dielle and Kate came out and grabbed me from the lobby. Up on the screen, we had the following message in big red letters:
REPLACE LAMP
No matter what, it wouldn't go away. And already we had a line of attendees extending down the hall and into the lobby.
16. Jason Ross, heroic theater manager
We ran and got that night's theatre manager, Jason Ross. When he saw the message, he was straight to the point: "This could be bad."
We raced through options.
Option #1: "Do you have any friends who have a projector we could put in the aisle?" Uh, no. And for the price we're charging, that's not an acceptable cinema experience.
Option #2: "Call the Portland State University A/V staff." Unfortunately, it's a Saturday and the folks in charge of these $500-$600 bulbs all go home by 5pm.
Option #3: "What if we cannibalize the projector in Auditorium 1?" That was my contribution. But even I saw pretty quickly that it was a terrible idea. The projectors are a good 15+ feet up, and all components are sealed inside a metal enclosure. Too dangerous and foolhardy.
Option #4: "We're going to cancel the show in Auditorium 1 and give you that space."
Bless you Jason. That was a solution we could all live with. Only a few people had bought tickets to that night's other show, The Red Shoes. Still, it's a terrible thing to get all the way to the theater to see a show, just to get kicked out. So I told Jason and Gretchin that anyone who'd bought tickets for The Red Shoes should get comped in to Portland Animation Now!. Jason made a gutsy move to deal with the crisis we found ourselves in — helping smooth things over with his displaced patrons was a no-brainer.
17. announcing the change of auditoriums
As soon as the idea of switching auditoriums was raised, I told my event staff to quickly and quietly begin setting up the other space. How pleased was I that I've made a policy of always having a backup DVD on hand? …So pleased!
Then, with the decision official, it was time to time to address the waiting crowd. I climbed up on a folding chair, and a in my loudest, most charming voice proclaimed:
Ladies and gentlemen! Thank you for your patience. I'd like to explain to you the predicament that we are in. Right now, we are seeing a message on the screen that says 'replace lamp,' and we cannot make it go away. This is not acceptable. However, 5th Avenue Cinema has very generously offered to cancel their other show and let us use Auditorium 1. We are now in the process of moving everything to the other room. If you will wait just a few more minutes, we will begin taking tickets here at this table. I'd like to ask everyone to please move to this side of the hall, so there's an easy path for volunteers. Thank you!
Or, you know, something very close to that.
18. clearing a path down the hallway
As I said at the start, of all the film shows I've run so far, this was my favorite. Here's why.
At most shows, people arrive singly or in pairs. Everybody's separate from one another, maybe with even a hint of competition, just wanting to get in and get into the seats. But faced with the threat of the show possibly being canceled, suddenly the people in line all had a sense of shared purpose. They would experience success or failure together. All of them were focused on the hope that our crew would surmount the challenge, and everything would turn out right.
Succeeding in saving the evening — fairly gracefully, no less — provides a vicarious sense of victory for all involved. What would have been a routine outing to the movies instead became something out of the ordinary, a story that could be recounted to friends and family later on.
There was drama. There was heroism. We were all in it together. And we won.
19. 5th Ave Cinema - Auditorium 1
5th Avenue Cinema doesn't usually rent out Auditorium 1. It's where they show 35mm prints each weekend. But now having done a show there, I can say: it's niiiiice. There are lights along the aisle leading to the front of the room. There's a little stage area. There's more space at the back of the room, and everything feels just a bit better maintained.
I'm definitely having fantasies about how to negotiate use of this room for future events.
20. audience on Saturday night
As the audience waits for the show to begin, they have an opportunity to read my "director's statement." I felt my message this time was a little less inspirational than previous ones, but I'm sure it sufficed. Here's what it said:
As director of the Northwest Animation Festival, I curate films from around the globe — from cities as far-flung as London, Kraków, and Beijing. Yet, it seems that few people understand what a treasure trove of talent we have right here at home. Tonight I'd like to show you.

Portland birthed the California Raisins. It schooled the voice of Bugs Bunny and the mind behind The Simpsons. It's home to "the queen of indie animation." It's a rising force producing hit feature films such as Coraline. All these cultural icons emerged from our electric, eclectic, eccentric community of creatives.

Portland Animation Now! showcases 22 short films from local independent animators. Encompassing both masters and remarkable amateurs, it's still only a small sample of our creative wealth.

Tonight's event is being presented as part of Fertile Ground: an annual ten-day arts festival with over a hundred new Portland-generated performances. Traditionally focused on live theatre and dance, I am very proud to say that this will be the festival's first-ever program of films.

It is my hope that you will encounter something here that helps broaden your vision of animation and our community's special talents. After the show ends, please stay for discussion. Attending animators will answer questions, helping to further illuminate their process and this remarkable, magic art form.

Now, let's watch some films!


Sven Bonnichsen
NW Animation Festival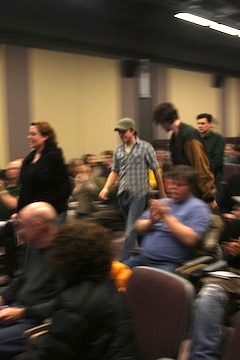 21. filmmakers coming to the stage
During the introduction to the films, I mentioned that there would be surveys available following the show. As an incentive to fill them out, each night the first ten people to turn in surveys would get Ruby Rocket buttons.
We got a great response. Over the two nights, we received a total of 74 responses — nearly 50% of the audience. Still, I may have made a tactical error. As soon as the filmmakers got up to the stage for Q&A, almost half of the audience filed out. Maybe they just wanted to get home… Or maybe I accidentally encouraged them to bolt with the promise of freebies.
22. Q&A with filmmakers: Matthew Dan, Danie West, Troy Hileman, Andrew Brown, Sam Niemann, Michael Graham, Jesse Holden
A lot of comments in the surveys seem to cancel each other out. Some people wanted fewer student films — others were grateful to see a wide range of skill levels. Some wanted a longer program — some shorter. Some felt there was too much talking — others loved the Q&A. Some expressed a strong preference for traditional narrative stories — others were enthusiastic about abstract and/or darker offerings.
When asked how we could improve, a number pointed to things that we have no control over. Such as turning up the heat in the auditorium. And free beer.
One clear positive did rise to the top, though. "Variety" was repeatedly mentioned as one of the program's strengths. And lots of people cried for "more!"
As for negatives, it seems we need to work on improving sound quality during the Q&A. (Often a difficulty.)
23. Troy Hileman rocks the mic
Here's the thing that fascinates me most about the surveys.
Despite the crisis on Saturday night — or perhaps because of it — people had almost nothing negative to say about the second show. On the night when things went more-or-less according to plan, people were more critical… Whereas when things went wrong, enthusiasm and supportiveness was higher.
I certainly have no intent of ever manufacturing a crisis. But this does get me to thinking. The time when people are waiting in line is also an experience unto itself. How can I make what happens before entering the auditorium more interesting and interactive?
What if I could arrange things so people in line could be part of making an animated film — one that would then go on screen during the program proper? The technical challenges are considerable… But how cool would that be?
24. Matthew Dan receives enlightenment
Originally, I had been thinking that Portland Animation Now! would be a more low-key affair than my previous events. I figured I could dispense with having an after-party and doing photography, and just show a simple block of films.
But I changed my mind. My photographer from previous shows was eager to be involved. And one of the filmmakers wrote to ask if an after-party was planned. I realized that while this batch of films may be old news to me, for many people this would be their first-ever exposure to the NW Animation Festival. Perhaps some had already been to the June 3-5 event — but even if so, few could have attended all three days. Why would I treat this event with any less importance and gravity than the original fest?
Every show I do will be somebody's first show. I owe it to them to always give my best.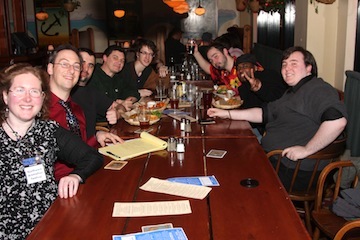 25. after-party at McMenamins Market St. Pub
Both nights after the show I invited the audience to congregate at the McMenamins Market St. Pub. I even provided a walking map in the program — a detail I'm particularly proud of.
McMenamins was very accommodating. We reserved a table for twenty. Maybe 7 people attended the first night, 10 the next. It was good to let loose and decompress. Me, I got to chat with Jesse Holden (who stood in for Jesse Brennan during Q&A) who has apparently managed to make it to every event I've run so far... Wow!
It was also a good moment to download all the photos that our pro photographer Carly J. Cais had taken. After September's "Best of the Fest" event, I learned that reviewing what happened can do a lot to help me avoid post-show depression. Seeing photos, it's less like 2-6 months of my life have suddenly evaporated into nothingness.
Two lessons about event photography that I need to remember for next time: Always get a good group photo of your volunteers! And if you're shooting in low-light conditions, dial down the camera's resolution to get better results. Since most of my photo use is online, I seldom need anything bigger than 640x480. No matter how good the camera, 2592x3888 is going to slow down image capture and produce blurrier results.
26. marquee
Huge thanks to 5th Avenue Cinema — and particularly Jason Ross — for dealing with our technical crisis gracefully. Being a student-run theater that (due to bureaucracy) lacks direct control of certain resources, it's not surprising that there will occassionally be snafus. Yet, the rental price cannot be beat — and there's a lot to be said for an enthusiastic, accessible staff.
(Gotta get them to take down that "free movies" part on the marquee the next time I run a show, though.)
* * * * *
Next up: The Northwest Animation Festival's second season begins with our international showcase on May 18-19 at the newly remodeled Hollywood Theatre.
I'm really excited about this one… I've been receiving great entries from countries all around the world — including China, Norway, Poland, Ireland, and Brazil. And while I'm not quite ready to make the big announcement yet, it's fairly certain now that we'll have a very special keynote speaker this time to kick things off.
Hmmm.... Any guesses? :)
posted by sven | permalink | categories: exhibits & events, nw animation festival