you are here [x]: Scarlet Star Studios > the Scarlet Letters > happy easter from scarlet star studios!
<< before opps
after >> toxic cupcakes

April 16, 2006
happy easter from scarlet star studios!
by gl. at 11:38 pm
we hardly ever refuse a reason to celebrate a holiday; we colored organic eggs and hid gifts inside little plastic ones. it gave me a chance to play w/ the little letter stamps sven got at harbor freight, thanks to a great tip from a woman on the se portland artwalk. this won't make sense to most people (it's based on a story of eggs who dream of being something else), but i find it charming, anyway, especially when it's emerging from a very small plastic egg: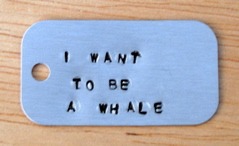 i used the 1/16" metal stamps on an aluminum dog tag, then rubbed the letters w/ black acrylic and wiped the excess away. does anyone know what jewellers use on letter-stamped bracelets?
posted by gl. | April 16, 2006 11:38 PM | categories: miscellany, printing