you are here [x]: Scarlet Star Studios > the Scarlet Letters > toby's first easter
<< before improving the next armature
after >> guest animator: hazel malone

April 9, 2007
toby's first easter
by sven at 12:00 pm
"HIDE ME! HIDE ME!"
Toby seemed to really enjoy his first Easter.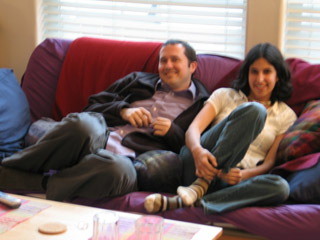 our guest egg-hiders
Our friends Kristen and Todd came over. They did us the honor of hiding eggs for our favorite fabric-based life form.
(We're not crazy if it's a mass hallucination... Right?)
"CAN I LOOK YET?"
We took Tobias to the bedroom to wait while Agent K and Sidekick Todd did the hiding...
Toby was very eager.
"IT'S IN JIMMY'S CHAIR!"
Egg #1: A purple one, sneakily hidden in the purple comfy chair from The Great Escape.
"AAAAAAA! RUN AWAY! IT'S MOTHRA!"
Egg #2: Yellow; hidden atop the butterfly kite that hangs on the livingroom wall.
(Toby has a very active imagination.)
"EXCUSE ME, MISS?"
Egg #3: Green; hidden among the Lovecraftian denizens atop the piano.
Miss Suzie, the crocheted octopus, came into our home back at Christmas -- but this was Toby's first time meeting her.
"YOU HAVE EIGHT ARMS!"
He was pretty astonished to meet someone with even more arms than him. I think they hit it off...
"A LITTLE HELP FOR THE SHORT PERSON, PLEASE?"
Egg #4: Orange; sitting atop the doorjamb of the closet by the staircase.
This one took the longest to find. It was above Toby's eye-level.
"CAN'T EAT MORE -- I'M STUFFED!"
Toby's loot: Germ-shaped candies, some little mints, candy hearts, and a miniature rose (which came back with me from Halfland).
Happy Easter from Scarlet Star Studios!