you are here [x]: Scarlet Star Studios > the Scarlet Letters > monster month book release party - part 1
<< before the making of "a word from professor ichbonnsen"
after >> monster month book release party - part 2

February 6, 2008
monster month book release party - part 1
by sven at 5:24 pm
"giant lightning sloth" cake
January 31, 2008, we hosted the Monster Month Book Release Party.
The aspect of the party that I'm most proud of: I made a huge cake and frosted it to look just like the monster on the book's cover!
Two hours to bake, two hours to decorate. Chocolate "black magic" sponge cake, 4 hand-mixed colors of homemade cream cheese frosting, 12"-wide pan. Oh yeaaaahh...
welcome to the party!
The sign on the front door: "Welcome! Please come in: monsters & humans are both celebrating inside!"
(Thanks to Gretchin for putting together the signage!)
would you like to buy a book?
As you enter, there's a stack of books for sale, and the original painting for the book cover.
snaaaaaacks...
Lots of yummy snacks. Rice crackers and five kinds of cheese... (Kinda overdid it on the cheese.) Hummus... Apples, pears, almonds, and a sweet pecan-cranberry-pepper mix.
grimberry juice
And... Grimberry Juice! Compliments of Prof. Ichbonnsen's colleage Professor Amberson.
milling about
In write-ups about events, people often declare "it was a success!" ...What does that actually mean?
In this case, what I can tell you is that people were talking with each other the whole night long... You actually almost had to shout, the room was so loud... None of those pesky awkward silences ever descended on us. And although the event technically ended at 9, it wasn't til 11:30 that the last of our guest finally cleared out.
Heh. I think I've just begun to outline a Beaufort scale of party "success."
the audience
People started arriving at 7. At 8, we gathered in the living room for the reading portion of the evening. Pretty much every chair we own was set out... Which just managed to comfortably accommodate the 15 of us.
reading from Monster Month
Despite best-laid-plans, the Professor himself was unable to make it to the event...
But he was kind enough to send a letter of welcome/explanation/apology, to be read in his absence.
I did the honors... Then went on to discuss how the book project came into being, and what it was like working with the World's Foremost Cryptozoologist. I concluded this bit of the evening by reading the chapter from the book titled "An Underwater Adventure - Darker Things Beckon."
The audience participation was hilarious -- gasping at all the right moments, heckling and playing along in the kindest way...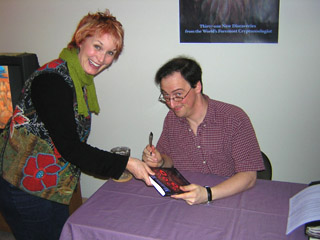 signing books
And then came cake and the signing of books. Need I say, this was the first time I've signed a book since... My high school yearbook?
Go ahead -- try to imagine what you'd write in a book, if you published one. If you come up with a clever way to deal with this pleasant-yet-awkward situation, please tell me the secret!
As it was, our friend and fellow Artist's Way teacher Dayna Collins got something to the effect of: "To Dayna -- You are the first person I've ever signed a book for! Thank you for your support and encouragement. -- Sven Bonnichsen."
It got even harder after that.
Monster Month's illustrator
My friend and Weekly-Get-Together-To-Watch-Classic-Star-Trek buddy, Michael Hall, was kind enough to take a bunch of the photos you see here. Thank you!
Gretchin, in addition to helping with signage, managed getting the food set up, answering the phone, keeping track of time, taking money for book purchases, and and and... Oh, and she also found this website, blockposters.com, which allowed us to assemble the ultra-cool poster version of the book cover. For that and a whole bunch more... Thank you!!
Philip Flores has posted a short review of the event... As has Dayna. And now Linda and Bridget. ...Thank you!!!
And...(oh my)...How could I forget the groupies of my fledgling fan club, Bridget Benton and Linda Womack? ...Thank you!!!!
And lastly, to everyone else, who either came or who sent good wishes: THANK YOU!
(did I mention... cake?)
posted by sven | February 6, 2008 5:24 PM | categories: bestiary, exhibits & events