you are here [x]: Scarlet Star Studios > the Scarlet Letters > iprc text ball
<< before trillium artisans holiday sale saturday
after >> trixie update

November 25, 2008
iprc text ball
by gl. at 2:26 pm
i've got a lot of blogging to catch up on, but let's start with the iprc text ball on nov08:
after seeing what people came up with last year, i decided to make sure i had at least a rudimentary outift to fit the theme "figures of speech." so sven glued cats & dog onto black paper and tied them to a tiny red umbrella i've had hanging around since burning man, while i put on my rainjacket & boots.
surprisingly, "raining cats & dogs" was not a costume anyone else had created! (in contrast, there were 3 "the cat's meow," 4 "butterflies in my stomach," and 3 "blind leading the blind" costumes). i got enough positive feedback to convince me to compete in the costume contest, where i won "best oregon costume," a prize the judges made up just for me. ;)

[raindogs keep falling on my head: photo by cj beaman]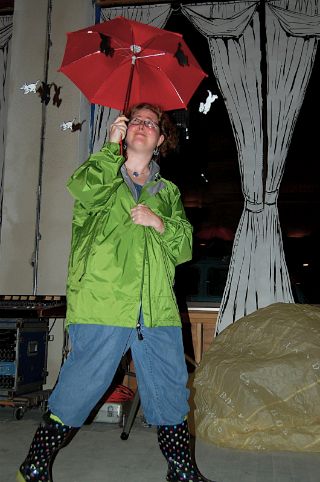 [it's raining cats & dogs: photo by cj beaman]

[i'm a winner!]
but even beyond the costume, i had a lot of fun at the text ball. i was surprised to run into judy & tom from fidelio, the opera we all performed in (oh, i suppose that's another blog post). she "stepped into someone else's shoes" and he was exercising his right to "bare arms," for which he won a prize, too. but for those of us who are a little introverted, there were plenty of activities for social respite: giant crossword puzzles lined the walls and a game table with scrabble, boggle, upwords, etc. to play with.
instead of the unnecessary quotation marks i printed in chocolate last year for the food table, i drew the alphabet on wheat thins with squeeze cheese. they didn't last long. :)
i was excited when i noticed shu-ju's trixie the poetry car print was available at the silent auction! i, however, went home with soap. i bid on a couple of other things, too, but at the last minutes the bids exploded and people obviously wanted them more than i did!
posted by gl. | November 25, 2008 2:26 PM | categories: exhibits & events