you are here [x]: Scarlet Star Studios > the Scarlet Letters > "mutate" in da vinci days film fest - july 16, 17
<< before northwest animation festival 2011
after >> montreal stop motion film fest - call for submissions

July 13, 2011
"mutate" in da vinci days film fest - july 16, 17
by sven at 1:46 pm
My short film Mutate will playing at the da Vinci Days Film Festival this weekend in Corvallis.
It's playing twice, so Gretchin and I will be taking a little vacation to check out the whole affair. It's part of the Animation Block, which will show on Saturday (July 16) at 3:45pm at the Darkside Cinema and Sunday (July 17) at 2:30pm at the Majestic Theatre.
I'm often amused by how festivals re-write my film description. Here's the da Vinci version:
Like an Animal Planet documentary from another dimension, MUTATE reveals the bizarre life-cycles of various alien creatures as they meld, merge, dissolve and evolve in surprising and frequently hilarious fashion.
Not bad. :)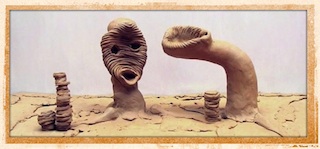 Mutate
posted by sven | July 13, 2011 1:46 PM | categories: exhibits & events, movies, stopmo