June 2005 archives
you are here [x]: Scarlet Star Studios > the Scarlet Letters > June 2005
<< before May 2005
after >> July 2005

June 29, 2005
the song is "hatching"
by sven at 3:49 pm
Another new song this afternoon: hatching
This one took just a hair over 2 hours to put together. No pre-packaged loops, mind you -- that's me on the keyboard making the drum track. I'm playing fast'n'loose with the melody, I know... I find it rather endearing. Human.
P.S. The reason the last song was titled "egg" was because I saw some eggs in our compost bowl by the sink and thought: "I think I'll go write a song titled 'egg'."
posted by sven | permalink | categories: music
mac music makers central
by sven at 11:09 am
Did some surfing around this morning, seeing if I could find free software instruments for GarageBand. No luck there -- (let me know if you know a source!) -- but I discovered the online community of mac musicians.
It's new to me, at least: MacJams.com. Kinda exciting -- jillions of original, amateur songs, all available to listen to without even having to become a member. Makes me want to try submitting something.
Ah, but the fantasy of making art always outstrips the pace of actual production...
posted by sven | permalink | categories: music
June 28, 2005
the song is "egg"
by sven at 9:56 pm
I just put this song together this evening: egg
After several years of playing around a busted A-flat, I finally got a new counter-weight for my electric piano's key and got the thing fixed up. Seizing the moment, I installed the MIDI adapter I've had lying around for a few months, and got the keyboard conversing with GarageBand. This is good news for "Let Sleeping Gods Lie" -- I expect to be doing the soundtrack for the teaser trailer with this software. ...Though not quite in this style.
6/29 Note: "egg" is heavy on bass. Listening to it on my laptop, the lovely resonating drum is turned into a small, dull, mechanical click. Ew. ...Beware.
posted by sven | permalink | categories: let sleeping gods lie, music
June 27, 2005
artist's way @mac: week 4
by gl. at 10:50 pm
well, then. that was.... disappointing. i wouldn't ordinarily use that word for an artist's way group because everyone is where they are and that is where they should be. but tonight i tried a new musical exploration activity involving voice, drumming, moving & piano, and none of it went well. we were missing two people and two others pretty much refused to participate, so only two of them were trying to hold the group together. and because it was so tenuous, i ended each portion very early and ended up having to make up 3 more writing assignments on the spot.
the best part about the evening was the centerpiece, made w/ raspberries from our studio bush:

[click on the image for a bigger version]
i'm sure it didn't help that i was worried about how this would go because it was new and because music is my weakest area. i was hoping they'd feel safe enough by now to try new things, and would be especially interested in a music activity after 3/4 of the group used the same "music" collage piece in the week 1' intuitive collage, and even more especially after media dep. authentic dance is definitely out in a 7-week group, then, i guess.
but oddly, at the end of the evening one of the participants who hadn't, in fact, participated asked if she could "buy more time" for a longer artist's way. and the other non-participant wanted to know if we could have a longer session, too. so now i'm just confused.
posted by gl. | permalink | categories: artist's way
June 23, 2005
artist's way open studio (june)
by gl. at 10:59 pm
another artist's way open studio; just me & sven again. i host it because i want to hold the space open for myself or otherwise i don't do art, but i'm wondering what i can do to make other people want to do art, too.
i was feeling derivative and unimaginative (still working with the "everything is born in the dark," poem) so below i'm showing one of sven's collages, but clicking the image will take you to see the others: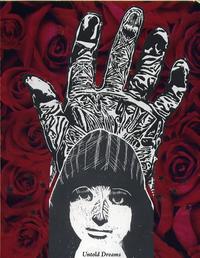 posted by gl. | permalink | categories: artist's way
June 21, 2005
summer solstice labyrinth
by gl. at 10:02 pm
"Welcome! The summer solstice marks the longest day of the year. We are at a celestial pause: there is still time to delight in the warmth of the sun and the promise of the season, but today marks the slow slide of the sun into fall."
we hosted a summer solstice labyrinth tonight. it was just me & sven because i only put a call out to the artist's way sacred circle list, figuring i wanted to keep it small the first time. still, i printed little handouts in case people wandering by in the neighborhood were curious and wanted to try; when we were making it we caused such a ruckus! tonight, however, we were upstaged by the house being built across the street. only one mildly curious boy on a scooter and his jogging mom.
oh, well. i had a happy solstice, at any rate. and having a labyrinth is magic. :)
posted by gl. | permalink | categories: exhibits & events
June 20, 2005
artist's way @mac: week 3
by gl. at 11:12 pm
yipe! i forgot media fasting will begin tomorrow until right before i left for class. i so didn't prepare to be without reading or music or movies this week, and it begins when i wake up tomorrow. alas, the mac forgot to set up my room again, which was especially sad given the lack of music tonight leading into media dep, as i was all set to play pink martini.
after the critic transformation exercise last week, i had them do a love letter exercise this week which went well, but they were almost more interested in the watercolor pencils! we had a little group love about the emotional safety present. alas, we were missing two participants tonight, so i hope next week everyone will be back, especially since we're skipping the july fourth session.
at least two of tonight's participants were interested in knowing whether i taught this class outside the mac and one of them wanted to know if i would come to her home. i invited them to thursday's artist's way open studio, but it might be too late for any of them to come.
posted by gl. | permalink | categories: artist's way
June 19, 2005
on word and art word: paperwork
by gl. at 10:21 pm
so i got my paperwork in for the "on words and up words" calligraphy show at gresham city hall next month. tonight the curator called and asked for some print-ready pix so that they could go on the promotional postcard. whee! the only problem being that i don't have any; i only have web versions. so off i go to the studio when i thought i was going to bed.
posted by gl. | permalink | categories: calligraphy, exhibits & events
June 14, 2005
artist's way @mac: week 2
by gl. at 12:18 am
better vibe tonight even though it seems like everybody has had some sort of family crisis during the last week; one participant was even unable to make it tonight, but she was sweet and smart to call me in the activities room to tell me so. i forgot my music, in part because i made a last-minute change to the agenda, so i had to scurry to the car to find dang's elliott smith cd, which at least had "rose parade" on it.
i was thinking of doing a music exercise but instead tonight was the "critic transformation," night which everyone thinks is dumb until they get theirs back and are delighted. good for trust building and understanding that the group is here to hear painful personal histories.
because two people are going to be gone next week, i had to talk about the media fasting exercise, and i may have unduly frightened everyone. oh, it's big & scary, to be sure, but it's worse when you have to worry about it for a week intead of just getting right into it. and because two people are going to be gone, i may need to change my plan for playback theatre to something else.
i mentioned the pride parade as a potential artist date this week and i could hear the several-second pause of crickets. :)
i wore sven's mom's sunstone? necklace tonight-- even took off my lamplighter necklace to do it. i tend towards wearing only jewelry w/ personal significance, but the other day i figured that i ought to try viewing it as an art display instead.
posted by gl. | permalink | categories: artist's way
June 10, 2005
mhcc calligraphy: class 10
by gl. at 7:46 pm
all we did today was display & briefly discuss our final projects. my project was the first few lines of the poem i wrote for maya's birth on the sink marbled-paper. it's rotunda primarily using a tape 2 nib and accented w/ a tape .5 nib w/ j. herbin grey pearlescent ink on arches text wove. (see? even calligraphers have their version of exif geekiness. ;)

[click on the image for a larger version]
after the wedding commission, it was a relief to have all the materials cooperate this time, and i'm really pleased w/ the result, especially since sven created a terrific dimensional frame made entirely of black foam core and copper wire. the only issues were that i discovered i couldn't erase the pencil marks without also lifting the black from the background, and the pencil lines were very difficult to see in the grey/black contrast. this turned out to be a project that took about 15-20 hours of my time, but i don't mind working hard on something if there's hope at the end of it. most of lettering for me is finding the right line spacing, especially as i tend to design calligraphy as if it were typography. but between the wedding commission and this project, my right hand is actually swollen; i've never had that happen before, not even when i stayed up all night making christmas cards while michaelmas talked to me over the phone.
throughout this project i kept thinking of the time michaelmas & i went to an sdfc meeting when charles pearce was lecturing, and he talked about how, if you're going to do a piece, it ought to be a piece based on your own words, in part because calligraphers are almost always copying the words of others (especially in the form of quotations). he talked about it in terms of having a unique and potentially political voice, but having just spent so much time with just 4 lines of my poem, it had better be words i want to be heard.
posted by gl. | permalink | categories: calligraphy, classes & workshops
June 8, 2005
you win some, you destroy some
by gl. at 11:53 pm
there's very little that can compare to the horror of giving your calligraphy to the patron and hearing her say it's beautiful -- and then hearing her say, in slow motion, "but his name is Dubbs, not Tubbs."
i felt my heart sink. i felt awful. she's leaving the day after tomorrow at early o'clock, so i immediately went home and tested more paper and nibs and ink and finally got three more done, which we'll arrange to view tomorrow. it just felt like a complete insult to spend all this time & energy on this piece for it to have gone so horribly wrong.
the good, vaguely related news: the final project for mhcc is going to be great. i'm thrilled with what i'm doing, and the sink marbling couldn't have come at a better time. when it works, it works! the hand i've chosen, the paper, the ink is all coming together to create something very fine indeed.
posted by gl. | permalink | categories: calligraphy
June 6, 2005
artist's way @mac: week 1
by gl. at 11:20 pm
six students: 5 girls, 1 boy. 1 boy dropped before the class began and another never showed tonight.
two people had heard of artist's way before and one even has a copy -signed- by julia cameron! two people thought it sounded neat but had no idea what they were getting into. we have at least three poets and a singer, and four people who used the same calligraphed "music" word on their collage. music, of course, is one of my weakest areas, but this seems too serendipitous to pass up so i am inspired to find music exercises that exploit the piano in the room or are based on handmade rhythms.
but i felt clumsy: i kept calling one woman the wrong name, missed many opportunities to elaborate, and even missed asking people for comments on their collages, and had to backtrack! one woman even thought to bring up the whole confidentiality issue, which hasn't even made it into my boilerplate yet. ugh. i'm better than this. i hope next week i feel like i did a better job.
i do so like collage night, though, in part because i love to see the ways in which people use things i've been keeping for years.
there's probably more worth mentioning, but i'm way tired and a i have a meeting in the morning....
posted by gl. | permalink | categories: artist's way
it begins!
by gl. at 3:40 pm
i'm all packed and ready * knocks wood * for the first mac class tonight. carrying in the supplies is going to be the hardest part, i think, especially the bins of collage materials. :P
posted by gl. | permalink | categories: artist's way
June 5, 2005
you win some, you lose some
by gl. at 11:05 pm
[warning: big pix post. click on the images to see them larger.]
so i'm finished w/ the wedding commission even though i'm still unhappy w/ it. gouache worked better, but at the consistency i needed to get it to come out of the pen, the letters were still not as sharp as i would have prefered. i tried using three more different types of nibs to see what effect that would have, which was none. a couple of months ago i began ranking my paper based on bleed factor, so i started looking through the 3-star paper to see if that would help. and it did, a little. i had 5 sheets of a 3-star paper the right size, so i used all of it attempting to make the lettering work, and then, with my hand cramping, i finally called it a night. two full days working on a 3-line piece is just too much. all told i must have done over 30 versions of this piece and i'll give joanne a choice of four of them, none of which i would consider to be perfect. man. after all this, it makes me nervous to tackle my mhcc final project on friday.
(so why do i want to write about these difficulties when potential clients could read this blog? because i don't think art should be mysterious, in the domain of a few special people who make it look easy. and people undervalue art when it looks effortless, especially calligraphy. art isn't always a struggle, but divine inspiration is rare and we cheat ourselves and others if we pretend we don't work at it.)
although speaking of divine inspiration, i did make a lovely, if late, discovery tonight. several months ago i discovered a faux marbling technique while washing out a container of sumi ink in the studio sink. unfortunately, i grabbed the first paper that came to hand, plain 8.5x11 printer paper, and so made these fascinating swirly grey prints on pretty crappy paper. i've been meaning to try again on better paper, and while cleaning up after the wedding piece, i realized i had leftover green gouache, gold ink, and a half-full black ink i had intended to throw away after i broke my nib the other day.
so i tore up some arches text wove and threw the gouache in the sink and laid the paper over it. not as good as before: i got some bland green smudges, but nothing noteworthy. i figured when it dried i would try laying the green papers on the gold ink, but in the meantime i would see what i'd get out of the black ink. muuuucccch better! i had enough in the bottle to do almost 20 sink-marbled pieces, and i had to keep tearing up more arches text wove to print on.
and because i'm printing in my sink, after the 6th or 7th one i placed one over the drain in such a way that when i pulled it up i thought, "oh, that's pretty. it sort of looks like the moon." and then i did it again with more marbling and i thought, "ooooo! moonprint!" and that's how the moonprint series began. because i was still experimenting w/ the printing technique, i couldn't consistently get a moonprint, but i'm starting to get the science of it now: the fluid dynamics, the way the waterproof sumi must have some hydrophobic bits which repel the water to make it float, the way the paper soaks up the ink and the water to limit the pieces to monoprints.

first moonprint

second moonprint
[more moonprints]
so some of the marbled prints are subtle, some of them are stunning, and some look as if they're old and damaged gelatin prints of a magic moon. what will i do with all this black and grey paper? i still want to see if i can add another layer of marbled gold to some of the pieces, but tomorrow i start artist's way at the mac. eek!
posted by gl. | permalink | categories: calligraphy
June 4, 2005
wedding gift commission
by gl. at 11:53 pm
argh! i spent all day working on the layout & ink selection for a wedding gift commission, even going so far as to blend my own gold from a combination of other golds, only to find that all my green inks bleed on the final paper i'm going to use. it makes the letters fuzzier than they ought to be.
i'm going to try gouache for the first time tomorrow, but i'm not hopeful.
posted by gl. | permalink | categories: calligraphy
mhcc calligraphy: class 9
by gl. at 11:43 pm
created a pangram book, gold leaf. the next class is the last one.
i broke a nib in frustration while trying to get ink to come out before i decided to check the ink. lesson learned: this blend of cast-off inks will finally be tossed.
posted by gl. | permalink | categories: calligraphy, classes & workshops