November 2008 archives
you are here [x]: Scarlet Star Studios > the Scarlet Letters > November 2008
<< before October 2008
after >> December 2008

November 29, 2008
trixie update
by gl. at 1:22 am
so it's been a while since our last trixie update! fortunately, she just got an email from a spontaneous poet that read "just rearranged some words on your flex car and enjoyed it very much. what a great idea!" i was excited because it's the first email trixie has ever received, which means the (very basic) site & sign i created for her in april (poetrycar.org), is working!
in other trixie news...
one summer day i walked out of a restaurant to find a delightful card on trixie's hood:


[nice car]

i found out a fellow artist is making garden art w/ poetry stones inspired by trixie:


[pat's garden stones]

sven's brother shield surprised us a while back with a new batch of the serifed letters that magnetic poetry discontinued. what an awesome gift! shield scoured the web to find them and i was delighted and amazed.

in an effort to stave off the attrition of serifs, sven made trixie some magnets for valentine's day! it was a noble effort, but they didn't stay on very long. "scarlet" fell off first, then "truth" & "courage" until we finally just removed them from the car so they wouldn't all be lost. but it was a sweet idea!

["love letters" for trixie]

[sven's homemade magnets]

[a thing of wild life]

[enough poetry? i ask for more]

[fearless letters, swift symphony]

[scarlet creature advocate]

[stardust, be creative]

[studios of truthful courage]
the other portland poetry car isn't faring as well, however: someone stole words from bridget's blank canvas! on the other hand, i discovered a westfalia poetry vehicle in nw, right across the street from michaelmas:


[westfalia poetry vehicle]

i had a parking garage pass while i was acting in fidelio. one night the garage attendant told me when he saw trixie the first time he had immediately been reminded of a quote about poetry being a spontaneous burst of energy. i thought that was sweet. unfortunately, he didn't remember the exact quote or the quoter, so if anyone has a better idea, i'd love to hear it.

finally, here are some new trixie poems!

[i feel like butter]

[i faced a music creature so i swiftly recalled a symphony]

[night music sizzling like butter...]

[so i tell time but have it not]

[though times of glass...]

[you are a delight]

[time's up! make love]
posted by gl. | permalink | categories: trixie
November 25, 2008
iprc text ball
by gl. at 2:26 pm
i've got a lot of blogging to catch up on, but let's start with the iprc text ball on nov08:
after seeing what people came up with last year, i decided to make sure i had at least a rudimentary outift to fit the theme "figures of speech." so sven glued cats & dog onto black paper and tied them to a tiny red umbrella i've had hanging around since burning man, while i put on my rainjacket & boots.
surprisingly, "raining cats & dogs" was not a costume anyone else had created! (in contrast, there were 3 "the cat's meow," 4 "butterflies in my stomach," and 3 "blind leading the blind" costumes). i got enough positive feedback to convince me to compete in the costume contest, where i won "best oregon costume," a prize the judges made up just for me. ;)

[raindogs keep falling on my head: photo by cj beaman]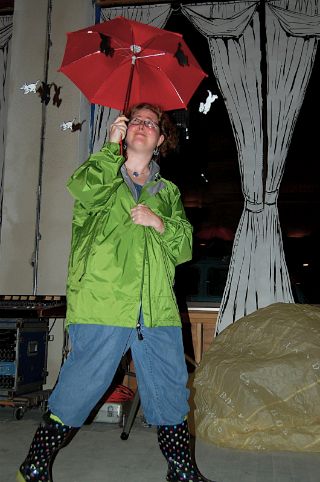 [it's raining cats & dogs: photo by cj beaman]

[i'm a winner!]
but even beyond the costume, i had a lot of fun at the text ball. i was surprised to run into judy & tom from fidelio, the opera we all performed in (oh, i suppose that's another blog post). she "stepped into someone else's shoes" and he was exercising his right to "bare arms," for which he won a prize, too. but for those of us who are a little introverted, there were plenty of activities for social respite: giant crossword puzzles lined the walls and a game table with scrabble, boggle, upwords, etc. to play with.
instead of the unnecessary quotation marks i printed in chocolate last year for the food table, i drew the alphabet on wheat thins with squeeze cheese. they didn't last long. :)
i was excited when i noticed shu-ju's trixie the poetry car print was available at the silent auction! i, however, went home with soap. i bid on a couple of other things, too, but at the last minutes the bids exploded and people obviously wanted them more than i did!
posted by gl. | permalink | categories: exhibits & events
November 10, 2008
trillium artisans holiday sale saturday
by gl. at 3:30 pm
this is an event i'm helping to organize for an organization that values art & artists. even if it's still too early for you to think about xmas shopping, look below for a coupon you can use until dec23. you can also use the trillium coupon in your chinook book for additional savings!
holiday sales represent the majority of almost any crafter's income. if you want to have the most direct impact on a person, buying a handmade object benefits you, the creator, and the recipient!
--*--
Make this a handmade holiday! Give meaningful gifts this year by supporting low-income artists, your local economy & the planet all at the same time. Meet the artisans, enjoy wine and goodies, and take 10% off your entire purchase!
Free eco-friendly gift wrapping
Make & take your own holiday ornaments using recycled materials
Locally handmade, quality, earth friendly, fair trade gifts
Giving recycled is twice as nice!
Trillium Artisans
9119 SE Foster Road
Portland, OR 97266
http://www.trilliumartisans.org/
503-775-7993
posted by gl. | permalink | categories: exhibits & events
November 3, 2008
pumpkin protection agency
by sven at 7:00 am
pumpkin shelf
Every year since we've lived here, meanies have smashed our pumpkins. Ah, but NOT THIS YEAR, thank you very much!
As a preventative measure, I devised this shelf which clamps onto the house above the front porch area.
front porch
The horizontal board has a 1/2" overhang at the back. The trim of the house creates a lip that it can sit on. This point of contact then acts as a fulcrum. The force of the pumpkins' weight wants to make the horizontal board swing downward -- but the vertical brace prevents this motion from occurring. The two struts keep the horizontal board from breaking off of the vertical.
Consequently, the extra large clamps don't actually do much of the work of holding the shelf up. (I've learned over time that it's vital with projects like this to think in terms of vectors of force.)
10 foot ladder
I'm thrilled with this solution... It does take a 10 foot ladder to get up to the pumpkins for lighting, though. ;)
***
Unfortunately, we have some neighbors who weren't so lucky: their pumpkins got smashed. On one of our regular walks we saw two cute little jack-o'-lanterns. The next day, they were gone and an angry note was posted on the garage.
replacement pumpkins
Now, we've never actually met these neighbors... But it was so sad -- we're pretty sure that it was a young kid whose work got demolished. So we decided to right the wrong. If nasty strangers had smashed the pumpkins, we'd be the kindly strangers who replaced them.
note from the Pumpkin Fairies
I went out and got two pumpkins and put them in a plain brown box (so meanies wouldn't suspect). I wrote a note, and left the package on the neighbors' porch:
"We liked your pumpkins! It was sad to see that someone smashed them. That's no good! Here are replacements.
--The Pumpkin Fairies"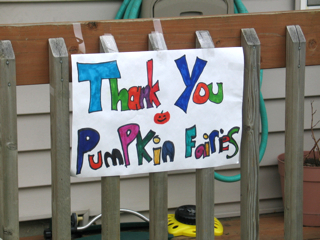 thank you sign
Later that evening we went for another walk... And we saw that a note drawn in magic markers had gone up on the neighbors' porch:
"Thank You Pumpkin Fairies"
...You're welcome! :D
posted by sven | permalink | categories: miscellany
November 2, 2008
impromptu stopmo film fest
by sven at 1:52 am
Yesterday was my birthday: number 37. Naturally, we threw a party. :)
After folks got tired of playing "Uno," I decided to curate an impromptu stopmo film fest. The intent was to present a survey of different types of puppets, stopmo methods, and aesthetic traditions. Here's what I showed:
1. The Potato Hunter
By Timothy Hittle - 1991. I started out by explaining that there are three main types of puppet construction: clay, foam build-up, and puppets cast from foam latex or silicone. Hittle's "Jay Clay" films ("The Potato Hunter" and "Canhead") nicely demonstrate a clay puppet in action. I drew everyone's attention to the poses: Hittle creates the clearest silhouettes of any stopmoe I've every seen. You can really see his 2D training showing through.
2. Balance
By Christoph and Wolfgang Lauenstein - 1989 (7:40). Here's a nice example of puppets created using the foam build-up method. An Academy Award winner. "Very German," folks said. I could have shown the original King Kong as an example of build-up, but monster films have generally used cast foam latex puppets, so I didn't want to confuse matters.
3. Madame Tutli-Putli
2007 (17:21). An Academy Award nominee. I think Suzie Templeton's "Peter and the Wolf" won in 2007? An example of a cast silicone puppet -- with innovative use of live-action eyes composited onto the face. Folks were a bit mystified by what the film meant. I gave my best attempt at interpretation... But I don't think I've nailed it yet.
4. Creature Comforts
1989 (6 min). Three films without dialogue in a row... So I decided to throw this in next. Creature Comforts won an Oscar, and spawned several TV shows -- both in the UK and in the US (briefly). If I recall my lore correctly, Nick Park was up for an award for Wallace and Gromit the same year, which really catapulted him to the world stage. I talked about how you do lip synch with clay puppets by having an array of replacement mouths on hand. I pointed out that clay puppets are the easiest type of puppet to construct -- but the hardest to animate, because you constantly have to resculpt.
5. John Henry and the Inky Poo
One of George Pal's Puppetoons. All the shorts I'd shown so far use displacement animation -- where you pose a bendable/malleable puppet. I wanted to show an example of replacement animation, where you replace the entire puppet for each shot. John Henry wasn't the short I meant to show folks to demonstrate this point -- but interestingly, it generated the most discussion.
6. The Philips Broadcast of 1938
Another of George Pal's Puppetoons. This one focuses on dancing puppets, and you can see how they were constructed from wood, often using a lathe. There's a segment in this short of a black Christian revival meeting where a large group of puppets are doing the "wave" in a circle. That bit continues to blow my mind...
7. The Hand
By Jiri Trnka (18 min). Riffing on Pal's use of wooden puppets, I went backwards in time to Czechoslovakia's most famous master puppet animator. I felt this was probably his best known film (in the English-speaking world), and talked a little about how Eastern European artists have sometimes slipped anti-authoritarian messages into their art... Trnka in particular payed a price for this, getting banned from the studios for several years.
[BREAK]
8. Brother
By Adam Elliot (8 min). Elliot's feature film, "Harvie Krumpet," is another Acadamy Award winner. I thought after our break it would be nice to have something light and humorous to get back into the swing of things... Completely forgetting how grim this film actually is. I explained how Elliot spent a number of years airbrushing T-shirts at an Australian equivalent of Portland's Saturday Market.
9. Hamilton Mattress
2001. I wanted to show a good example of high quality foam latex puppets. "Hamilton Mattress," while a bit long, is a heck of a lot of fun and beautifully produced. Barry Purves, author of "Stop Motion: Passion, Process and Performance," directed. Purves also worked on the "Wind in the Willows" TV series, which has similarly excellent puppets -- but is paced much slower.
10. The Great Escape
By yours truly - 2006. Some folks had to leave... So before they did, I figured I ought to show them one of my own films. I shudder at some of the technical flaws now -- but people do laugh at it, so it's all good.
[BREAK]
11. Street of Crocodiles
By the Brothers Quay - 1986 (21 min). I felt like I was going to be doing stop-motion a disservice if I didn't show at least one short either by Jan Svankmajer or the Quays. I pointed out that where the brothers were animating meat, moving something pointedly dead, they were actually reanimating objects. I also talked a bit about the Quay's philosophy of finding the non-human spirit in their assemblage creatures, rather than anthropomorphizing dolls.
12. Aria
By Pjotr Sapegin. This seemed like the perfect short to end on. The music and story are beautiful and haunting... And then the last scene, where the puppet commits suicide by dissembling itself, unscrewing it's own armature... Well, the puppet that's aware of it's own puppet-ness somehow seemed just right.
13. the end of the show
By Don Hertzfeldt. Not stopmo. But this little statement about the seriousness of animation as an artform -- interrupted by a ball of fluff shouting "ROBOTS!" and a battle with laser guns... Well, it's just about the best possible way to end ANY animation fest, imho.