April 2005 archives
you are here [x]: Scarlet Star Studios > the Scarlet Letters > April 2005
<< before March 2005
after >> May 2005

April 25, 2005
fall MAC classes!
by gl. at 11:10 pm
the MAC has already asked me to schedule artist's way classes with them for their fall schedule! i'm excited, but really want it to be in the 13-week format so i can do more with the participants and run it concurrently with my studio artist's way classes, so we'll see what they say. planning through december like this makes me squirm a little, especially when i see my number of free evenings shrink precipitously.
[update 05.17: it -is- a 13-week class for fall! i hope they get enough students!]
posted by gl. | permalink | categories: artist's way
April 20, 2005
summer MAC class is full!
by gl. at 9:57 pm
i just got word that the summer MAC class has filled! after only a month and a half! still, 8 people means i need to now buy 4 more of everything i currently have 4 of, like brushes and pillows and scissors. thank you, craigslist!
posted by gl. | permalink | categories: artist's way
rob says...
by gl. at 1:53 pm
collage is the only medium that doesn't make him feel guilty about wasting materials.
posted by gl. | permalink | categories: miscellany
April 19, 2005
artist's way meetup
by gl. at 11:12 pm
rob & kyrie brought someone new, someone who's from the other artist's way group that recently found me! but rob was all collaged out from his omega project, and kyrie knitted on the floor. by this time next month she may have had maya! so only carol & i did collage.

(click the picture to see the other art)
posted by gl. | permalink | categories: artist's way
artist's way: week 13
by gl. at 5:57 pm
the last artist's way session for the spring group was last night. they had some terrific omega projects: two had amazing collages, one danced and gave away books & bouquets, and sven had gotten them each to paint handmade wire-frame flowers so that i'd have a special "bouquet" to keep, reminding me of each participant (as if i'd forget!).
and sven & i FINALLY got to unveil the supernifty supersecret project we've been hiding since the vernal equinox: a labyrinth!

(the pictures are blurry in an arty and "not enough light" kind of way.)
yep, sven made a labyrinth (and i'm sure project details about that will be forthcoming: i just filled in the lines). and the weather has sucked ever since, an important thing to consider when you want people to walk on it in their socks. of course, when we got desparate enough to build a rain structure the day before the last possible artist's way class, the weather cleared up, but it turned out for the best: adding white christmas lights to the structure made the whole thing magical.
thank you, artist's way! see you in fall!
posted by gl. | permalink | categories: artist's way
April 17, 2005
mhcc calligraphy: class 3
by gl. at 4:21 pm
more uncial, a wonky revised syllabus, & bubble paper. happier w/ my "n"s and "w"s, though i still need more practice in making things vertical instead of slanted to the left. next week i have a finished layout to present. yeep!
posted by gl. | permalink | categories: calligraphy, classes & workshops
April 12, 2005
meetup to begin charging organizers
by gl. at 10:56 am
darn it! i just became the portland artist's way meetup organizer and now they want to charge me $20/month! a month! i committed to doing the meetup thing for a year so i'll do the "special 2005 rate" of $10/month, and then in march i'll see if i want to continue with the meetup group or continue with the original vision of having a monthly collage night for former artist's way participants (especially since that's who's mostly coming, anyway).
though the group foundered without an organizer for months, i don't think i would have become the organizer if i had known i was going to have to pay for it. and i certainly wouldn't have paid to start one. i don't plan on directly passing the fee onto anyone who comes, though maybe i'll host a raffle or funding drive at some point in the year.
posted by gl. | permalink | categories: artist's way
April 11, 2005
artist's way: week 12
by gl. at 10:41 pm
today we created image cards and created a collaborative story from them. one of the participants said she was angry at parts of this chapter; thinks julia is stretching her even thinner than she already is.
next week is the last artist's way & the omega project, which panicked one participant tonight because he thought we had two more weeks left. i can't believe it's almost over!
posted by gl. | permalink | categories: artist's way
LSGL work session #11
by sven at 10:29 pm
Time in studio: 4 hrs
Accomplished:
further streamlined process for framing shots of cave
created three backdrops for the lavamen
Commentary:
First of all, I want to show folks what the new tunnel set looks like viewed from the outside:
the tunnel set
I've been trying to get good use out of the new model -- and got three more shots out of it today... But I'm running up against problems with regards to the texture. I think the texture's sized wrong. Continuity of color is also a problem.
turning a corner
I'm thinking now that I'll have to go back and re-tweak all of the shots in this tunnel sequence. Recall that the shot of the tunnel I produced last Monday was almost purple, and really, really smooth. Part of the problem there was that I colored my shot using PhotoShop -- where I could saturate colors beyond 100%. All coloring should really be being done in AfterEffects. [With the exception of the first entry shot, where I have to merge the "watercolor" world with the cave world.]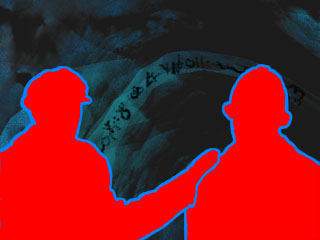 warning: abandon hope ye who enter here!
The lettering in the shot above presents another problem. The easiest way to create the carvings is to paint them in PhotoShop using rough brushes. However, if the letters show up in more than one shot, how am I going to re-apply them? And even if I just paint them, rather than modeling them in LightWave, I'm going to need to pay more attention to shadows than I did on this first pass. Letters that sit in shadows are going to be less distinct than ones in the light...
into the dark
In this third shot that I produced today, the lavamen are supposed to disappear into the dark, swallowed. I can accomplish the effect by both fading the lavamen out and fading the cave itself to black at the same time, I think. The trouble this time is that the "black light" shot from last Monday also has the lavamen walking into darkness. Perhaps I should have them going into a better lit patch first? I came up with a few really cool lighting designs last week that I might be able to put to the purpose.
At this point I've resigned myself to doing a "draft" version of this chapter, then going back to fiddle. I haven't ascertained yet if I'm going to have to model more tunnel sets. ...At least I've got a grip on how to sculpt them now.
Next Steps:
revisit the texture of the tunnel set
finalize a color scheme, at least for the entry passage
experiment with an alternate lighting scheme for the early part of the set
work out a stretch of the tunnel for an animated camera pass
reorganize .psd files that are being used for tests, before a mess builds up
create a better naming scheme for LightWave scenes
posted by sven | permalink | categories: let sleeping gods lie, movies
Portrait of Michael Hall
by sven at 12:31 pm
My friend and personal tech guru Michael Hall asked for "something creative" for his birthday. So I decided to paint a portrait of him. Portraits, I figure, are a very appropriate way to celebrate a person's birth.
I started with this photograph, which Michael uses as a by-line for his on-line columns:
Next, I fiddled with the image in PhotoShop -- mainly using "posterize".
I applied "find edges" to the image, printed it, applied graphite to the back of the paper, and transfered the image to to a 5"x5" piece of hardboard by tracing its lines with a pen. The hardboard was gessoed, and I applied an undercoat of red. The image was painted in acrylic, and I applied two coats of "clear tar gel" to give it a glossy finish. The end product sort of looks like a porcelain tile.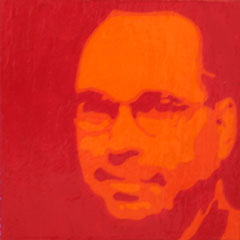 To frame it, I used left-over wood from the flat-files project. The rim is built out of wood from the rails -- and is the first time I've cut a 45 degree angle since I got my new mitre box. I didn't have appropriate nails, so the rim is just hot-glued on. The "tile" sits on a riser made from another piece of hardboard.
Including photo-manipulation (which I didn't time), the project probably took 6 hours. I'm excited -- it's a relatively simple gift to make, and it has a high "impressive" factor. I've been wanting to get into acrylics more; 5"x5" is an approachable scale. I could see myself making similar paintings as gifts in the near future...
In fact, I've already agreed to do a similar piece for Michael's partner, Alison.
posted by sven | permalink | categories: painting
April 7, 2005
"Dollhouse Noah" Sculpture Technique
by sven at 3:53 pm
I've been frustrated for a long time with regards to sculpting. I feel like I just haven't found my medium yet -- but nonetheless have a strong tactile sense of what I'm looking for.
Stuck on the couch with a cold today, I spent a good while surfing the net looking up artists I'm fond of. In the process, I discovered that there's some really exciting work going on in Japan right now with regards to art dolls. Better yet, the process for making some of these things looks very much like what I want to be doing: How to Make Noah's Doll.
A foam core, with a clay-sawdust skin, lacquered with modeling paste... The results are really astonishing! Some of the dolls are unsettling to say the least -- but I'm compelled to share a few of the "Dollhouse Noah" images, simply because I was so aghast (yes, "aghast") at how haunting they are..
posted by sven | permalink | categories: links, sculpture
April 4, 2005
artist's way: week 11
by gl. at 9:44 pm
tonight we did a poetry walk as our very first thing while it was still light. i gave them a choice between an indoor & an outdoor activity and as it only sprinkled a tad bit and wasn't very windy, they chose to go for the walk, which involved walking very slowly writing down in separate columns all the nouns & verbs (only nouns & verbs!) you experience. you can get a lot of words that way: in my case, 165 nouns and 136 verbs. upon returning, you write a poem, share, and -then- get into the chapter check-ins. this is my first time doing a poetry walk here and it turned out to be about the perfect path: the right timing, the right mix of suburban and forested areas, and not too difficult uphill.
only two more weeks left. yeep!
posted by gl. | permalink | categories: artist's way
LSGL work session #10
by sven at 4:54 pm
Time in studio: 2 hrs 30 min
Accomplished:
modeled new tunnel for vestibule shots
rendered & tweaked a usable still shot of the vestibule
lavaman enters vestibule
Commentary:
I'm feeling better about the movie again. Last work session, I was hitting my head against a wall, trying to create new tunnel shots. Today I got the problem licked.
I was on the right track before -- I just needed to review how to use the Modeler tools correctly. Step 1: using the "disc" tool, create a tube 400' long with r=10'. Step 2: use "magnet" tool to create bends and lumps in the tube -- first using top-view, then side-view.
...The trick I'd forgotten was that if set "magnet" to "fixed", I can adjust the parameters (center, area of effect) by holding down the apple key and using the mouse.
Another cool trick I discovered today: I can drag-and-drop my .psd files directly into AE. Very useful for testing backgrounds! ...I just have to remember -- if the shot's good -- to delete the test file, move a copy to the folder where I really want it to live, and then re-import. Gotta keep all the image files I'm using close to my AE file -- don't want them spread out in a whole bunch of different places!
It's been interesting to discover just how differently various programs interpret colors. Looking at the shot above in Photoshop, Preview, QuickTime, AfterEffects, and Safari, some apps make it look like the cave is being lit with black light. ...Not exactly what I was going for -- but I won't complain.
Oh! One other thing: Today inaugurates my new work schedule -- M-Fr, 10-5, in the studio. At this point I'm planning on trying it for two weeks, then adjusting.
[Note that there are other projects besides LSGL that I'm doing in the studio. More about that later.]
Next Steps:
keep working on still shots for the vestibule sequence
posted by sven | permalink | categories: let sleeping gods lie, movies
April 2, 2005
drawing studio: last class!
by gl. at 9:35 pm
today we watched a video documenting pablo picasso's painting process, meant to show how many times he changed his mind, even in the middle of large paintings. then we drew a face made of body parts from different pictures. for whatever reason, i became convinced it was going to become a horrible piece anyway and started writing all over it in the big sloppy way i do with a soda pop pen, naming all the body parts that were supposed to be in the piece (lips! right eye, left eye, hair hair hair hair hair hair hair, nose, an ear, ear #2, chin, invisible bones). from afar it was a grey shapeless mess, but up close it warranted enough interest to be nominated as one of the best pieces of the day by other members of the class.
during the picasso video i also realized calligraphy has no margin for error: if you make a mistake, you start over again. so now that i'm trying different flavours of art like collage, charcoal & pastel, i'm finding it easier to work in more forgiving mediums than i am with the crisp sharp lines of calligraphy (unless it's meant to be sloppy, like the soda pop pens).
posted by gl. | permalink | categories: classes & workshops
April 1, 2005
mhcc calligraphy: class 1
by gl. at 10:11 pm
gosh, the mhcc cottage studios are neat. huge skylights providing even, soft natural lighting. lovely large tables that tilted at any angle, with good stools and solid footrests. it's making me rethink the table setup i have now. the teacher, who is in her late 60s or mid 70s, says she's a friend of jacqueline svaren (who i gather may still teach at pcc!) and that they were both students of reed's own calligraphic demigod lloyd reynolds. we were taught about calligraphy materials & how to line a page using pen-widths instead of standards units, both things i already knew about, but next week we start uncials! yum. i don't have a regular practice time yet, but knowing myself as i do, it would behoove me to front-load some practice in case i slack later.
all of the other students are enrolled in more than one mhcc class, and most are in a degree program. about 10 other people, 3 of which are boys, which is a pretty good ratio, though one of them left on break and never came back. i met a girl who does pottery and poetry and has always been interested in calligraphy -- she is interested in combining psychology and art, so we talked a fair amount about art therapy and i'm trying to put her in contact with some of the people i met at the creata workshops.
a huge hail storm on the way, there, though! even so, i got there about 20 minutes early and so went looking for rob in the library. afterwards i took stark all the way to the historic columbia river highway (crossed the stark street bridge!) and head to springdale, then turned around and followed it to halsey and took halsey home.
posted by gl. | permalink | categories: calligraphy, classes & workshops