September 2006 archives
you are here [x]: Scarlet Star Studios > the Scarlet Letters > September 2006
<< before August 2006
after >> October 2006

September 30, 2006
artist's way: week 3
by gl. at 3:14 pm
i haven't had a chance to write about last week's artist's way cluster! already this group is baring shameful and brave secrets as they are triggered by our work together. some had simply heartbreaking stories, some had funny stories, some were frustrated, some were elated. but they're all engaging in the process and sharing with each other in a very satisfying way.
the art activity this week was to create a lifemap (which we you may have read about back in july at a guided intent event). the intent is to create a visual representation of one's life or relationships as a literal map (annalandia or emmaville), or juxtaposed using another visual metaphor like a body or bus route or house. we cut it a little shorter than i would have liked because the check-in conversations were so compelling, but it's difficult for me to cut people off when there's so much more to be said.
center (identity): i forgot to take a picture, but i filled the center with old photos donated by a collage fairy and words from poety dog tags, with a small candle as its heart. each week i encourage participants to contribute something to the center that represents the theme, and photos were a common item this week. what is it about photographs which make them so treasured as a source of identity? would we have contributed portraits if we didn't have photos? there's something about the ephemeral nature of photos that links us to a particular moment, a moment we want to remember, even if it wasn't anything special. and when we see other people's photos, we are drawn to them, we want to know their stories.
music: bela fleck & the flecktones
posted by gl. | permalink | categories: artist's way
nothing new under the sun
by gl. at 11:40 am
i ran across an interesting quote yesterday while skimming through the winter 1990 issue of Calligraphy Review (now Letter Arts Review). in it, they were lamenting competive practices, something they felt was at odds with most calligraphy traditions:
"When survival depends on originality, that uniqueness becomes something to protect rather than share..."
this probably deserves a longer post, but i've been thinking about artists who are possessive about their work versus those who are generous with what they offer. i have never enjoyed competition. i play collaborative scrabble, for heaven's sake. i've always adopted or adapted best practices & models and have encouraged others to adopt mine. maybe it's because i come from the remix generation, or maybe it's because i worked in higher education for almost 10 years, but i'm generally okay with people embracing bits of creative work to use as epigrams, inspiration, and sometimes even gentle appropriation. (note, for instance, that our creative commons license doesn't mind if you use what we write here, even for profit, as long as you credit us -- and allow the same use of the work you create from it).
even with the same words, we each write different poems. even with the same syllabus, we each teach wildly different classes. i don't think our ideas are so unique that they must be hoarded & guarded; instead, i believe our individual expression & combination of them, like genes, cannot be replicated.
posted by gl. | permalink | categories: writing
September 29, 2006
mhcc calligraphy: class 1
by gl. at 10:45 pm
i'm back at mhcc on fridays to take the afternoon calligraphy class. this is my fourth time: each class focuses on a different style of lettering, and at this point i've taken the whole series, so i'm beginning again w/ boookhand. which is a shame: i'd rather be working on italic since denis brown will be here next month. but any calligraphy at this point is good calligraphy. the only real issue is that bookhand isn't written at a 5-degree slant like italic, so i spent most of today trying to train myself out of that. :)
marti's calligraphy classes are very casual. it took me a while to get over that. if you can work independently, you're welcome to, so i've migrated to the back. this term there are lots more students than usual for this class, but only warren & i are returning students. (warren is a 70-year-old, left-handed calligrapher, so he ends up doing his pieces upside down!)
marti did something unusual this time: she asked us to review calligraphy books & magazines to look for layouts & lettering we liked, rather than jumping straight into practicing. i was surprised to discover how nice this was, to begin with inspiration first. i took a whole page of notes and felt more connected to my creative process. later, i realized this is what i ask my artist's way groups to do with the "intuitive collage" activity, and what happens when i ask my artist's way independent support clients to bring things that inspire them to our first session. begin with inspiration. fill the well. it makes a lot of sense, but i don't think i've ever seen it in a class before.
i may try something different this term. because the class is so casual, there are ocassional points where a piece is due, but there are no requirements for the piece, so i spend a lot of time each week wondering what i should create. instead, what i may try to do this term is generate a list of potential ideas & techniques and assign one to each week myself. that way i can spend more time wondering how i'll create something rather than worrying about what i should create. this would also be useful to plan a little further ahead for birthdays or xmas presents. the process is similar to how i run artist's way creative clusters: i have a basic list of my planned weekly art explorations with an eye for the seasons and external events, but it's flexible if someone is gone or if a better idea comes up. having the initial list saves me a lot of mental energy each week wondering what we'll be doing.
posted by gl. | permalink | categories: calligraphy
museum day
by gl. at 9:47 pm
tomorrow is museum day! participating museums nationwide will offer free admission to those flashing a museum day card.
unfortunately, the portland art museum is not one of the participants, which is a shame because this is the last week you can see the oregon biennial. nor is omsi. but if you want to go to the Oregon Historical Society or Pittock Mansion tomorrow, this might make a good incentive.
posted by gl. | permalink | categories: exhibits & events
September 26, 2006
hidden talents
by gl. at 1:53 pm
from npr's "this i believe"...
"I believe we are more than the inhabitants of our cubicles, more than engineers or even parents, husbands and wives. I believe we are transformed and connected by the power and beauty of our creativity."
posted by gl. | permalink | categories: links
September 24, 2006
art weekend!
by gl. at 11:59 pm
what a lovely weekend!
first, creata hosted a free day at the portland art museum to see the oregon biennial exhibit.
there will probably need to be a whole 'nother post about the biennial, but i was especially charmed & delighted to discover mariana tres' "Homespun Universe: The Wondrous Works of Anabella Gaposchk," a whimsical collection of "old" gelatin prints made from common baking ingredients by a fictitious home astronomer in the early 1900s. the entire thing is an elaborate & fanciful story: in addition to the fuzzy photos of baking soda constellations housed in period victorian frames, a small display case includes created & found artifacts like letters, quotes, spice canisters, egg beaters, gloves, handkerchiefs, and a tiny book of bank statements. this engaging collection from the "society of nebulous knowledge," also includes a documentary audio tour featuring music from the imaginary musical "upon the orange moon." suitable for a quaint display at the maryhill museum, the photos alone are beautiful and convincing, but every component is its own layer of fascination, and taken as a whole the subtle details and histories are like the best kind of poetry, creating an imaginary world that could have been real, should have been real, but isn't.
(unfortunately the art museum has very limited info about the biennial on its website, but portland modern has a pdf page about an earlier version of "homespun universe" from 2003.)
after the biennial, creata paid for our lunch at the red star tavern, which ain't cheap. i was surprised to find the red star has the best mac & cheese i've tasted at a restaurant. i should take "clients" there more often: given the name of our studio, the association is too good to pass up. :) and i'm beginning to recognize people now: even though i make it clear "i'm NOT an art therapist," i think they respect my role as a "creative advocate."
after a stop at rob's 33 1/3 birthday party (which qualifies as the best birthday concept for an audiophile), i dropped off some cardboard trays from the Fabulous End-of-Summer August Art Swap over at linda womack's: she showed me her studio, which was extra cool since i won't get to do the portland open studio tour this year.
today i had a new independent support student in the studio. i had forgotten my typical opening poem and so used keri' smith's e.e. cummings piece as an opening:

["to be nobody but yourself in a world which is doing its best, night and day, to make you everybody else means to fight the hardest battle which any human being can fight; and never stop fighting."]
i'm learning that independent support sessions are more improvisational & conversational than creative clusters, which is great for individual attention, but because the sessions are shorter than clusters, it also makes it more likely we'll run out of time for the art component. so i don't know whether to make the sessions longer (because we could easily talk longer) or simply set the time more rigidly, at least to begin the art project.
the rest of the day i spent in the studio, puttering around & putting things away. i haven't done that in a very long time. i sorted through some of my poetry boxes and put things on shelves, i crossed some things off the todo.studio list. it always takes longer than i think it should, but it always feels good to do it.
posted by gl. | permalink | categories: artist's way, exhibits & events
September 22, 2006
artist's way open studio (september)
by gl. at 3:49 pm
happy equinox! last night i hosted the artist's way open studio. though the last day of summer arrived with with thick grey clouds and a chill in the air, the studio was warm and lively, abundant with creative energy and intuitive collage explorations.
jen couldn't come because she had a family emergency (big hug, jen!), but otherwise, the studio was full. sven always misses the nights we have another boy at the table, but how could he resist taking a job at bent image lab to build armatures? :D still, he's enough of a fixture that people asked about him.
the open studios are our least structured art opportunities, so i don't spending a lot of time or energy as a facilitator, but i'm still amazed i create a collage each night. and it's a good reminder that it's still necessary for me to host these for my own art in addition to providing opportunities for others, because i still spend vastly more time on the computer than at the studio.

[sprite: click the image to see the other collages]
"sprite" includes a fuzzy photo donation from a collage fairy, part of a baci chocolate wrapper, a fairy illustration from charles vess (i think), a piece of wrapping paper, cardboard from a tape dispenser, a piece of cigarrette package (where the heck did that come from?). i cut it too short, though, so had to add an old piece of painted paper in the upper left corner.
posted by gl. | permalink | categories: artist's way
September 20, 2006
artist's way: week 2
by gl. at 6:54 pm
last night's activity, motivated in part by the equinox on friday, was a poetry walk. in a poetry walk, you divide your paper into two sides: nouns & verbs. and we walk verrrrryyyy sllloowwwwlllyyy around the block, through the big field, writing down every noun & verb the we see, hear, smell, feel. the trick of it is not to write any adjectives or adverbs, and to write words as quickly as they occur to you. if you haven't written anything in a few seconds, you're thinking too hard. then you return to the studio & write a poem using some of those words:
transformation

some people bury the past
abandon it like a basketball in a field
but i open the door
bite the lock in half

i am blooming and dissolving
a lace of lights against the skyline
as the crickets sing
to the fallen apples
in the dusk

...september 19, 2006...
center (safety): a handmade stamped brick surrounded by calligraphy tools, one of which is a supportive and expansive black feather, waiting to catch you.
music: tracy chapman's new beginning
posted by gl. | permalink | categories: artist's way, writing
September 16, 2006
warning
by gl. at 11:36 pm
i bought a recent calligraphy piece from psc member angelina cox, who's just hopped across the pond to roehampton university for the last year they offer their calligraphy program. she was raising funds and i donated to her newsletter, but when i saw this piece i knew i had to have it:

["if you cannot be a good example, then you'll just have to be a horrible warning"]
hee! and in other news, i registered for the mhcc calligraphy course again. it was nice to have a quarter off, but i didn't make very much (um, any?) calligraphy without it.
posted by gl. | permalink | categories: calligraphy
because who doesn't like monkeys?
by gl. at 8:21 pm
i went to the opening for the 100th monkey studio tonight. it looks like they have similar values about encouraging creativity & art. i won a gift certificate for 2 hours of art studio time + $10 worth of art materials.
i also picked up a cd called passages from the cellist they hired: adam hurst is so sonorous and langorous he's almost hypnotic. i was compelled to pick up his cd because i knew he would make good studio music, for artist's way or calligraphy.
posted by gl. | permalink | categories: exhibits & events, music
tba06: dark room
by gl. at 3:16 pm
how could we resist a dance in the dark, one that requires night vision goggles to view?
the crispin spaeth dance group performed dark room at the portland center for the performing arts last night: five dancers on a swath of carpet, flanked by an audience seated in a single row of low beach chairs on either side. the dancers passed out & explained the night vision goggles, then turned off the lights.
infrared lighting flooded the the night vision lenses, illuminating the dancers. the green hues and limited depth of field made the dancers seem like ghosts and made the whole thing feel otherworldly. my favorite thing to do was to watch with the lens for a while, put it down to watch the dark and listen to them breathe and thump, then return to the lens to see what had changed. it was magic.
of course, it's difficult to remember that even though you can see what's going on, the dancers are doing this blind, so when they fall, or fly, or fling, or find each other, they're doing it in a maze of trust and kinetic memory. when they're looking at each other, or looking at you, they can't see what they're looking at. they can't respond to each other's motions. the music was ambient and fairly non-descript, but i began to be able to pick out subtle cues the dancers relied on to change positions.
sven said it was one of the favorite things he's seen since he's lived in portland. to me, it was like living a fairy tale, the kind where the fairies kiss one of your eyes so you can see them dance with glittering lights in an elaborate banquet hall, even though your other eye just sees the grey empty room with the broken chair.
we haven't done much tba this year because i got walloped by a cold. so we missed the "extreme guitar orchestra" and i missed the lecture about "why be a professional artist," along with any others we might have attended but it was obvious i wasn't going anywhere. but i'm glad we made it to this one.
posted by gl. | permalink | categories: exhibits & events
September 15, 2006
artist's way: week 1
by gl. at 4:59 pm
this week the artist's way creative clusters began for fall! we've got a good group, and i think they'll all make it to the end! our first activity introduces particpants to intuitive collage, but with only 20 minutes to complete it, linda womack might recognize the technique as similar to her "speed collage." intuitive collage is typically what we do at the artist's way open studio, though we have two hours there. as a first exercise, collage is a fairly safe one, and giving them only 20 minutes to do it keeps their inner voices from getting too loud (in part because they don't havge time to criticize each decision, and in part because the expectations are necessarily lower). afterwards, they wrote stream-of-consciousness for 5 minutes (modeling morning pages) and then shared their work & words w/ each other.
center (intro): a large ostrich egg spilling stars onto the centerpiece. next week i'll ask participants to bring objects that represent the theme (safety), or anything they find beautiful or endearing that week.
music: the amelie soundtrack
i forgot to mention that earlier in the day i made an agreement w/ my neighbor, who was working in his back yard, to not hammer anything after 6 p.m. on tuesday nights. but after shortly after he left, his garden crew came and mowed for the first 1/2 hour of class! doh!
posted by gl. | permalink | categories: artist's way
September 7, 2006
artist's way guided intent (september)
by gl. at 3:39 pm
cranberry lemonade marked the return of the artist's way guided intent this month, but it was the darjeeling tea leaves that had more of an impact! in addition to other divination aids like pennies, fortune cookies & tarot cards, they formed the basis for short writing prompts that led to poems about possibility.

[tea leaves in my cup: click the photo to see a charming collection of other cups]
for the first prompt, "the most basic possibility is binary," i said, passing around pennies. "yes or no, heads or tails." when i asked the penny if this is what i'm meant to be doing with my life, it came up heads: yes. for some reason that surprised me, and by the end of 5 minutes i had concluded with a sentence about wanting a future without feeling so beholden to others (an odd thing for a facilitator, perhaps, but bear with me).
right on cue, the fortune cookie fortune i picked said, "isolating yourself from others will not prevent you from being hurt." ha! what serendipity! so i wrote for 5 more minutes about how i could achieve balance, how i can maintain both solitude and service to others.
satisfied at the progress i was making, i turned over the random tarot card i picked. the devil? what? after all that? i was angry; i hate it when someone (even a card!)thinks the worst of me because i try so hard to do the right thing. so i spent 5 minutes looking at my flaws and what i do that could cause others to demonize me. i chose to use it as an exercise in looking at my actions through the eyes of others to evoke empathy. i'm not well-acquainted with tarot meanings, so its interpretation as a card of power & desire was lost on me. (sven got the "star" card, btw. i was so envious!)
but the tea leaves were a mystery for me. in order to write about them i had to begin at the most immediate level: a descriptive response, writing simply about the visual characteristics of what i was seeing. other participants described the tea leaves as their favorite inspirational component, so while it didn't do much for me, the intent to provide different stimuli for different people worked.
after the writing prompts we had some time to write a poem based on one or more of the prompts. this is a poem about possibility, even though it doesn't sound like it:
Same time tomorrow

Desire and despair are two sides
of the same coin:
I want to be good
I want to be possessed
but I am a princess in a tower
with DSL.
Keep time from slipping through my fingers
tell me each tea leaf matters
the pattern clumps, then crumbles
a flash of birds across the sky.

september 07, 2006
sharing our works didn't go as smoothly as it does w/ visual responses, in part because when we discuss visual work i have a pretty good structure that reminds people we're not here to "fix" the art of others or judge its aesthetics, but rather our goal is to help the artist find meaning in it. so the responses got a little out of hand at the end, and because i'm still sick i don't have my authority voice (nor do i like to invoke it). we had a couple of writers who were vocally disappointed that they had come to the guided intent that featured a literary exercise when they were looking for more visual stimulus, but i feel strongly about offering a wide range of visual, literary & expressive art offerings, and all i can do is tell people not to come to the ones they think they won't like.
i can hardly believe it, but our next two events are already full! september's open studio has a waiting list, and the next guided intent in october (abundance via blind painting!) filled up the first day it was announced. also, it looks like an artist's way creative cluster will form tuesday evenings. hooray!
posted by gl. | permalink | categories: artist's way, writing
September 6, 2006
new armature: the man of steel
by sven at 10:56 pm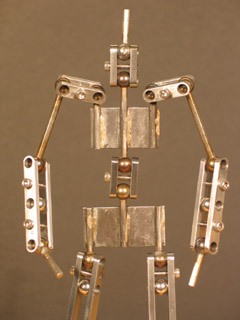 beauty shot
Done at last! All told, after R&D was done, it took about 60 hours to complete this one. Now being able to avoid certain errors, I might be able to trim that down -- but 50 hours is probably a good estimate for the minimum amount of time that any milled armature is going to take.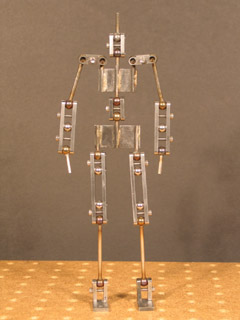 full body
What should I call the man of steel? I've considered calling this design "the Clark Kent." I've also considered calling it "the Christopher Reeve," as an homage -- but I have trouble shaking my discomfort with appropriating an actual person's name.
demonstrating a lean
Oooh... The stainless steel balls move so smoothly... But the armature also holds a pose really firmly; no worries about this boy falling over. ...And this armature feels a lot sturdier, more unbreakable than the previous brass design.
Oh, yeah, steel is schweeeet!
action pose #1: quarterback
With a fine armature in hand, you really want to get imaginative in thinking up poses. There's so much control over articulation -- you're compelled to make good use of the power.
action pose #2: catching a ball
Here's another shot that demonstrates the armature's ability to stand on one foot and lean -- without falling over. That's absolutely crucial in an armature; otherwise you can't even animate a walk. ...Which is why I always make a point of demonstrating a big lean when I debut a new 'ture.
(This shot's just a bit more graceful than the other.)
action pose #3: creepy crawly
This armature's built to human proportions. But -- I don't know why -- I keep imagining it doing a creepy crawl, like a person that's turned into an animal.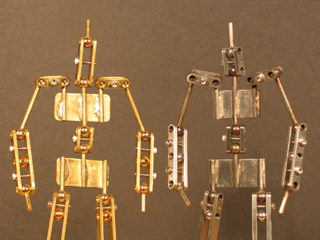 family portrait
The blueprint for the "man of steel" is almost identical to the one that I used for my previous brass armature. However, steel is a whole 'nother world: the process for making this 'ture had next-to-nothing in common with the previous one. In fact, almost nothing that I described in my "how to make a brass ball-jointed armature" tutorial turns out to be applicable here.
Even so, this project was far easier for my having worked in brass first.
Hm. Seeing these two side-by-side sort of reminds me of the gold and silver C3PO units that you see at the beginning of "Star Wars: A New Hope" in the blockade runner...
robot smack-down!
(Sorry. I couldn't resist.)
posted by sven | permalink | categories: stopmo
September 4, 2006
steel armature home stretch
by sven at 9:16 pm
the first complete joint
Since I got back from Canada, I've put in 51 hours on the steel armature. It's all done, except for the feet -- which I'm estimating will take another 6 hours.
radiused sandwich plates
The biggest accomplishment on this project has been getting the sandwich plates radiused (rounded off). Each radius required 18 passes with the milling cutter, shaving off .005" at a time.
In the course of making all those tiny cuts, I managed to reinvent steel wool. As the milling cutter spins, it accumulates a blob of spinning, magnetic, metal-splinter-and-oil paste. This paste -- along with chips and spirals from other cutting operations -- gets all over the worktable. ...Every night I come home with irritating microscopic metal slivers in my fingers, wrists, and elbows. I've started wearing my nitrile gloves while machining. That helps protect my fingers -- but what I really need is to find a sturdy long-sleeved shirt that I'm willing to sacrifice to the metalworking gods.
Even more alarming: A friend in the medical system has forewarned me that I'll now be disqualified from ever getting an MRI scan. Apparently, once upon a time, a fellow came in for a scan who didn't know that he had a tiny metal splinter in his eye. The powerful magnets of the MRI pulled the chip through an artery, and caused a stroke. Thusly, so I'm told, MRI technicians are now supposed to ask if you've ever worked in a machine shop before they let you get scanned.
Yeeeeeeesh...
JIG DESIGN #4
jig design #4
In the course of radiusing the sandwich plates, I discovered that jig design #3 was flawed. I had to spend a day modifying the jig, but it seems to work without fail now.
The trouble was that I was clamping the jig to the rotary table using a lathe chuck. That works very well for a while... But while the chuck is sturdy enough to hold something that's rotating on a lathe, it's not designed to withstand the stresses created by a milling cutter. Eventually its grip loosens.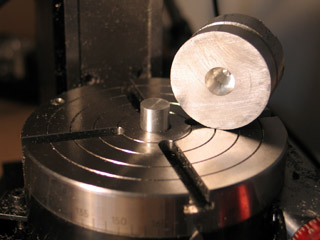 centering pin
My solution (jig design #4), was to create a centering pin that could plug into the hole in the center of the lathe chuck on one side, and connect into a hole in the bottom of the jig on the other. To make the centering pin, I lathed a round piece of aluminum down to 7/16". I made the hole in the bottom of the jig by using the lathe and a boring tool. These tasks represent my first real work on the lathe, other than drilling balls.
modifying the jig
The centering pin does a very good job of locating the jig where I want it on the rotary table. But I still needed a means to firmly hold it down. So, what I did was create a groove in the side of the jig, so I could use regular hold-downs.
modifying the jig - closeup
This is a particularly interesting set-up, seen in the two photos above. On the mill's XY table, I've attached a tilting angle table, and set it to 90 degrees. Screwed into the tilting angle table is the rotary table, and screwed into that is the lathe chuck. This arrangement allows me to cut a groove all around the jig.
DRILLING BALLS
drilling balls on the lathe
Making the sandwich plates is the most time-consuming and challenging part of making the armature. This go-around, I decided to get that ordeal out of the way first, and then move on to easier things: drilling balls, and brazing them onto rods.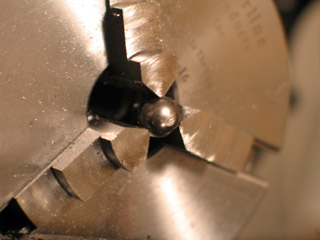 filing a small flat area
I've been trying to fine-tune my process for drilling balls. The balls pictured are all 5/16" diameter type 302 stainless steel balls purchased from smallparts.com. [They're almost exactly the same size as the 8mm beads that I've used on previous armatures.]
Step 1: Put a ball in the lathe chuck and file a small flat area (~1/16" wide) using a bastard file. Tom Brierton recommends doing this with the lathe turned on. I found that for me it works better to just spin the wheel by hand while the lathe is turned off, filing with not much pressure.
starting a hole with the center drill
Step 2: Put a #2 center drill in a small drill chuck in the tail stock. Bring it to the point where it's touching the ball. Put a drop or two of oil on the center drill. Turn the lathe on, and bring the motor up to 1800 RPM. [I haven't been able to determine what the technically correct turning speed should be, but this seems to work based on trial and error.] Feed the drill into the ball fairly quickly, three and a half turns (.175"). This creates a small hole with just a little bit of lip. Don't use the handle on the hand wheel -- keep your hand on the edges of the wheel, or you won't be able to control its speed of entry adequately.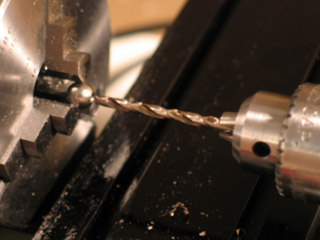 drilling a hole
Step 3: Remove the drill chuck, take out the center drill, replace it with a 1/8" drill, and reassemble. I want to make a hole that goes halfway through the ball. If the ball is 5/16" (.3125"), halfway through is .15625"... But for my purposes, .15" is close enough. Each turn of the handwheel is .05", so it'll take three turns of the handwheel to get the drill in. Oil the drill and back it up one turn. Turn the lathe on, and move the drill forward four turns. Use a fiarly fast feed.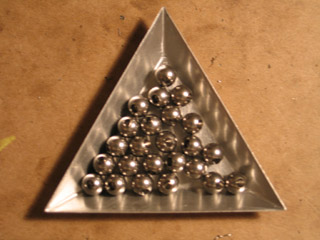 completed balls
Step 4: Repeat, repeat, repeat. Don't forget to drill extra balls, to accommodate for mistakes later on in the process.
BRAZING BALLS ONTO RODS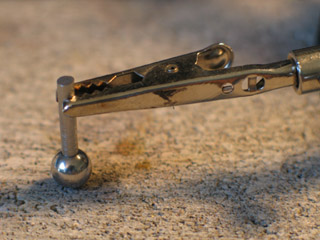 ready to braze
LIO recommends brazing with the ball on top of the rod. Tom Brierton recommends brazing with the rod on top of the ball, held in a "helping hands" tool. In Laika's "The Making of Believe" video, I can see that they use LIO's method. [Not surprising, given that LIO used to work there.] ...However, because I'm familiar with the helping hands tool, I opt for Tom's method.
using a hammer to press down
When I braze, I'm using .030" diameter J.W. Harris brand Safety-Silv 56 cadmium-free silver solder (that's 56% silver), and J.W. Harris brand Stay-Silv white brazing flux. I find that two small clippings of soldering wire is adequate, each between 1/32" and 1/16" in length.
For a heat source, I'm using a butane microtorch that came with a creme brulee set. [You can also buy microtorches at a hardware store.] If I recall correctly, Safety-Silv 56 melts at about 900 degrees. According to the Welder's Handbook, propane burns at 3800 degrees Fahrenheit, and butane burns at 3900 degrees -- so butane should work just as well as the standard propane torch.
microtorch and ball-rod assemblies
I find it takes about 15 seconds of heat to get the Safety-Silv to melt. LIO says that you should be able to feel the ball sink onto the rod... I experienced that only once; I think it has to do with the shape of the solder snippings you use. [Tom uses shavings off of a larger diameter wire, which is likely to be another experience still.]
Unfortunately, the Safety-Silv melting seems to coincide with the ball discoloring. It turns a sort of iridescent black, like an (artificial) black pearl. Then, as it cools, it turns a brassier color. I'm unhappy about the discoloration... I think I need to look into purchasing "granular oxide remover" or pickling solution to clean the balls. I tried using a steel brush, as LIO suggests, but it seemed to scratch the balls, which is unacceptable.
The worst of the discoloration results from the flux boiling over the sides of the hole. To avoid this, a trick I came up with was to apply flux into the hole using a toothpick. I attempted to use as little flux as possible, while still coating all of the insides of the hole. When I was careful, it seemed that I was able to avoid flux boiling over almost entirely.
BRAZING THE TORSO AND PELVIS
brazing the pelvis
On my previous armature, I was using a solder that was 98% tin, 2% silver -- as opposed to the current stuff, which is 56% silver (and six times more expensive). This solder is much more difficult to use on the torso and pelvis blocks.
I lay down a half-inch long piece of soldering wire on some flux, just to the side of one of the rods that I'm trying to attach. Because the plate is so big, there's a lot of dissipation of heat, making it very difficult to get the wire up to 900 degrees. In the process of getting the metal that hot, the body blocks turn black -- and even rust! -- which I then have to sand off using fine-grit sand paper.
[P.S. I made the grooves for the rods this time using a 1/8" ball-ended milling cutter. I just got it in the mail on Friday. It's going to be necessary pretty soon now, when I get around to making my first step-block joints...]
Looking at LIO's Armature Anatomy 101, I begin to understand why he has the shoulder rods attach into holes, rather than lie lengthwise: a smaller point of contact means less heat dissipation to fight.
I also think I begin to understand why he avoids using "helping hands." The helping hands alligator clips have little springs inside of them that make them close. What happens when you super-heat a spring? It dies! At least one of my clips won't close anymore... It's probably done for. These things are really made for soldering circuitry boards and fusing wires -- they're not meant for such extreme heat.
...
OK, there's plenty more to say -- but I'll leave off there for now.
posted by sven | permalink | categories: stopmo
September 3, 2006
running as fast as i can
by gl. at 8:11 pm
several items of interest, including a new exhibit, the state fair, aocc and the state of october:
i'll be exhibiting two pieces at the portland society for calligraphy annual open show in the west linn library. there will be an artist's reception september 10 from 2-4 p.m. i had hoped to show at least one new piece, but i have been hobbled by traveling and artist's way promotion and a cold, so i'll be showing two previous pieces. if you haven't had a chance to see them in person, you should go to the reception, where there will be many other fine calligraphers to see.

["born": part of a poem i wrote for a birth]

["tongue far from heart": from shakespeare's measure for measure]
last week i went to the state fair, in part to view the calligraphy exhibit. i was foolish and didn't bring a camera or even anything to write with. but i was quite taken w/ angelina's "alphabet" piece, which included deeply embossed ancient alphabets with a simply-lettered but elegant quote. in the student category, i was charmed by a well-done representation of mr. tumnus' arrest warrant. and sven & i have often talked about writing black on black, so it was a pleasure to discover "lightning," a piece written on black with walnut ink. the warmth of the walnut ink allows the letters to be read with the right light and the right angle while still preserving the mystique. in addition, the piece had a large lightning bolt etched into the glass.
i registered for the all oregon calligraphers conference, and the only unfortunate part is that it means i won't be able to attend the open studio tour this year. which is sad because sven and i have gone every year i've lived here. i love the open studio tour. i get to meet interesting new artists and explore interesting new studios.
but aocc is the priority this year because one of my favorite calligraphers in the world will be coming! denis brown is also probably one of the youngest high-profile calligraphers, too, inducted into the international society for calligraphy at age 15. as a native of ireland, i'm very much looking forward to his lecture about the book of kells in addition to his keynote. plus, in conjunction with aocc, he'll be offering workshops through my calligraphy guild, so i signed up for three of those. i'm a little intimidated, but when am i ever going to get this chance again?
october will be a very full month. sacrificing the open studio tour was necessary because we're also going to the hp lovecraft film festival, the oregon shakespeare festival in ashland and the hood river heirloom apple days. and of course there's halloween and sven's birthday is the day afterwards. add to this a family visit and the general roster of studio events, and we'll see what happens when we make it to the other side.
posted by gl. | permalink | categories: calligraphy, exhibits & events