December 2006 archives
you are here [x]: Scarlet Star Studios > the Scarlet Letters > December 2006
<< before November 2006
after >> January 2007

December 31, 2006
end-of-year review
by gl. at 9:54 pm
happy eve! i'll be staying up until sunrise to see the first dawn of the new year. in the meantime, i just sent this to our events list:
Don't let old acquaintances be forgot! Let me remind you of everything you helped create this year at Scarlet Star Studios:

The biggest event was probably buying the house & studio. We hosted a studio adoption party in May, which several of you attended (whee!). We've already made some minor renovations in Sven's "lab" and we painted the main meeting room.

We more than doubled the activities we hosted this year! In addition to the Artist's Way Creative Clusters, free collage nights & independent support, we now offer guided art nights & workshops specially selected from outside instructors. These have been filling fast! We also hosted the Fabulous End-of-Summer August Art Swap that was such a success, we're bound to do it next year, too.

Sven has been immersed in stop-motion animation this year. Primarily focusing on how to create armatures, Sven was hired at Bent Image Lab to create characters for a Bitter:Sweet music video and for an animated special on "Live with Regis & Kelly." Later, Sven got to help a photographer at Laika, which is producing Neil Gaiman's "Coraline" as a stop-motion animation film. He is just now, even as I type this, finishing a film for a stop-motion animation challenge before the clock strikes midnight (visit the blog later this week to watch the movie!).

Meanwhile, I was in four exhibits this year! I did several calligraphy pieces I'm happy with, and even sold a few. I was also a guest lecturer at two different locations, extolling the virtues of a daily writing practice. This year I dabbled in holiday sales for the first time, discovering how much I enjoy promoting the work of people who have taken classes at the studio. I was also delighted to find a new lettersmith activity to love, the very popular wordwear:
http://www.scarletstarstudios.com/wordwear/

So we've had a good year this year and you've helped us make it so. Thank you for your support! We're looking forward to writing more, drawing more, filming more and playing more next year. We hope you and your friends make room for art in your lives by supporting local artists and seeking your own opportunities for art exploration and creative self-expression.

with brightest wishes for an artful new year, gl. & sven
in this medium i can specifically and abundantly thank grace & serena for helping sven with his heart's desire, and i can thank everyone who bought a calligraphy piece this year, everyone who bought a piece of wordwear, and everyone who came to one of our events.
i'll begin majorly promoting the next artist's way creative clusters beginning tuesday, so when i wake up tomorrow on the first unsteady legs of the new year, that's what i'll be focused on for the rest of the month. in the meantime, sven will probably have a backlog of posts to catch up on, so we won't disappear completely.
best wishes to you & yours next year. may we each create things that are true for us and find people who will appreciate them. now everybody sing! "we'll take a cup of kindness yet... for days of auld lang syne....!"
posted by gl. | permalink | categories: administrivia
December 27, 2006
a jolly little elf
by gl. at 12:23 pm
shelley sent the most elaborate handmade christmas card i've ever seen: a movable elf puppet on a stick! and as if that wasn't enough, it came with a beautiful hand-lettered tag: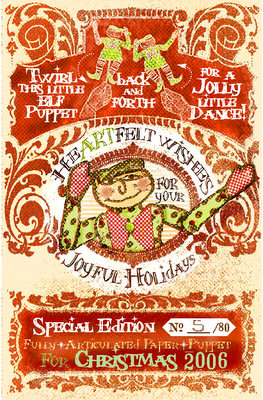 [click the image to see the puppet creation process]
thanks, shelley! "webster" is amazing!
posted by gl. | permalink | categories: miscellany
December 23, 2006
more advice
by gl. at 11:15 pm
i just completed a housewarming gift for the kindest, most patient client ever. jane saw the "advice" piece i made for shaedra, who was inspired by a piece she saw at jane's house. it's practically a mobius of inspiration, and so jane wanted me to make one for her daughter, who just built a house at lake tahoe.
jane orginally comissioned this piece in june, but she fell off the face of the planet for a while, and then i did, and i finally decided it had to be ready for christmas (and it helped i had a final project due for the mhcc class i've been sporadically attending this term).

[click the image to see detail]
calligraphic exif: about 15 hours; random older paper with a parchment-like texture; speedball C2 & C3 nibs w/ a lot of help from an exacto, repositionable glue stick and a photocopier; sumi ink; basic italic & roman caps; red paper & gold paint-pen.
yep, that's right. a photocopier. words with multiple o's in proximity to each other spell Trouble-with-a-capital-T. "good" was bad enough in italics, but "food" in roman caps right below it was simply dreadful. it's impossible for me to create 4 o's that are reliably consistent. after trying for an hour, and having trouble with some of the other roman caps, i decided to try the photocopy technique again, this time writing each letter till i got one i liked, then adding each individual letter into a coherent composition and photocopying it onto the paper. it took a while, but was much less frustrating than doing & redoing 20,000 pieces. the italics could be done as full words, but each capital is done separately.
another reason for photocopying was because this paper didn't want to accept ink without spreading (argh!). i even tried gum sandarac, the way denis brown taught us. the red diamonds were meant to be ink but couldn't keep sharp edges, so after i tried several different things, sven cut diamonds from a piece of red sparkle paper & then i dotted them in the middle with my favorite gold paint pen. that worked out i think: the paper diamonds give more dimensionality to the piece and and i had more options for trying several different placements.
earlier, i spent over an hour hour trying to work out the right proportions & spacing of the elements, which means a lot of very tedious lining & relining of the page. i finally went back to the house, created three slightly different layouts via adobe illustrator, and put them on the awesome light table we got from freecycle. i used the layouts as guides for my own lettering, which worked great! the fonts are obviously not the same as handwritten calligraphy, but the layout offers good visual parameters for centering, proportion & spacing. it was a trick i picked up for a piece i made for sven's parents years ago.
i hardly ever frame a piece for a client, but this one was so late i didn't want to give her another step before giving it to her daughter, and having the frame really helped me limit the color palette & size. why is the square format so appealing, anyway?
this may be the last calligraphy piece i create for a while. after this i decided i probably wouldn't do any new pieces next year, choosing to spend the year getting the gocco & letterpress (and wordwear) going instead. right after making that decision, i remembered i had signed up for a calligraphy birthday card exhange, and maybe something i cannot refuse will come up, but otherwise, i have no calligraphy commitments next year.
posted by gl. | permalink | categories: calligraphy
December 22, 2006
ann rogers-williams' "if not now, when? beginning your memoir today"
by gl. at 7:12 pm
i'm playing catch-up; this event was hosted dec02.
as our second workshops in this series, i was thrilled that ann rogers-williams' "if not now, when? beginning your memoir today," was also a tremendous success! i advertised on soapstone this time, too, but didn't need it because we were already full by the time those responses came along.
i had taken a precursor to this workshop at the multnomah senior center and knew ann would be a good fit for our studio. ann is a total sweetheart but really knows her stuff. she has a gentle but energetic presence. in this workshop she covered the different forms of memoir, led the participants through writing exercises, then had each person create a "wisdom card" as a focus and inspiration for the memoir they planned to write after the workshop (this was just a "beginning" memoir class; no memoir can be written in two hours! :).

[marguerite & sven's wisdom cards]
i wasn't present at most of this workshop, just at the beginning for greeting & introductions, and at the end for evaluations and payment. it was a little weird to hear people laugh on the other side of the wall. next time i will work on my instructor introduction, which was remarkably lame for this workshop. oh, and remember to introduce myself. :)
we currently have workshops booked through june! i'm excited this has been so successful. i try to pick different types of classes and instructors i think are a good match for the studio. so stay tuned for future details; i'm just about to announce our january workshop.
posted by gl. | permalink | categories: classes & workshops
artist's way open studio (december)
by gl. at 2:04 am
a very lovely group tonight, including a recent artist's way grad! they were remarkably comfortable with each other. flu knocked a lot of the original attendees off the list, but a last-minute announcement filled the studio.
only one RSVP didn't show, but combined with an argumentative member who didn't attend the event he RSVPed for, i finally revised my policies concerning first-time RSVPs. that makes me sad: i certainly don't want to discourage new members, but neither do i want empty seats at the studio! at this point 80% of the first-time RSVPs from Meetup never show, which just breaks my heart because there are usually people on the waiting list who could come but i have to turn them away. so starting next month i'll require a $5 deposit to hold the space for first-time attendees at a studio event. this isn't much of an issue with people on the studio's events list, so the policy currently applies only to Meetup members.

[dare to love completely: click the image to see the other collages]
a silly story of two bunnies in love. it's meant to look a little child-like. the sun is shining, the hills are alive, birds are singing, the stars are shining even when you can't see them. the bunnies aren't embarassed to be in love with each other. faux-bows poke out the holes of the vietnamese (?) homework.
posted by gl. | permalink | categories: artist's way
December 19, 2006
stopmo teaser: dad gesticulating
by sven at 12:26 pm
click on image to play clip (2.4 MB)
Here's a little taste of the animation I've been doing.
The eyeballs are solid; the pupils are made from black Van Aken plastilina. After enough handling, the plastilina eventually stops sticking... One of the most peculiar moments while filming so far was when a pupil fell off and lodged itself in Dad's mouth.
Just prior to this project, I watched Robot Chicken season 1 in order to get inspiration for how to move the pups. I think you can tell... I'm having a lot of fun with the wild and exaggerated gesticulating.
As I've said many times now, I'm working "quick and dirty"... Resolving certain problems as I go, not backtracking to fix anything.
I've found a way to weigh down the camera tripod so it's less vulnerable to bumps. I've filled plastic jugs with sand, and made little wire loops for hanging them from the tripod. (I have photos I want to get around to posting.)
I just noticed last night that I'm getting a lot of flicker. I'm hoping that it's just due to me forgetting to put the camera's exposure on manual.
I've shot about a fourth of the film at this point -- even though I've had little time to work during the past few weeks. Feeling optimistic about getting this done in time for the Dec. 31 deadline.
posted by sven | permalink | categories: stopmo
December 18, 2006
poem: i am the arrow
by sven at 11:32 pm
I'm in the midst of actually animating the "quick and dirty" film...
Because I'm hunched over in a cold garage for hours on end, I've established a rule that I have to go for a 10 minute walk up Powell Butte every time I finish a clip (usu. approx. 2 hrs). This poem popped into my head while going "up and around." Sort of a chant; influenced by the rhythm of walking, I suspect.
i am the arrow

i am the arrow
have chosen my target
i wake with one thought
move in straight lines


'til sleep overtakes me
i cut cross the horizon
shot from coiled meditation
through blackness to light


i am the arrow


December 18, 2006
posted by sven | permalink | categories: writing
December 10, 2006
closet torn out
by sven at 8:00 am
Lots of studio renovation going on. Gretchin's in the midst of getting the main meeting room painted... And I'll be getting new flooring for my laboratory of art maybe as early as next week... So exciting!
The closet project in my room is now done -- and I'm pleased with the results.
before
What good was the closet doing me? All it did was take up precious wall space.
wall torn out
Crash, boom! Insert dynamite and stand back...
patched with "mud"
The sheetrock guy did a superb job (though he left some mess behind). After painting, you can't tell at all where the hole was.
after
Huzzah! Complete! Now I can put the electric piano into that nook, and snug the workhorse computer up next to it. That means I'll be able to put everything that involves fumes next to the window -- where it rightly belongs -- and have space for an additional metalworking table.
Soon I'll have the ability to destroy entire planets...
Um. Artistically, I mean. Yeah.
posted by sven | permalink | categories: studio space
December 9, 2006
gifts from the stopmoes
by sven at 12:00 pm
Birthday presents from my stopmo buddies Mike and Shelley arrived on the same day!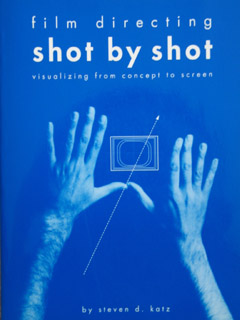 thanks mike!
I've been perusing through Film Directing Shot By Shot and it's every bit as good as Mike's been saying. A very thorough -- yet approachable -- course in creating shot flow.
shellsy's gift for packaging
Packages from Shelley are always a delight to the eye...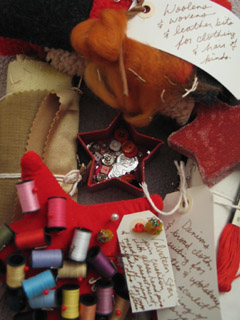 thanks shelley!
An assortment of fabrics, threads, and embellishments for puppet-making... And a hand-made scarlet star pin cushion! What a delicious assortment...
Thank you both!!
posted by sven | permalink | categories: miscellany
December 8, 2006
artist's way: week 13
by gl. at 11:23 pm
our final week is always a surprise when it arrives, even though i often warn us about its coming a month in advance because the participants are assigned a "response project" to present at the last session.
response projects are like final projects but they aren't worth 50% of your grade. (as i kept reminding them, "you can't fail artist's way!") it gives creative cluster members an opportunity to explore one of the arts we've done during our time together or to strike out on their own. because while i very much enjoy creating the opportunity for them to create art at the studio, the point of going through artist's way is to learn to create art outside the studio on your own. :) anyway, some really phenomenal pieces, including a hand-carved creativity chest, a set of photocollages, a family scrapbook/memoir, a shadowbox assemblage & handmade doll clothes!
afterwards, i gave everyone a different word stone reflecting their journey through the artist's way. but i forgot to take a group photo! i got pix of response projects, but not people. :(
center (faith): soup! the studio has a kitchen; why not use it? :) on the last night we make a stone soup where each member contributes something. i provide a veggie broth base, and this year we had butternut squash, mushrooms, onions and lemon pepper chicken soup in addition to smoked mozzerella spread w/ crackers, linder chocolates and newman-o's. but i forgot to add the special star pastini 10 minutes before serving, so we had starless soup.
music: the stupid cd player decided it didn't want to play k.d. lang's ingenue until after everyone was gone, so our last session was quiet except for the gurgling of the new water fountain i just got.
posted by gl. | permalink | categories: artist's way
trickle down
by gl. at 12:46 pm
trying to put the "retreat" into "a retreat for art exploration and creative self-expression," i finally found a small water fountain i could live with at a price i wasn't appalled at.
i know, it sounds like i'm damning it with faint praise, but i do like water-soaked stones and i hope the sound will mask some of the outside noises, especially when spring comes.
posted by gl. | permalink | categories: studio space
December 7, 2006
artist's way guided intent (december)
by gl. at 2:19 am
we got down & dirty at the studio tonight. in fact, we explored 3 different ways to explore our personal strengths: a mindmap, an illustration and finally a life plaque.
we met two new people, which was nice, both from new york and recent portland residents. but the biggest disappointment was that we had another full studio RSVPed, but only 4 of us ended up playing together. afterwards i had to remind people that since our events often fill quickly, an RSVP who doesn't show means a missed opportunity for someone else. i know things come up, but if their plans change, i want them to give us as much notice as possible to give another artist a chance to play. imstead, i spent time after the event in the role of debt collector, which is quite distressing.

[my life plaque: click the picture to see the other life plaques and visualizations]
there is a waiting list for the next artist's way open studio/collage night on the solstice, and boy, i hope everyone makes it. the next artist's way guided intent is next year, january 3. we'll be exploring compassion by writing imaginary stories about people in old photographs, discovering our rich capacity for tolerance, mercy & forgiveness (both for ourselves and others).
posted by gl. | permalink | categories: artist's way
December 6, 2006
artist's way: week 12
by gl. at 12:21 am
we worked with clay last week. this was similar to something you'll see again tomorrow for the next guided intent, but this was more of a sensory experience. the clay exercise is often difficult for participants because unlike almost every other activity, we don't keep what we make and we don't talk about it or write about it. we make it, destroy it, and make something else, over and over again. in this case, we actually did make a tile to keep: i asked them to pick a word they felt described themselves and using my word stones kit, we stamped those words into the tiles. i wanted to see how it would work for tomorrow's guided intent activity.
(aside: the magnetic poetry people responded magnificently when i wrote them to ask if i could just order one letter stamp to replace one i had lost-- the dot above the 'i'. they offered to replace it and a couple of more letters of my choosing for free! including shipping! i think that's some of the best online service EVER!)
the night started out a little oddly, so during our usual breathing & stretching exercises i asked everyone to stand up and stomp around until they couldn't stomp anymore. later i knew we would be slapping clay down hard on boards, so stomping was a pretty good introduction and helped disperse some of the oddness.
center (autonomy): two paths to independence: the serene command "be" and the sparkling irrepressible "imagine."
music: i meant to use bobby mcfarrin's beyond words, but i forgot it over at the house, so i used norah jones' feels like home instead.
posted by gl. | permalink | categories: artist's way
December 3, 2006
vicki lind's "don't think! paint!"
by gl. at 11:39 pm
vicki's lind's "don't think! paint!," the first in a series of workshops led by other instructors, was simply smashing! though i won't always be present, i actually participated in this session in part to experience the kind of things that would come up (it's been a while since we hosted joanne's "writer's harvest" workshop a couple of years ago).
in essense, the goal of the class was to paint your way out of a stuck part of your life. you were not expected to know how to paint (in fact, prior painters could only attend if they will park their prior knowledge of art techniques at the door! vicki literally asked us to write some preconceptions, put them in a basket, and set them outside before we began the workshop).
we used tempera to create two paintings during the workshop, one that represented the barrier to your goal and the other that represented the resources you bring to solve that problem. there wasn't a writing component, though three of us spontaneously grabbed journals and began writing, anyway. my challenge: to make time for myself to rest & dream.

[barrier]
i have a haze of todo items that prevents me from getting outside that box. and it's pretty noisy inside the box, too. there's only one way in and one way out.

[resources]
curiosity, compassion, a solid sense of self, security, structure and sorrow, all stitched together with a thin red survival instinct. the colors blend with each other and escape the structures to sprout & influence each other.
since vicki was spending a lot of time just hanging out while we painted, she developed a neat technique she called "whispers": if one of us was stuck, she'd come up to us and whisper something provocative or inspirational in our ear. you can think of the "whispers" like that talmud angel: grow, grow! once she said to me "the thing that really pisses me off is...", which inspired the small white dots around the barrier box: what really pisses me off is feeling invisible despite doing all this work.
everyone was incredibly enthusiastic about this workshop both before and after. the only disappointment is that i just barely have enough room for 8 people doing large paintings. we were constrained to a horizontal or vertical orientation depending on where we were at the table because it wasn't big enough for everyone to have a horizontal page. :(
and it would be nice to have a good clock everyone can see. i personally love the aesthetic of this clock, but i don't think it would actually be helpful.
posted by gl. | permalink | categories: classes & workshops