November 2006 archives
you are here [x]: Scarlet Star Studios > the Scarlet Letters > November 2006
<< before October 2006
after >> December 2006

November 29, 2006
love letters
by gl. at 11:59 pm
how sweet! someone left a note for trixie while we were grocery shopping at new seasons: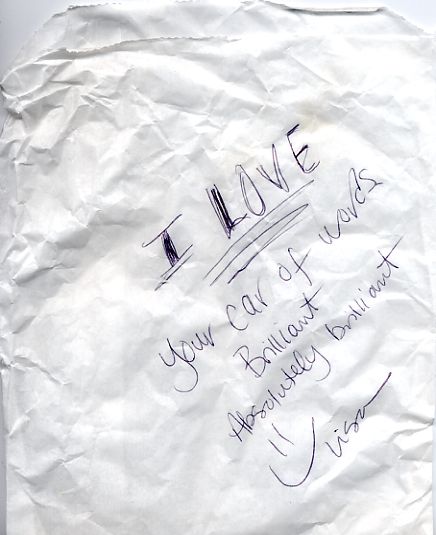 [love letter: click the image to see the larger version]
it doesn't appear that lisa made any new poetry, but i'm thrilled someone took the time to tell trixie how inspiring she is. it made trixie's day. ;)
posted by gl. | permalink | categories: trixie
November 27, 2006
artist's way: week 11
by gl. at 4:55 pm
we're getting near the end now, so we're moving into the messier, large scale arts. last tuesday it was blind painting, which is a little scary for students but always produces interesting work. this group took to it pretty easily.
one of my favorite parts of the blind painting exercise is using it as an opportunity to explain my favorite form of feedback, which involves three distinctly different types of responses (descriptive, emotional & artistic: i described these responses when writing about october's guided intent event). if i didn't throw so much at them at the beginning, i would do this response process several times during the cluster, because it only gets better with repetition.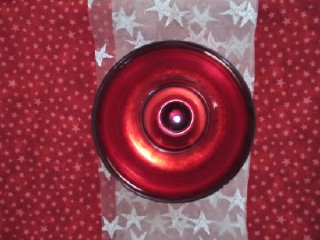 center (self-protection): more with the versatile bowls. this was actually an intuitive center i created quickly for one of my independent support clients last week, but the prep for the blind painting exercise is pretty involved and i couldn't get it all done in time, so i used this one again.
music: paul simon's rhythm of the saints.
posted by gl. | permalink | categories: artist's way
piano: strangers in our bodies
by sven at 11:13 am
A song popped into my head this morning. Listen to the mp3 of "strangers in our bodies" by clicking here. (4.3 MB)
I'm lousy at making recordings of my songs, so the main idea today was to just get the tune captured. I made the recording using GarageBand and the Mac PowerBook G4's internal microphone. From first laying hands on the piano to getting the new composition uploaded took maybe an hour and a half -- and things probably could have gone even faster, were I more familiar with the workflow.
It's a first take. The structure is repetitive. There are flubs. There's tape hiss. I didn't play with any dynamics... But something is better than nothing. Warts and all. Just think of it as a musical sketch.
I can hear the beginnings of lyrics in my head for this one... But past experience suggests that if I'm not writing lyrics as I compose, they probably won't come later on.
Edit: SNOW! It just snowed! (Which is very rare in Portland.) Gretchin says this tune is a good "snowflake song"; I played it and made the sky snow. ...So be it! I redub this "the snowflake song"!
posted by sven | permalink | categories: music
November 26, 2006
Q&D - photo animatic
by sven at 6:00 pm
(Q&D = "quick and dirty" - an ongoing animation project)
click on image to play animatic (3.51 MB)
I've taken the photo storyboard and paired it with my scratch track to create a new photo animatic. I used iMovie to do the editing.
ROLE OF AN ANIMATIC IN THE FILMMAKING PROCESS
When you do animation, you can film first and then add incidental sound effects. It's a fine approach.
However, 70% of a film is the soundtrack. [A movie with good visuals but muffled dialogue is far worse than one with muddy images but crisp sound!] It makes a lot of sense to make sound your first consideration, and then have the visuals follow its lead.
If you're starting with a soundtrack, then there's a powerful reason to make an animatic. ...Yes, it gives you a feel for what the finished product will look like. But there's a much more important reason in that: Creating an animatic allows you to chop the soundtrack into discrete sound clips for each shot.
Having created an animatic (soundtrack + storyboard), I can now know exactly how many frames I need to shoot for each shot. If I use lipsync software, I can go even further -- figuring out what my keyframes are within a shot: where a mouth has to be open, or where a fist slams down on a table.
This is really exciting to me. Knowing how many frames I have to shoot -- and what beats I have to hit within each shot -- I think animating will become more like composition, rather than performance. I've yet to really try this out, but I'm imagining using the draw function in my framegrabber to sketch out incremented arcs of motion, and then checking my work with the audio playing back. ...It feels like this approach could really take a lot of the guesswork out of animating.
More generally, I'm also really excited about an approach to animation that puts the soundtrack first. Music comes very intuitively to me; I like the idea of my films being motivated by rhythm and tempo. If the sound comes first, I can preview the entire 4th dimension of the film early on -- instead of having to compile small visual chunks one at a time, praying that they'll ultimately add up to the pacing I'd imagined.
posted by sven | permalink | categories: stopmo
November 25, 2006
asking
by gl. at 8:44 pm
david whyte has a poem i very much like called "everything is waiting for you." but the thanksgiving trip gave me a chance to read the entire eponymous book (thanks, sandy!), and this excerpt from "september 2001" illuminated a part of my heart i feel is oft underappreciated:
You know, I must remember,
until my last breath goes out
to ask. To try, every time, one last time

to confirm the native
human intuition that heaven
is never far away at all,

that it's just a door or a step
or a whole short life to get there.
I must remember

to stop people in the street
as if the most closed,
grey, concrete, commuting life

could be just a skim
on the pool
of communal revelation

and as if, in my continued hurry
I just haven't
given anyone or anything

anywhere, any time
to let me know
what's really about to happen.

...

I must remember

to knock on other doors,
to call out people's names,
to enquire as if my life

depended on knowing
that something
always lies so close

and to remember that it takes
only one requited request
for the extraordinary

to make a hundred ordinary
encounters
up to that moment

more than extraordinary,
rare, numinous,
a harvest

worth having,
no matter how difficult
to sow and reap.

And that the angel always
has to elbow her way
towards us

through a lot of unknowing
posted by gl. | permalink | categories: writing
pencil holder
by sven at 3:31 pm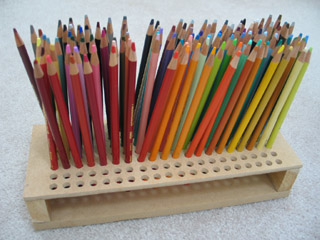 pencil holder
Just got back from Thanksgiving in Phoenix yesterday. Tackled a nice little project in the evening: making a new holder for my colored pencils.
(Or rather, my "pencils of color," as I affectionately refer to them.)
The top piece is 1/4" thick hardboard, the bottom is a scrap of MDF. The side supports are just attached with hot glue. There are 160 holes, all 5/16" in diameter, spaced 1/2" apart.
To get the holes evenly spaced, I taped a piece of graph paper on top of the hardboard, and then pressed a sculptor's needle tool in at all the appropriate points. The pin-point marks were all I needed to guide the battery-powered handheld drill.
The whole thing took about 3 hours to make.
The design was inspired by a drill bit index that I've been looking at... But it leaves a lot to be desired:
Being held in place at only one point, the pencils have a tendency to lean.
I'd really like it if there were tiers, so it'd be easier to see the back rows.
You don't really need a separate hole for every pencil. Having a slots for groups of five pencils would allow you to throw pencils back into the holder with less hassle -- while still keeping things nicely organized.
My holder's a step up from the tin that the pencils came in. The way they came, the pencils lay in four plastic trays, stored in a tin box. You couldn't see them all at the same time unless you put all four trays out on the floor.
I have an idea for a revised design that I may attempt. If/when I get around to making it, I'll be sure to post about the pencil holder's second incarnation.
posted by sven | permalink | categories: miscellany, sketchbook
November 20, 2006
holiday sale nov26
by gl. at 10:12 pm
so i decided to do another holiday sale to see if the first one, which i considered pretty successful, was a fluke. :)
the women's business showcase: holiday spirit! will be at mcmenamin's kennedy school, which is a lovely artful place to be. this sale is HUGE in comparison to the dinnergrrls event: it takes up the whole kennedy school "gym" and several smaller surrounding rooms (which is where i'll be with a half-sized table).
i'll be focusing on making more of the wordwear that was so popular at the last sale as well as calligraphic art and hand-made wrapping paper. in addition, i'll be offering creativity encouragement supplies and pocketfuls of wishes. as an extra special bonus, i am also happily featuring art boxes from the remarkable renata dolnick!
What: Women's Business Showcase: Holiday Spirit!

When: Sunday, November 26th, 11:30 a.m.-4 p.m.

Where: McMenamin's Kennedy School: 5736 NE 33rd
thanksgiving weekend is supposed to be the biggest holiday shopping date, but i encourage you to skip the crowds and support local women-owned businesses instead!
posted by gl. | permalink | categories: exhibits & events, other art
studio renovation: closet nook
by gl. at 1:14 pm
there are bone-rattling sounds coming from the studio. someone's using a massive power tool over there to remove the closet from the bedroom so sven will get an extra nook to put equipment into. the construction guy is nice: he let me pry off some of the internal frame. this is exciting & scary, and only the beginning of a series of renovations. yeek!
posted by gl. | permalink | categories: studio space
November 17, 2006
artist's way open studio (november)
by gl. at 12:10 am
small collage group tonight. we had a waiting list till this week, when people began dropping like flies. after the dust had settled, we had 7 rsps -- but only ended up with 4 people at the event, one of whom i didn't even know was coming. argh. maybe it's seasonal: last year our november event was the smallest even though the rsvps were large. i just wish people would rsvp conscientiously. even though we have a waiting list, by the time most rsvps decide not to come, those waiting have likely already made other plans.
so, it was quiet and i was a little distracted. i collaged a new notebook to carry around, though: my previous notebook is almost done, hanging on by just a few spirals and with only 2 pages left.

[doubtless guest: click the image to see the other collages]
i'm sure you're shocked to discover this has a lot of shiny on it that you aren't seeing. the background is a satin-shine wrapping paper (shield may recognize it), and the purple stripes are also shiny. the red circle-star above is a shiny gold and the red stars in the lower corner are shiny, too. the light bluish star in the half-circle has a small jewel in its center, and the green painted paper has copper foil accents.
my biggest mistake: i knew this was for a notebook, which requires a stronger bond, but i forgot to use matte medium to glue all the pieces. i sealed it with matte medium, but it won't take long for the glue stick underneath it all to dissolve, and then there will be trouble.
posted by gl. | permalink | categories: artist's way
November 15, 2006
artist's way: week 10
by gl. at 8:09 pm
this was the last time the whole group will be together until the last night (which we are rapidly approaching in three weeks!). so i reshuffled some events to do the playback theatre exercise, because the more, the merrier!
i forgot to do warm ups ("yes and/yes but" and "find your mother like a baby penguin), but it was still a terrific night. this group was very dubious about this activity, but by the end we were laughing so hard we were crying. unlike when i do this activity as a stand-alone option, in a group that's been together for several weeks, the stories tend to be more emotional and the players are invested in the characters they are portraying. afterwards they said it was "cathartic" and fun and less painful and more engaging than they had imagined it would be. which is very gratifying, since my goal is to convince them that all art is less painful and more engaging than they imagine once they begin!
one of the things i'm still working on as a facilitator is about feeling inadequate and dumb whenever i feel resistance from a group. whenever i begin to feel someone in the group is set against the activity, i immediately think, "oh, no. it's going to fail! oh no! they'll know i'm a terrible facilitator!" i do this no matter how many times the activity has been sucessful before, no matter how much i know they'll like it at the end. it takes all my will not to buckle and apologize, not to give up before it's even begun.
center (compassion): i loved these bowls when i first saw and immediately imagined candles inside them. i like how this reminds me of the diagrams of how white light is created.
music: pink martini's hang on little tomato. a classic! i actually referenced this song in the weekly email i send out to creative cluster participants, and it the whole album has a very theatrical feel to it.
posted by gl. | permalink | categories: artist's way
sven's work on television!
by sven at 1:48 am
Today and tomorrow you should be able to see some of my work on national TV!
I recently worked at an animation studio (Bent Image Lab) making armatures for puppets -- specifically puppets of Regis Philbin and his producer (?) Gelman. As I understand it, examples of the puppets will be on TV today (Wednesday), and then the actual music video will show on Thursday.
Here's the message I just received. Check it out!
Subject: PREMIERE! Rudolph Music Video
Hey Team Rudolph!

The Regis music video "Rudolph the Red-Nosed Reindeer" is finished and it looks great! Rankin/Bass would be proud. Thank you for helping to make this video a success!

Here's a list of upcoming air dates:

Puppet Premiere

Wed, Nov. 15th 11:00 am PST (TOMORROW):

Regis and Kelly present their puppets on Live With Regis & Kelly

Music Video Premiere

Thurs, Nov. 16th 11:00 am PST:

Music video airs on Live With Regis & Kelly

You can see the show on channel 8 (KGW) – the local NBC affiliate.
posted by sven | permalink | categories: exhibits & events, stopmo
November 14, 2006
superNOVember - 11
by sven at 11:59 pm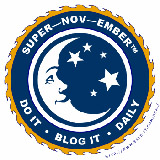 Today's stopmo progress:
I put examples of Papagayo and Magpie outputs online
Due to a bizarre hiccup in my sleep pattern, I was good for nothing today. Stopmo-wise, all I did was put together examples of Papagayo and Magpie in response to comments re yesterday's post. To make things easy, I'll repeat the info here...
Here is the Papagayo list of keyframes. You do lipsync analysis for each character separately -- so what I've done is cut and paste Dad's dialogue over into Jimmy's document. (His line is "Grrrrr.") Also, Papagayo doesn't write out what the actual words are -- only phonemes -- so I've added the text of the dialogue in, too. And I've put some spaces in, to make it easier to see where phrases begin and end.

Here's Magpie's X sheet output. The demo version of Magpie only allows you to print 16 frames, so there's not a lot there... But you can see that the waveform is included; there are columns for each actor and the physical parts of the actor that I'm analyzing; and the dialogue (which I included in a comment field) is transfered over.
posted by sven | permalink | categories: stopmo
November 13, 2006
superNOVember - 10
by sven at 10:55 pm
click on image to play clip (216 KB)
Today's stopmo progress:
used Papagayo to analyze the first 14sec of sound
printed out a list of keyframes for lipsynch
created X sheets for the first 14sec of the film
reformatted the photo storyboard so it'll be easy to refer to while filming
discovered I need to get my copy of FrameThief registered
shot my first test clip (using AnimAide XT)
Papagayo is pretty darned quick and easy to use. But it doesn't output X sheets -- only a list of keyframes. Transferring that info to X sheets is annoying. (If someone's really interested in what Papagayo's output looks like, speak up and I'll post an example.)
There's a lot more sound analysis to do... But I figured I should try animating using my new X sheets before spending huge amounts of time to analyze the whole soundtrack.
By the time I got set up in the garage to film, it wasn't going to be long until quitting time -- so I only got out one quick test clip. I'm not happy with the animation. But this marks a turning point: filming has officially begun!
I was thinking that I'd want to do some random test clips with the pups, to get a feel for how they move. Now I realize that I'll probably want to do more than one take for every shot -- so I can work at learning how to make the pups ACT. Thus, I should be shooting every test clip as if I intend to use it in the final cut.
In life news: I wrote a letter to a lawyer regarding my dead dad's probate case (not fun). I got the DMV info I need in order to get the Svan retitled as "reconstructed" (also not fun). I got the estimate on how much it'll cost to tear the closet out in my studio room. I need to follow up with a few questions, then we can schedule.
Oh -- and I watched the first disc of Robot Chicken Season 1. (Ah: FUN.)
Last week I started a push to get some big, difficult, important tasks out of the way. Made good progress. This week I'm basically picking up where I left off.
...I think I'm going to put off the computer upgrade until I'm done shooting this film. I'd like to get the "Quick & Dirty" project done before Thanksgiving -- or at latest, by the end of November.
posted by sven | permalink | categories: stopmo
November 12, 2006
superNOVember - 9
by sven at 10:19 pm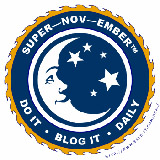 Today's stopmo progress:
decided to put off buying Magpie, instead work with Papagayo for now
researched SoundSoap 2
used the photo storyboard to create a script that I can actually read from
recorded and edited my scratch track in GarageBand
used iTunes and QuickTime Pro to convert the sound into a .wav file
began analyzing the scratch track in Papagayo
One of the benefits of recording your sound first is that it allows you to know in advance just how long your film's going to be. Looks like the Q&D project is going to be about 2min 15sec long. At 15fps, that means I'll need to shoot 2025 still photographs. Heh: Let the countdown begin!
In terms of working "quick and dirty," the soundtrack is probably the part where "dirty" will be most obvious. I've got a lot of hiss in the background... I could probably get it out of the mix if I used the SoundSoap software. I've meant to buy it for quite some time, and will be purchasing soon -- but it goes against the spirit of this project to stop and wait for it now.
Papagayo is pretty intuitive software. But it's also unforgiving. You work on a sound file hierarchically: First you set the frame rate, then you type in the script, then you sync up the sentences with the waveforms, then you sync up specific words, then you sync up syllables. If at any point you take a step backwards in the process, all of the work that falls beneath that level of the hierarchy disappears instantly. No undo. YOUCH!
Trying to minimize risk (and optimize software performance), it looks like I'll be cutting up my soundtrack into short segments: ~15sec each. For my die-hard readers, you can listen to the scratch soundtrack (minus a brief epilogue) by clicking here.
posted by sven | permalink | categories: stopmo
artist's way: week 9
by gl. at 3:15 pm
we had a very small group last week: one was a known quantity, the others had horrible misadventures. but i was pleased they all checked in with the group and let me know before the class began. since i had planned for a large group activity, this meant i could hastily pick a different activity for the two who were left, and since it would be a pair, i ended up shuffling the authentic dance exercise into this session. one of the other reasons why i shuffled this activity forward was because on the participants who attended will not be here when i had originally planned on doing this activity, and because she had shared a story about her desire to dance, i wanted her to have this opportunity. and at the end, the other participant said, slightly surprised, "that wasn't so hard!"
authentic dance is usually an activity i save for the next-to-the-last session, after we've done a couple of other expressive art activities. it's scary for most people. but again, i feel quite strongly about exposing people to a wide range of art in order to develop a larger creative vocabulary. and i am always gratified when i know participants would never do something like this except in a creative cluster, because it means they trust the process, they trust the space, they trust the group, they trust me.
authentic dance isn't really necessarily "dance" in the traditional sense. there's no choreography or specific movements you need to accomplish. you simply allow your body to move in the way it wants to move next. it's sort of like morning pages that way. if this means you're petrified and you can only wiggle your toes, that's fine. you have 10 minutes to figure out how your body wants to move. you work in pairs: one of you being a dancer, the other being a witness. the witness' job is to anchor you, to watch you as if to look away would cause you to disappear. watching a dance in this way becomes active rather than passive, and allows the dancer to know that only one person is ever really watching them (in a pretty intense way, but it means all your self-consciousness can be narrowed to one person instead of diffused among four).
i know when i first tried this myself i was terrified. i almost refused to do it. but by that point i was beginning to trust the process, and understanding that i had the option to not move at all gave me a way to try it without feeling (too) foolish. it was horrifying and liberating at the same time, and i never forgot it.
center (strength): what says strength better than bricks? unless they also remind you to tap your inner strength and ask art everything. a simple red & white candle pattern edges them.
music: peter gabriel's passion. each wished they had gotten the music of the other, as one segment of the cd was quieter and one was more "dramatic."
posted by gl. | permalink | categories: artist's way
November 11, 2006
superNOVember - 8
by sven at 11:59 pm
Today's stopmo progress:
downloaded and playtested AnimAide XT (a framegrabber for Macs)
researched lipsync software options
downloaded and playtested Papagayo (lipsync)
did more playtesting of Magpie (lipsync)
took notes comparing Magpie and Papagayo point-for-point
I think the next step for the Q&D project is going to be recording a scratch track. I'm feeling ready to choose my lipsync software.
AnimAide XT (1.0.3) has some clever and unique features as a framegrabber. In terms of doing any kind of serious lipsync work, however, I think I'd find it pretty useless. (Thanks for the tip, though, Mike!)
I tried this software earlier this year, when it was just "AnimAide". It's pretty good, and I recommend that Mac users give it a whirl. For me, though, it has a few quirks that I find irritating -- I'll probably stick with FrameThief for the time being. Considered doing a formal review of the product; but that'd take me a little too far afield from the projects that I'm really pursuing right now.
I recalled that LIO has a page about stopmo software, and found it again. LIO references three lipsync aps for Macs: Magpie, Papagayo, and JLipSync. Judging from the website, JLipSync doesn't look like reliable programming, so I haven't bothered to download it and give it a real test. Magpie and Papagayo are the serious contenders, and I'm leaning toward Magpie.
Papagayo is FREE, and very good. Jeffrey, if you're listening: Take a look -- I think you could do great things with this software!!
(Incidentally, Chris Boyers just put up another vlog "making of" entry today where he talks about using Papagayo. I found it useful to see how it fits into his workflow. Worth watching.)
Magpie is not necessarily all that different from Papagayo, but it costs $250. (Youch.) The extra bells and whistles may be worth it to me, though. I'm still sorting out exactly what Magpie has that Papagayo doesn't... Here's a partial list:
ability to scrub back and forth on a selection of the sound clip, instead of having to play through the entire thing every time
ability to slow the clip's playback, to help you find the beginnings of words
ability to print out complete X sheets; Papagayo only outputs a list of keyframes
ability to create different "actors" in PhotoShop, so you'd be doing lipsync with images of the actual puppet you're using
ability to animate LightWave characters from within Magpie, using sliders (I use LightWave, but I'm not sure if/when I'll need this capability)
The job can get done with Papagayo -- but I think I'd have a smoother, more enjoyable experience with Magpie... This may be how I use birthday money I received this year.
Another factor weighing on my mind: Magpie is what they use at a particular animation company where I'd like to work. There's a test that they give you: A puppet, an X sheet -- go! No particular timeline on this ambition... But I do have a reason to be interested in what software gets used at the professional level.
In life news: This evening Gretchin and I finally had a chance to go have a social night with friends. We've been trying to get around to this for weeks... We watched the Classic Trek episode "Space Seed" followed immediately by "The Wrath of Khan."
Y'all already knew that we're geeks, right?
posted by sven | permalink | categories: stopmo
November 10, 2006
superNOVember - 7
by sven at 11:59 pm
"And on the seventh day he rested..."
Today's stopmo progress:
Was in a difficult-to-explain funk in the morning. Afternoon and evening were spent with my oldest and dearest friend, in celebration of our 11 shared years.
posted by sven | permalink | categories: stopmo
November 9, 2006
superNOVember - 6
by sven at 10:15 pm
SuperNOVember is a month-long event initiated by Shelley Noble. The challenge: take action on your art each day, blog about it daily.
I really appreciate all the comments folks have been leaving. Give me a day or so -- I can't respond to them all tonight. Gretchin did me the favor of adjusting how many posts display on the main page, so things won't disappear before they've gotten response.
Today's stopmo progress:
I cleared the closet and surrounding area in my studio room
a contractor came over, so we could talk about tearing the closet out
I'm pleased with the contractor so far. "Straight-shooting" is a good word. I'm hopeful that we may be able to rely upon him for future jobs -- presuming this one goes well. I begin to see what the renovated room is actually going to look like...
Last night I downloaded the demo for Magpie and started exploring. Very, very excited! I'm picturing recording a soundtrack in GarageBand, analyzing it in Magpie, and then animating using the X sheets. ...Mike's alerted me that the new AnimAideXT framegrabber has lipsync capabilities built in. Gonna have to look at that too, before I buy anything.
In life news: Got a birthday present for my niece wrapped up and mailed out -- but it looks like it won't arrive in time, which is disappointing. Got the Svan back from the auto shop, transmission repaired. (Still more jobs left to do on it... Next week.) Worked with Gretchin cleaning out the studio gutter. Tomorrow we'll be back to daily rain -- the sound of water constantly spilling out was driving her nuts.
posted by sven | permalink | categories: stopmo
artist's way guided intent (november)
by gl. at 2:23 am
tonight we explored a wide variety of dreams, as well as events both real and imagined. the studio is a flexible space: all the tables and art were whisked away, leaving a blank "canvas" to hold the stories as they were spun, safe from the wet november night.
playback theatre is potentially vulnerable but a lot of fun, in part because you get to enjoy such a wide range of roles. during the course of the evening I became a baby penguin, a pair of scissors, a strong-willed Russian woman about to be betrothed, a groom at his wedding, a woman renting her spare room, and a chemistry teacher!
at the end, i wrote: "i forgot how much fun it was to do this. i always do. i feel energized. i feel like even though i wasn't a storyteller, i did get to tell a story. even when we would tweak the stories after feedback from the storyteller, it didn't feel like i screwed up, but rather like i had the chance to do better, to create the story that wanted to be told. i like that attitude about art: whatever i make isn't wrong, but there might simply be a better way to tell its story."
since I was participating in the stories that were being told, i didn't get any pictures to show you this time, but if you want to see the special comfy chair for our storytellers to "direct" the action, here it is, more or less in situ:

[the storytelling chair]
there is a waiting list for the next artist's way open studio/collage night on next week, but the next artist's way guided intent is december 6. we'll be making life plaques (inspired by dayna!). playing with clay will ground you during the frenzy of the holidays, and you'll carry a reminder of your best self home with you.
posted by gl. | permalink | categories: artist's way
November 8, 2006
superNOVember - 5
by sven at 8:53 pm
SuperNOVember is a month-long event initiated by Shelley Noble. The challenge: take action on your art each day, blog about it daily.
Today's stopmo progress:
I cleaned off my computer's desktop, which much improved the slowness problem
downloaded last night's photo shoot and selected pics for the new storyboard
created a "photo storyboard" for the Q&D project
It looks like I'm really close to doing some actual filming! It might be a good idea at this point to record a scratch track, and then let sound dictate pacing. If I do that, I may just use the mac's internal microphone, to keep the project moving along... But I am considering downloading the demo of Magpie, to help me match up beats and frames.
In life news: It looks like we managed to defeat the evil ballot measures and evil candidates in yesterday's election! Huzzah! Cause for celebration. :-D
Gretchin helped me take the Svan in to the auto shop for some transmission repairs (which won't cost an arm and a leg, happily)... After which, we ran some errands at Art Media and Office Max -- and then had a celebratory meal at McMenamin's.
Tomorrow the contractor comes over to give me an estimate for tearing out the closet in the studio. Yowza... A lot of significant "getting-business-done" stuff this week.
posted by sven | permalink | categories: stopmo
Q&D - photo storyboard
by sven at 8:10 pm
(Q&D = "quick and dirty" - an ongoing animation project)
Last night I took 90 test photos of the new pups in their sets. The puppets and props, as material objects, don't cooperate entirely with my imagination... But that's OK. This is an experimental project -- and I wound up finding all kinds of interesting solutions that I never would have thought of if I weren't working with my hands.
As I took photos, I began to re-write the "script" in my mind. Today I worked on assembling a new storyboard -- a "photo storyboard" -- which you'll see below.
It's funny: I have a hard time reminding myself that I haven't actually shot the film yet. These photos totally look like still shots excerpted from a film that's already been made... But no! Filming is yet to come -- and the final product will still probably wind up looking very different from what I've got here.
'Nuf said. On to the storyboard!
(1)
Jimmy's standing on his head in the comfy chair.
(2)
Close-up on his face as he flops down playfully.
(Shot should probably be even more of a close-up, to avoid the awkardness of animating him getting down. Let it be implied.)
(3)
Jimmy: Ah, the joy that is Saturday.
(Characters won't actually speak -- at least not in English. I'm writing out their thoughts to help motivate pantomime acting. When dialogue is in quotation marks, the puppets' voices will be a squeaky sound for Jimmy, and growly nonsense words for Dad.)
(4)
Jimmy: What could possibly go wrong?
Dad walks into the foreground.
(5)
Dad stands with his hands on hips, growling in irritation.
(6)
Jimmy: "Uh, hi dad!" He waves hello.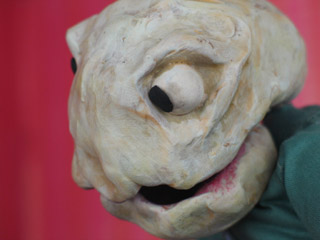 (7)
Dad: "What are you doing just sitting here?"
(8)
Dad: "Didn't you promise to do a really boring chore?"
(9)
Dad: "And yet, here we are, several seconds into this film, and you still haven't done the work!" He indicates offscreen. Maybe there are leaves to be raked outside.
(10)
Jimmy changes position in the chair.
(I'm worried about how I'm going to pull off a transitional shot like this without a solid rig for Jimmy...)
(11)
Jimmy: "Aw, Dad... I don't wanna. Prettyprettypretty please?"
(12)
Jimmy: "Have you ever considered that assigning me this chore might just be a manifestation of your bitterness about the soul-sapping, nose-to-the-grindstone life that you find yourself in now? ...That maybe deep down, part of you is jealous of my ability to still be playful and relax -- and is trying to punish me for it?"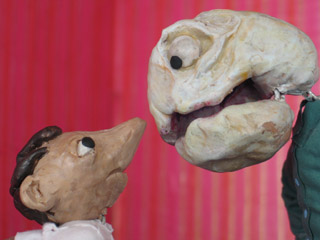 (13)
They stare each other down in silence. Is Dad going to fall for that excuse? I mean, it sounded pretty good, right?
(14)
Dad: "OH GIVE ME A BREAK!"
Jimmy topples backwards in the chair.
(15)
Dad: "That is the most irritating, lazy-bones, psycho-babble excuse I've ever heard, young man!"
(16)
Dad: "You promise me that you're going to do something..."
(17)
Dad: "And then I go to the kitchen and eat a little strawberry pie..."
(18)
Dad: "And do you do the chore? ...No!"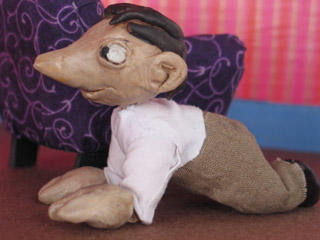 (19)
Jimmy: While Dad's talking to himself, I think I'll just slip away.
Jimmy crawls around toward the back of the chair. Dad continues ranting in the background.
(20)
Jimmy: Good thing Dad doesn't know about my secret escape route!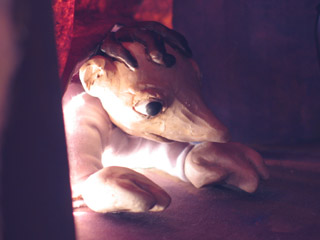 (21)
Jimmy crawls into the cave set through a little crack in the wall.
(22)
He crawls through this secret, magical cave tunnel.
(23)
He looks over his shoulder. Perhaps we can still hear Dad off in the distance...
(24)
(Meanwhile:)
Dad: "And what's more, the strawberries were rather tart and unsatisfying..."
(25)
Dad: "Which brings me to my point: which is that..."
(26)
Dad does a big startle response, realizing that Jimmy's chair is now empty.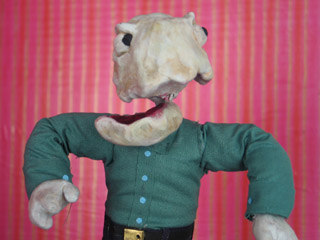 (27)
Dad: I'm confused and unsettled!
(28)
Dad: Oh! I'm going to go get that boy!!
He growls through gritted teeth and storms off.
(29)
(Meanwhile:)
Jimmy is crawling through the cave tunnel. It's silent, like a natural cathedral. Perhaps a good moment for a music cue?
(30)
We have a POV shot, the camera shuffling through the tunnel...
(31)
Still in the POV shot, we come to a door in the wall marked "Exit."
End of photo storyboard.
I'd like to add a further sequence at the end: We see a shot of a painting hanging on the wall back in the house. The painting opens up like a door, and Jimmy jumps down to the floor, having escaped Dad and the dreaded chores.
The problem with this epilogue, though, is that at this point I haven't made a dining room set for Jimmy to emerge into. It requires more fabrication.
In the last version of the storyboard I had a whole 'nother sequence again, where Dad finds Jimmy and then Jimmy escapes into a second secret tunnel. I think at this point I'm just going to jettison that part of the story. But I believe I still need a scene in the dining room -- otherwise the nature of the secret tunnel is too unclear. It's not just a mysterious cave; it's a tunnel to another part of the house.
posted by sven | permalink | categories: stopmo
someone keeps stealing my letters...
by gl. at 2:11 am
as shelley says, "It's kind of like if everyone in the world could touch your car -- all at once."
yeah! thanks, shelley! i think trixie's blushing! :)
posted by gl. | permalink | categories: trixie
November 7, 2006
superNOVember - 4
by sven at 11:59 pm
SuperNOVember is a month-long event initiated by Shelley Noble. The challenge: take action on your art each day, blog about it daily.
Today's stopmo progress:
I set up the pups, props, & sets in the garage
tried out using butcher paper to diffuse my ultra-bright lights
took lots of test photos, trying out camera angles and pup poses
began thinking about a new version of the "script"
The puppets and props refuse to do what I tell them to. The big comfy chair is too small, and there's no way for "son" to look under the cushion. Dropping into the cave from a hole up in the wall is madness; but I could probably have "son" poke in at the very bottom of the cave wall.
(My experience tonight has me worrying for Shelley. In her imagination, she's developed a perfect vision of what she wants to see when she films Halfland. And we all want to see it just that way, too! But what if even when everything is built, the material objects refuse to perform as expected? ...Meh!)
On the positive side, I really got into finding cool silhouettes for the pups. I know that puppet animation needs to be exagerated and stylized to look right... But I discovered viscerally tonight that pushing extreme poses even farther often makes them even better. At one point I tried having "dad" lean forward at a 45-degree angle while yelling at "son" -- and it looked great!
I'm hoping tomorrow I'll be able to cull the photos and assemble a sort of photo storyboard. Not necessarily one that I'll stick with -- but something that shows what kind of story I can tell -- given the physical limitations of the pups, props, and sets that I've got.
In life news, today was election day. Gretchin and I spend most of the afternoon filling out our ballots (Oregon has vote-by-mail). Then, just before dinner, I went out and dropped them off at the Midland public library (a ballot collection site). What a relief to have that done with!
Here's hoping that none of the painfully evil ballot measures pass -- and that all the candidates we elect are merely the lesser of evils!!
posted by sven | permalink | categories: stopmo
artist's way: week 8
by gl. at 8:00 am
we had to move artist's way last week because it fell on halloween, so you'll see two artist's way posts closer together than normal.
we met on nov02, which is the day after day of the dead. so i asked each participant to bring in a photo or object of someone they had lost. i said they could interpret this as broadly as they felt comfortable with: the person could be lost through death, distance, misunderstanding, or time. using anything they could find in the studio, they each built small altars for the people they lost (not shrines: there was no gluing and nobody took anything home, though i did take pictures i'll develop for them). since so many of the altars used candles, i turned down the lights while they wrote a prayer for the person. then we burned the prayers, releasing them. this exercise often produces tears, even when the lost souls aren't necessarily the most emotional ones the participants could have chosen.
after the cluster ends, one of the participants wants to start her own group close into belmont, in part to cater to other mothers of young children, modifying the process to "accommodate, embrace and explore mothering as a component of the artistic process." hooray! i love it when people see far enough into the artist's way to know it is an adaptable path, suitable to a wide range of different approaches and audiences.
center (connection): i don't really know what this was about, but i liked the keys. the keys to the underworld?
music: loreena mckennitt's the visit. she's got a wonderfully haunting, lonely voice, especially on this cd.
posted by gl. | permalink | categories: artist's way
November 6, 2006
Q&D - 2nd pup done
by sven at 11:59 pm
(Q&D = "quick and dirty")
Tonight I finished the second puppet for my "quick and dirty" animation project: "dad." The construction process was nearly identical to what I did for "son."
armature
I made the armature out of annealed aluminum wire and plumber's epoxy putty. There are nuts in the feet for tie-downs. There's an extra loop of wire and epoxy that comes off of the "skull" so I can have a movable jaw.
foam
I used 1" wide strips of 3/8" thick cushion foam to bulk out the armature. I fixed everything in place using athletic tape.
underwrap
To help smooth out the shape and hold everything together, I used athletic underwrap (a thin foam bandage).
painted
I used multiple coats of cheap acrylic paint to give "dad" a ghastly appearance. I sprayed him with a coat of gloss varnish, then two coats of matte varnish. The spray varnish seems to have eaten away the acrylics in places. Next time I'll only use matte varnish -- and thinner coats.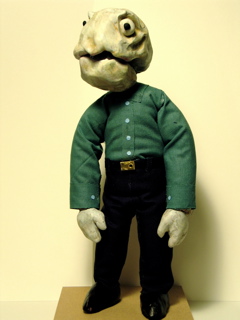 clothed
The clothing was improvised as I made it, using Fabri-Tac to glue fabric directly onto the foam. It's pretty rough looking, but I'm pleased with some of my detailing. I gave the shirt a pair of cuffs, a collar, and a strip of fabric where the buttons go. The buttons are made from blue paper that I punched using an extra-small hole punch. The belt is made from black card stock, and I glued little cloth belt loops over it. The belt buckle is a piece of scrap brass from when I was making brass armatures.
The son and dad look great standing next to each other... But they also look like two separate species. I think I should do more character sketches, to find a more consistent look.
The foam wrapping worked out better than what I did for Percy... But it'd sure be nice to have a puppet body that's been cast from foam latex or silicone, so the contours aren't so lumpy and lop-sided. (Of course, a lot of that is probably attributable to this being "Q&D.")
The clothes aren't bad, for having been glued together... But I find myself thinking about trying a needle and thread or a sewing machine on the next iteration. My main problem area right now is where the sleeves attach to the body of the shirt. The sleeves look OK in one position -- but when I move them around, the fabric pulls in unnatural ways. ...I'm also looking at where the shirt tucks into the pants, thinking that it doesn't look quite right.
I can tell now that I'm going to be pretty frustrated with how the wire armatures behave.
Criticisms aside... Yay! Another puppet done! Now I actually have TWO characters -- who can interact with one another!
posted by sven | permalink | categories: stopmo
superNOVember - 3
by sven at 11:58 pm
SuperNOVember is a month-long event initiated by Shelley Noble. The challenge: take action on your art each day, blog about it daily.
Today's stopmo progress:
found a potential contractor for tearing out the closet in my studio room
scheduled him to come make an estimate on Thursday
clothed the "dad" puppet
finished the "dad" pup and did a photo shoot
In life news, my Dad (no relationship to the pup) died almost two years ago -- and yet the probate process drags on. Had a long chat with a lawyer in Texas.
It also looks like renewing the tags on my car (the Svan) is going to be more of an ordeal than expected. ...At least the process is begun. It's been a day of difficult but important phone calls.
posted by sven | permalink | categories: stopmo
dinnergrrls holiday bazaar
by gl. at 1:30 am
the dinnergrrls event was much better than i expected. as usual, sven was a blessing: he helped make that cool banner, cut (& in some cases, ironed) large amounts of paper, mounted some small calligraphy pieces, attached business cards to bags and helped with the arrangement of the table.
it was a month's worth of shopping & diligent taskmastering to create collage packs, daily doodle journals, daily writing journals, inspiration packs, jewelry, wrapping paper, calligraphy tiles, flyers, instructions & packaging. i also hand-selected a couple of artists to display their work at the table too: the amazing alesia zorn & the creative anna magruder! i thought i would get some of my own cards printed, but alas, that was not to be this year.
but one of the highlights of this very long preparation process was discovering how much i love the metal letter punches to make jewelry! i mean, really, lovelovelove.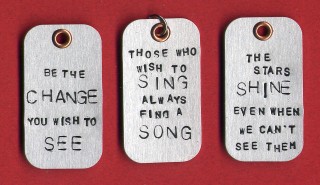 [3 necklaces: "those who wish to sing always find a song," "be the change you wish to see," "the stars shine even when we can't see them"]
some of these are general inspirational quotes and some of them are from my own poetry, which i find even more appealing.

[bracelet: "i am here to be heard"]
even better, all of the jewelry sold! to be fair, i loved the "stars" piece so much i'm wearing it myself, but someone asked me to make one for her this week, and someone else asked me to make the "song" piece for her after that. yay!
i wasn't surprised so little of my other stuff sold, even though sales for alesia & anna were pretty strong. it's less adaptable for holiday sales or gift-giving, but i had to try. my primary purpose was to encourage people to make & buy art, and in that sense i think i succeeded. but one of my available impulse purchases was very popular: i bought a bunch of "wish tokens" because they're the kind of thing i would be charmed by if i was a customer, and i almost sold out of them! wish tokens are small metal disks w/ stars punched out of them. they were easy to add to purchases people were already making, and even people who didn't buy anything else couldn't resist one, but often they were bought in two or more clusters. because who doesn't want a special wish for the new year? :D
my only disappointment was that the announcement of the sale on the events list caused three people to unsubscribe, including two people i would have liked to have stayed connected to. if you can't promote yourself on your own events list, where can you do it?
but all in all, this was a good introduction to november & i hope i made the holidays a little brighter for someone. now i just have some followup to do and to catch up on everything i pushed back in order to make this deadline....
i want to end with many extra special cookies & thanks to people who came to visit: michaelmas, grace, anna, ppcw colleen, kori, emma, sven, mph & bridget. sorry i didn't get to talk to you longer, but i very much appreciate your support! *blows kisses*
posted by gl. | permalink | categories: exhibits & events, other art
November 5, 2006
four types of storyboard
by sven at 11:59 pm
In all the books I've perused about filmmaking, I think I've only ever seen one kind of storyboard described: the Professional Hollywood Storyboard.
Well, here in indy micro stopmo land, we have different needs. And so, I'd like to suggest that there are at least four types of storyboard that might be of use.
1. the thumbnail storyboard
Draw your storyboard all on one or two pieces of paper. For each shot in your proposed film, draw a little sketch, about the size of a postage stamp. It's OK if the sketches are barely legible -- the point is to be able to get your cinematography ideas down on paper as quickly as possible. If you're working alone, you could even start shooting based on this. Most likely, however, you'll want to do a second, more legible draft.
benefit: very fast
2. the floating storyboard
When you see photos of storyboards, the sketches of scenes are always drawn inside rectangles that match the aspect-ratio that the film is being shot in. But it doesn't have to be that way. You can draw sketches of your scenes in a sketchbook without rectangles around them -- just floating on the page. When you're in the early stages of developing your images, this is a nicely free-form way to work.
benefit: allows drawings to expand, unrestricted
3. the framed storyboard
A framed storyboard is one where you draw your images inside of fixed-aspect-ratio rectangles. The point here is to force yourself to think carefully about how you want to compose things within the shape of the screen that your film will be displayed on.
There are number of ways to do framed storyboards:
You can just draw a rough rectangle on the page (for each shot). That's often good enough.
You can cut index cards to the correct size and draw your shots on them. Advantage: this allows you to shuffle and reorder the shots as needed.
You can use computer software to make multiple perfect rectangles on a page, and then print them out on a printer. In my experience, it can be nice to have a tidy storyboard that lives in a binder when you're in production -- but it's not the easiest way to work when you're still developing ideas.
benefit: forces you to compose images within fixed aspect-ratio
4. the photo storyboard
If you have your puppets and sets done, you can make your storyboard images using a digital camera. With the camera, you don't have to worry about aspect ratio -- the device imposes a frame around the image. Working with the camera also helps you generate camera angles that you might not have thought of when relying only on your imagination. If your puppets and sets aren't done, you can still work with this technique somewhat if you can make stand-ins and mock-ups of some sort.
benefit: fixed aspect-ratio; reveals new camera angles
storyboards and words
With stopmo puppets, we're often making pantomime films without dialogue. Even so, I've found that it can be extremely useful to put words with the storyboard.
Particularly with a floating storyboard, it's easy to write a sentence or two describing what's happening in the image -- sort of like in a storybook. Being forced to switch modes from visual to verbal can help reveal aspects of the story that aren't clear, or suggest new meanings that you want to work into the story.
I haven't gone very far yet with pairing words and pictures in my storyboards. My sense is that there'd be benefits even if you just wrote one or two words beside each image... And if you wrote a whole paragraph for each shot, the discoveries would be even greater.
the purpose of storyboards?
The way that I've typically seen storyboards written about goes something like this:
Write a script.
Stop.
Draw your storyboard.
Stop.
Shoot your film.
I want to explore and promote the notion that storyboards are a way of developing your story.
Storyboards can be part of how you generate your script. When your story concept is still rudimentary, drawing images helps it become clearer in your mind.
Then, later on, when you're writing paragraphs that describe what's in each storyboard panel, the images will help prompt you to think about emotional beats, blocking, and performance. Storyboards can help you figure out how you want your puppet to act.
A storyboard could be compared to having a blueprint when you build a house: it's the plan you keep referring back to as you assemble your film. But maybe this metaphor is all wrong...
Maybe films aren't actually (or don't have to be) built from a perfect preconceived plan. Maybe the filmmaking process is more like watching a blurry and indistinct image come into focus... And each time you draw a new storyboard, it's like seeing that red blur in your mind further resolve into a crisp-edged rose.
posted by sven | permalink | categories: movies, stopmo
superNOVember - 2
by sven at 10:21 pm
SuperNOVember is a month-long event initiated by Shelley Noble. The challenge: take action on your art each day, blog about it daily.
Today's progress:
worked on processing through yesterday's question list
did a bunch of research on general contractors
wrote some notes on insights about storyboards
Tuesday was my birthday. Now I'm old enough to run for president. ;-)
So, I'm calling this a special birthday gift to myself: I'm renovating my studio room. I'm going to tear out the closet to make more floor space. And I'm going to replace the carpet with... Probably Pergo. (Because paint spills and metal chips just do not go well with shag.)
Hence the research into general contractors. My hope is to be making calls about the closet job tomorrow. Stopmo connection: getting this work done will give me space for another table, where metal-working machines will be able to live more comfortably -- and I'll be able to set up a soldering station right in front of the window, where (for the sake of ventilation) it ought be.
...
As part of the birthday-palooza, Gretchin took me out to dinner at Assaggio tonight. Awkwardly, just as my Spaghetti al Limone was arriving, I had an inspiration for a book I could write... So I hurriedly took notes, while Gretchin patiently indulged my muse.
Possible title: "People As Property: The story of how children, women, and [word?] have been (and continue to be) treated as if they are owned." Um, that subtitle needs a lot of work -- but the basic idea's sound.
(I choose not to talk about it much in my artistic contexts, but I'm a fairly prolific writer of unpublished political essays.)
Anyway, this line of thought lead to a clarification of personal goals. In addition to living with Gretchin, here are the main Things I'm Interested In Doing With The Second Half Of My Life:
write a book, and perhaps a few follow-up books
make stopmo shorts worthy of inclusion in compilation DVDs
watch sci fi
keep playing piano
(...As I jotted darkly in my notepad, "I can still play piano if I have Alzheimer's." Gotta plan ahead, right?)
There's a concept from the Artist's Way that Gretchin talks about sometimes; it's called "your true North." The question is, what does success look like for you? Like, if you're an actor, maybe what's really going to feel like "success" to you is getting a Tony. But for another actor, "success" is maybe getting on the cover of People magazine. Whatever it is that defines success for you -- that's your "true North."
I think for me true North is doing something that contributes to the dialectic of history in a noteworthy way. I'd like to write a book that influences people's discussions for 50 or 20 or 10 years -- that is, however long it is before libraries of worth remove the book from their collections. I don't need my work to touch all people -- but some small niche of intellectuals, activists, or artists -- I'd like to have made a landmark contribution within the annals of their subculture.
I'm more advanced in my political/intellectual pursuits that in my artwork -- but the same true North applies for stopmo. I'd be happy if I did something that was worthy of being collected on a DVD. I don't know if I have it in me to do something that impacts the artform as a whole -- but I'm meticulous and creative enough that I'll bet I could make something adequately beautiful for compilation. That'd be good enough for me. I don't think I need to shoot my own feature-length film.
It's good to assess from time to time, as honestly as possible, what it is that you really want. Birthday-paloozas are an apt time for that.
posted by sven | permalink | categories: stopmo
November 4, 2006
superNOVember - 1
by sven at 11:55 pm
SuperNOVember is a month-long event initiated by Shelley Noble. The challenge: take action on your art each day, blog about it daily.
My usual "voice" when writing is documentarian. For SuperNOVember posts I'm going to try to write in a more casual "checking-in" voice.
Today's progress: I was inspired... I wrote a few pages of notes about how I want to develop animated films. The basic idea: I want to infuse playful improvisation into every stage of the filmmaking process -- otherwise, I feel like I'm yoked to the visions of a former self, and the project becomes dead to me.
I also experimented with new idea for personal organization. Here's the germ of the idea:
Try writing down a list of questions instead of a to-do list. Items on a to-do list are just answers that have forgotten the questions they belonged to. To-do lists have a tendency to get overwhelming: a stack of contextless labor we'll never be able to surmount.
Following up on this bright idea, I made a list of 226 questions about how to organize my various projects... Many of them relating to stopmo, but also many of them are just things that need to get done so I can get back to art. For kicks, you can read the whole list here.
...
I've got a lot of thoughts about why this is a powerful writing exercise.
When you articulate a question, just writing it down usually gives you at least half the answer. By writing down every question you can think of, many problems resolve themselves before your eyes.
A question invites you to think about answers. A to-do list seems like a list of answers when I first write it -- but after a day or so, it starts to seem like a pile of roadblocks, all standing between me and where I want to be. I think by focusing on the questions, my projects will seem more alive, and I'll be more likely to stay engaged with a constructive process over time.
A question like "what do I need to do to renovate the studio?" leads to asking "do I really want to do this?" and "do I need to do this now?" ...But a to-do item like "call contractor" doesn't inspire me to think about the big picture. To-do items tend to cause me to get lost in details and forget my emotional motivations for pursuing projects.
A question is a leaping off point. An answer is an end point, a stopping place. A to-do item is the answer to an often unarticulated question. If I want to be in motion, then it's helpful to be explicit about my questions, and to stick with the questioning process as much as possible.
...
Tired. Stayed up late helping Gretchin prepare for today's Holiday Bazaar. I think the event went really well for us. There's more planning work to do tomorrow in order to get things done efficiently next week... But I'm also thinking that the next step for stopmo is to clothe the "dad" puppet, and that I can squeeze that in sometime tomorrow.
posted by sven | permalink | categories: stopmo
superNOVember is go
by sven at 6:00 pm
Like a solar explosion of art, it's SuperNOVember!
Shelley (-bo-belly) Noble, a stopmo blog buddy over at Notes from Halfland, has initiated a November-long Daily Progress Push-a-thon. ...And as of today, I am officially joining the game!
The intent of the event is to help artists -- particularly our online circle of stopmoes -- make consistent forward progress on their respective projects. As Shelley says, "A little something done on the project, doesn't much matter what, is to be done each day, along with the rest of life, or I'll know the reason why!"
Here are the rules:
#1. Take action on your chosen project each day. (If action can't be taken on any one particular day, the explanation must be brazen and unquestionably reasonable.) Small actions are completely acceptable as the idea of the SuperNOVember Thon is to make daily progress.

#2. Post about said action. (A photo is preferred but optional.) Posts may be brief, outlining what action was done, what if anything was learned, what was cool, surprising, or satisfying, or where it went pear shaped and has gotten confusing.

#3. If anyone has an idea for another's dilemma they share it in the comments. Yay.

#4. You can have more than one chosen project! (The idea still is DAILY progress on something!! Howz that?)

#5. We go until Thursday, November 30. At that time we see whether we choose to go on for more or break, etc.
posted by sven | permalink | categories: stopmo
Q&D - the story
by sven at 5:00 pm
I've been working on "quick and dirty" (Q&D) puppets and sets for the past few weeks... My story idea for them was inspired by this quarter's StopMoShorts challenge: to make an animated short using the words sword, cave, and fear.
My current goal is to pull back from focusing entirely on armatures, to begin working more holistically. I'm not committed to submitting to the StopMoShorts challenge -- but since I had an idea that could work for it, I figured I might as well start there.
STEP ONE: brainstorming story ideas
To come up with my story, I brainstormed a list of 40 ideas and then chose my favorite. You can read the entire list here. (written 10.11.06)
STEP TWO: thumbnail storyboard
The story idea really isn't much more than a paragraph or two long... A few days later (10.17.06) I drew a really quick thumbnail storyboard. Moving from words to images was helpful -- it made me realize that I needed a couple of segues that that I hadn't envisioned before...
thumbnail storyboard (click to enlarge)
Based just on the thumbnails, I started work on the sets and pups.
STEP THREE: storybook format
Thursday (11.02.06) I decided to do a clearer storyboard. It's still rough. And I'm not bothering to draw my images on index cards, or in little pre-printed boxes, as some authors would recommend at this point. I drew multiple pictures per page in my sketchbook, only cleaning them up a little for presentation on the blog.
Pairing words with pictures further helps clarify the story. See, the whole point here is to keep developing the story by switching to different formats: a paragraph (words)... thumbnail sketches (pictures)... a storybook presentation (words + pictures)... Whatever my first vision of the story is, it's not going to be nearly rich enough. I believe it's important to go through a bunch of exercises, which progressively evolve the skeletal idea into a fully fleshed out concept.
At this point in time, I don't really have my process of exercises down. Figuring out what the meta-process is here, is almost as important to me actually producing footage right now. ...Other potential exercises: refining sketches of the characters; making 3D maquettes of the characters and sets; trying out different color palletes; a "pop-through" video to demo the blocking...
OK, that's enough theory for now. On to the storyboard!
1. Jimmy was sooooo... Bored!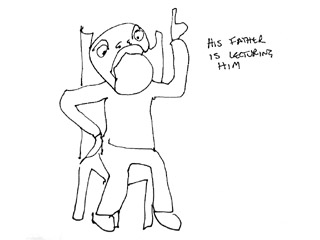 2. His father was lecturing him.
3. He tries to get comfortable.
4. Dad goes on and on...
5. What's this? A crack between the cushions?
6. There's another world!
7.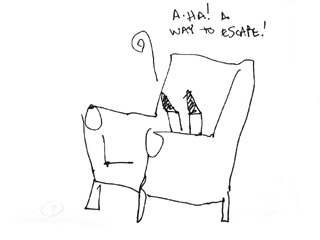 7. Ah-ha! A way to escape!
8. Does dad even notice?
9. Jimmy drops into a cave.
10. He runs through the tunnel... To an exit!
11. He comes out from behind a painting on the wall.
12. Jimmy leaps down and the painting-door snaps shut.
13. Is he safe?
14. Oh no! Dad's found him!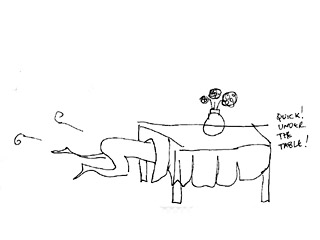 15. Quick! Under the table!
16. Jimmy runs through another tunnel... Straight into dad!
17. Caught!
18. Dad's eyes roll back in his head and he flops over.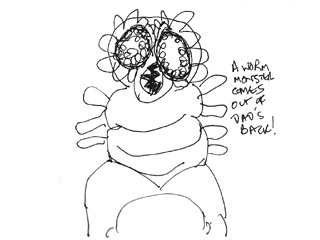 19. A worm-monster comes out of dad's back!
20. The worm rises up...
21. Terror!
The End.
Yep -- it ends abruptly. A traditional resolution would be to have Jimmy snap to attention; we realize this was all just a fantasy, and that he's actually still being lectured by his dad. But I don't want to undermine the reality of these shaman-esque tunnels between places. And what I'm going for here is an interesting sketch, rather than a full story arc... So I think ending on the climax of fear is a legitimate choice. (Hard to tell if it really works until it's actually on film.)
posted by sven | permalink | categories: stopmo
November 3, 2006
banner for the bazaar
by sven at 2:26 pm
new Scarlet Star Studios banner
Tomorrow's the holiday bazaar! This week I've been helping Gretchin get prepared...
To help make the Scarlet Star Studios table prettier and easier to recognize, I've made a canvas banner with our logo on it. I sewed the canvas myself, on my sewing machine. I printed out the logo on an inkjet printer, then blew it up several times on the photocopier. I positioned the paper on the back of the canvas, then using our light table, traced the logo onto the front. The lettering is done in acrylics.
Look for our table at the event tomorrow! Here are details:
What: DinnerGrrls Holiday Bazaar

When: Saturday, November 4th, 1-5 p.m.

Where: 1936 N. Alberta (corner of N. Alberta and N. Denver. Two long blocks west of N. Interstate.) It's right off I5 at the Killingsworth/ Alberta exit. Take a left at the top of the Exit ramp onto N. Alberta and go west...

Tomorrow is the Dinnergrrls Holiday Bazaar! I'm delighted to start your shopping season with a selection of gifts for letter lovers and creatives who want to make more art. I'm also featuring a special selection of offerings from other artists who adore words, including homemade journals from Alesia and "novel" purses from Anna (which must be seen to be believed!).

There are also many other vendors, so you could probably get a chunk of your holiday shopping done early in one very pleasurable afternoon. Help support local women entrepreneurs while sipping champagne, dunking yummy treats in the chocolate fountain, indulging in massage... and shopping! They'll also have a computer set up so that you can pay us with Paypal/credit cards if you prefer.

(By the way, this is my first holiday-sale-like event. Please come visit me!)

merrily,
gl.
posted by sven | permalink | categories: exhibits & events